Posted on
November 1st, 2023
by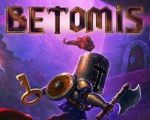 Help a knight escape a dungeon in Betomis, a 2D single screen precision platformer.  Collect keys to open doors, weapons to defeat enemies, and avoid obstacles along the way in this game that's available for all current consoles and PC, but reviewed on PS4 here.
Your knight can double jump, and your goal in each single screen level is to collect a key and then exit a door.  Avoid spikes and blades along the way, and stomp on certain enemies from above to defeat them.  But some enemies can't be defeated that way.  For them, you'll also need to collect a weapon in that level so you can defeat them horizontally rather than above.  And that's all there is to it.
Aside from the game being way too hard, the other main problem I had with the game is your weapon has such a short range, and the enemies you must defeat with it can lash out at you from a distance, making attacking them very unpredictable.  And if you die, you must start the level over again so it gets very frustrating.
Kid Factor:
Betomis is rated E for Everyone with an ESRB descriptor of Mild Fantasy Violence.  If your knight or enemy gets hit, they just dissolve into pixels and that's it.  Reading skill isn't needed, but younger gamers may find this one too difficult.