Posted on
November 8th, 2023
by
If you have a bunch of people over to play games during the holidays, but not enough controllers to play with everyone, then Jackbox has you covered!  Their latest batch of party games is out, and all you need are cell phones or tablets to play them!  Just connect to Jackbox.tv on any mobile device and enter in the room code and you're in!  It's pretty simple and works well, and in some games, even people who don't have cell phones can be part of the audience and participate, too.  The Jackbox Party Pack 10 is available on all current consoles and PC, but reviewed on PS4 here.  Let's take a quick look at the five games on this collection.
Tee K.O. 2
I didn't really notice any difference between this one and the first.  You must draw pictures for a t-shirt design, and then come up with clever phrases.  The game then mixes them up and puts them on t-shirts, and you must vote on the best one.  Whoever's designs get the most votes after a few rounds, wins.
Time Jinx
This one's a trivia game with a time travel theme.  They give you an event and you must choose which date it came on (they give you a wide range).  Whoever comes the closest gets the fewest amount of points, and after a few rounds, whoever has the lowest number of points (like golf), wins.
Fixy Text
You are given a text that you must reply to, and in the textbox you can choose where to start texting.  But there is no backspace or autocorrect, so you can come up with some pretty funny stuff.  Then the players vote on which words they like the best in the texts, and whoever has the most votes after a few rounds, wins.  This one was hard for me to understand at first, but it's still goofy fun.
Dodo Re Mi
This one's actually a music rhythm game.  The songs are either public domain stuff, or tunes from past Jackbox games.  You tap on your phone screen when dots pass by a circle.   But if you and the other players miss too many notes, a carnivorous plant will eat your birds and you lose!  This one's hard if you have folks in your group who aren't video game savvy or musically inclined.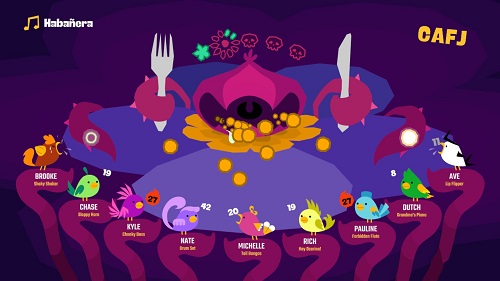 HypnoTorious
And finally, in this one you pretend that you are hypnotized to be something else.  You can see what it is on your phone, but nobody else knows.  Then you are given questions you must answer as if you were whatever you were hypnotized to be.  Then you put yourself into groups by trying to figure out what each person is by the questions they answered.  It's a bit complicated, but once you start viewing things in a group effort, it's fun.
And that's it.  Like most Jackbox packs, there are some good ones and not so good ones.  But this is certainly one of the better collections as a whole.
Kid Factor:
The Jackbox Party Pack 10 is rated T for Teen with ESRB descriptors of Drug Reference, Language, and Sexual Themes.  Most of these games on here are just as dirty as you make them to be.  There is a kid friendly mode that you can toggle off and on, which is nice.  I think someday, Jackbox should make a collection of all kid friendly games, with topics and questions geared toward kids.  Don't you think that would be a neat idea?  With that all said, I think this game is best enjoyed by kids who can operate a cell phone and text with ease, as long as the kid friendly option is turned on.