Posted on
October 31st, 2008
by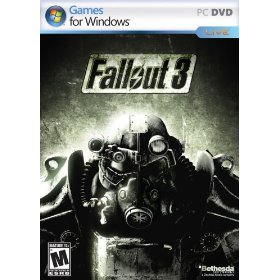 Wow … my first entry got a lot of attention. While there were only a few comments here, on two different sites the post sprang forth into 4+ page threads. One site is more biased towards 'next gen' consoles (i.e. X360 and PS3) and the other one is more biased towards PC gaming. Each one took something different and ran with it … but in neither case was much time spent talking about the actual game. So let's fix that this time 'round.
Well, maybe a few comments first …
I mentioned before how cool the opening sequences were, but want to emphasize that again. Getting started in a RPG is always tricky – you want to get the player involved with their character and the story, but also want to get them familiar with the mechanics, and also allow them choice and control over how their character starts the game. You need to provide loads of contextual information without boring players uninterested with reams of statistics to death, and that is not an easy thing. Personally I love the nuts and bolts details, and there was plenty there for me (of course, I also already knew stuff from the original Fallout games) … but the game does a great job of making it a friendly experience for players new to the franchise and new to that sort of game in general.
I also want to comment on the whole link to Oblivion. I really liked Oblivion, though at 4/5 my scoring was definitely on the low end – but then, looking at the comments made more recently by many reviewers in retrospect, it seems pretty clear that my view represented a better hype-free assessment than the frothing 12 out of 10 scores given out when the game launched. But I always made the distinction that Oblivion was best enjoyed as a fantasy action game in an open, sandbox world. Trying too hard to find real hardcore RPG elements or role-playing in general would only lead to disappointment.
That ties in to Fallout 3 due to the whole 'Fallout 3 is Oblivion with guns' thing. Yeah, in some ways it is … but make no mistake: Fallout 3 is a real, hard-core RPG, and one that ranks up with some of the better ones of the last few years. Again I am pulling back from the frothing hype of lines like '… as close to perfection as any game ever made', as there are flaws falling like rain throughout the game. But from the minute you enter MegaTon (really before, but it didn't matter then) you will see skill checks and choices with consequences everywhere. In short, a solid hardcore RPG.
I continue to search out the answer to the question: is it as good as the originals in terms of writing? In general, so far I would have to say pretty strongly 'No'. But again, don't take that as any indication that the writing is bad – in fact, I think it is quite good and better than most recent genre games. It is more that the original Fallout games are in that rarefied pantheon of games like Planescape: Torment and The Witcher that feature transcendent writing and dialogue. I do find that I would like more robust personalities in the characters – the 'nutty wife' in one town is pretty tame, and in fact the whole town is full of fairly tame characterizations of what is supposed to be a collection of highly divergent personalities.
There have been some fun quests: the sadistic research for the 'Wasteland Survival Guide' is made worth it due to Moira's little quips. The 'Family' quest offered some solid choices that reflect upon your character's morality and offer good opportunity for role-playing … and I can't help but wonder if it will make an appearance later in the game.
Perhaps the one that tickled me the most was 'Those!'. An obvious take-off on the classic 50′s monster movie Them!, the quest uses a title from an unfinished Invader Zim parody of the movie (I don't know much of Zim, but figured there might have been a parody with that name … and there was). It provides a nice microcosm of a world attached but separate, and even pulls you into the sewer system for some final battles. It might be the first time you die more than once on a quest, but if not it will likely mark the most deaths in rapid succession – not an easy quest to complete! Once again you get to make some choices, and can even make a 'bad' choice and use some of your skills to talk your way back into getting the 'good' reward, effectively ending up rewarded twice for the same quest!
There have been loads of other things … some good, others not as good. Traversing the Wasteland can get boring, and some of the encounters get quite repetitive … something Jeff Vogel referred to as 'trash collecting', stuff you have to do to gain levels and experience. But there have been some really cool combat encounters as well.
I guess I have to mention the control thing one final time – I played for a bit with my wireless XBOX360 controller, and the use of the PipBoy 3000 feels much smoother and more intuitive in that setup. Obviously by now it is second nature to me using the keyboard and mouse as well … but I cannot help but think that the most universally accommodating approach would have simply been to add keymaps that would take you directly to the Map, Inventory and Character screens.
Overall I'm having a blast, and can't wait to get more time on the game.