Posted on
December 17th, 2011
by
National Geographic Challenge! is three kinds of games in one. It's a quiz challenge, board game, and jigsaw puzzle collection. Brush up on your geography, science, and history with thousands of questions and plenty of footage and photos from the National Geographic archives (360 version reviewed here).
In the Quiz Mode, up to four players can compete as you answer a string of questions. This mode reminds me of the movie trivia game Scene It?, except the questions here are more about geography, science, and history. Sometimes you might have to guess what's in a photo while it is being slowly revealed to you, or you might have to answer questions after watching brief footage from a National Geographic documentary. Players in all modes are represented by their Xbox avatars.
The Explorer Mode takes the quiz questions and challenges and puts them in a board game format for two to four players. Finally, the game comes with a slew of jigsaw puzzles featuring photos from the National Geographic archive. You can do jigsaw, square, or slider puzzles, as well as compete with another player in a puzzle battle! In the gallery section you can view the photos you've seen while playing the main game.
The only problem with the game is that it's very limited in the single player experience. You can do the quizzes and puzzles by yourself, but that's it. You can't play Explorer Mode or the Puzzle Battles unless you have another player. But if you do have a group of friends who enjoy using their brains, this might make a fun party game.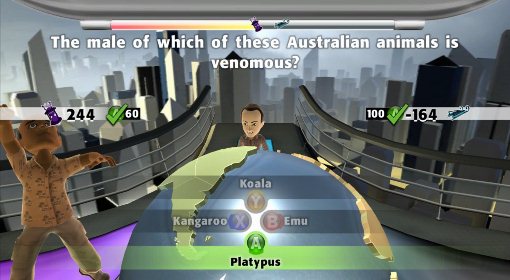 Kid Factor:
Reading skill is a must for the quiz text, and the game has selectable difficulty levels for the questions. Easy ones range to be appropriate for 3rd to 5th graders, while the hard questions will stump even adults. There are kids out there who prefer reading National Geographic over comic books, and watching nature documentaries instead of cartoons. It's not weird; I know lots of kids who are that way. So if you have a child, or preferably a whole family who is like that, this game was meant for you. National Geographic Challenge! is rated E for Everyone.