Posted on
December 21st, 2011
by

Two more of SNK's pre-Neo Geo arcade classics are now available as PS Minis. Downloadable separately through the PSN store, you can relive SNK's rich history with two of their more popular arcade titles on PS3 and PSP. The new batch includes the military themed brawler P.O.W.: Prisoners of War and the imaginative shooter Prehistoric Isle.
P.O.W.: Prisoners of War
Play as an escaped P.O.W. as you punch and kick wave after wave of soldiers in military settings. Pick up knives and guns to give your character a temporary edge. It's a pretty basic side-scrolling beat 'em up, but it's a lot better than I remember it. Not bad for 1988 anyway. But then, I mostly recall the NES version, and I don't think that one was very good. Thank goodness for unlimited continues, as this one was crazy hard.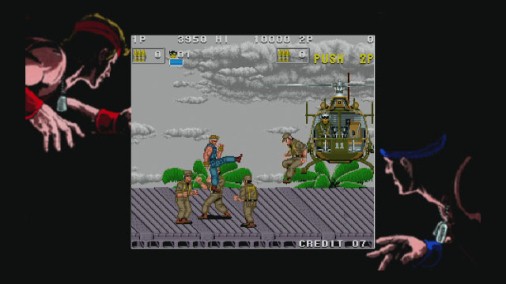 Prehistoric Isle
In this shooter, you pilot a biplane in the 1930's as you blast dinosaurs on a lost jungle island. Collect power-ups and bonuses from eggs, but make sure to shoot them first! Avoid flying pterodactyls and giant insects and fight enormous dinosaur bosses. And don't let cavemen latch onto your plane and slow it down! Unlike P.O.W., this one wasn't QUITE as good as I remember it. Lots of cheap deaths, as this was designed to be a quarter muncher. Again, thank goodness for unlimited continues! The game has kind of a B-movie feel to it, even the dinosaurs look pretty goofy. But it's still good arcade shooting fun.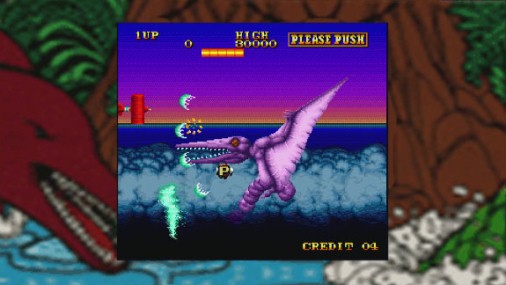 Only problem with both these games is that, like other SNK arcade PS Mini conversions, you can't play two players at the same time, even though you can see the 'insert coin' on the other side of the screen and everything. I imagine they did this since it would be hard to do that on the PSP, but it's still a shame. Even so, if you're a classic SNK fan like I am, these are still worth the download anyway, as they are pretty inexpensive.
Kid Factor:
I'm not sure what the ESRB ratings are for these games, but even though you shoot and punch people and creatures in both games, the rudimentary visuals keep the violence from looking very graphic. I'd let any kid play these, and they'll enjoy these games especially if they love playing army or dinosaurs. The games are simple enough to understand with no reading skill, and even though they are hard, limitless continues keep them from becoming frustrating. I played these games as a kid and I think I turned out OK.