Posted on
March 6th, 2012
by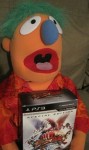 Hey! G.P. the GamerPuppet here, with another unboxing! This time it's the Special Edition of Street Fighter X Tekken for PS3. It's a fighting game that mixes characters from Capcom's famous Street Fighter series and Namco's Tekken brawlers. The X actually reads "Cross" not just X. And Cary got the PS3 version because it has a few exclusive characters in it. Mainly Pac-Man. You know how Cary likes his Pac-Man! Anyway, let's take a look at all the stuff you get!
Here's the box that everything comes in.
And here's the game.
The instruction booklet doubles as an art book and comic.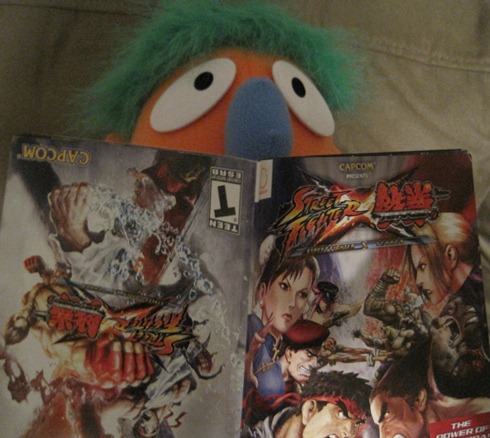 The Special Edition also comes with a plastic bank shaped like an arcade cabinet that you assemble yourself. It's just my size! Well, not really. Anyway, the bank was actually really hard to put together. Some of the slots didn't fit the holes they were supposed to go into. Cary's brother Jeff even had to use his Warhammer file to whittle down some of the slots so they'd fit (big thanks to Jeff for helping). And the sticker decals don't exactly fit the surfaces they're supposed to go on either! That nice lady at GameStop was totally wrong when she said it would be easy to put together!
And that's all you get, really. I have to say the Collector's Edition of Soul Calibur V was better than this. This one could've used a soundtrack or a better artbook or something. Oh well. In another week or two after Cary gets a chance to play it, he'll post a couple of blogs about the characters in Street Fighter X Tekken! Later! –G.P.