Posted on
June 18th, 2012
by
If you love Bejeweled-style match-three puzzle games, then here's a perfect game for you! Originally released on DS in cartridge form a few years ago, now you can download 7 Wonders II on DSiWare and the Nintendo 3DS eShop. But watch out, it's addicting!
Just like Bejeweled, you must flip two colored gems and match three or more to make them disappear. But 7 Wonders II adds a few extra things in the mix. To complete each stage, you must clear out the background tiles behind the jewels by matching colors over them. Not only that, but there is a special stone that you must drop to the bottom of each board to finish the level. Make sure to finish before time runs out, too! Clear colors to charge up your special power and shuffle button so you can use them when you need it most.
When you clear four colors at once, you'll get a special jewel that can erase anything to the left or right. Five colors gets you a jewel that can clear up and down as well. After each level you'll earn some bricks that you can use to reveal a picture of a famous world landmark. If you're lucky, you might uncover extra bonus points or power-ups as well! Build the whole picture to move on to the next world.
Control is entirely stylus driven and easy to figure out. However, some of the instructions and tips are a little unclear at first, and it's not readily apparent that there are more than one save files (don't worry, there are three). But those are only minor problems. 7 Wonders II is still a fantastic and addicting game for puzzle fans.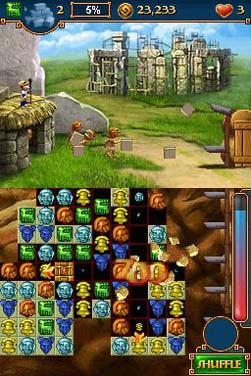 Kid Factor:
It's a great thinking game for kids, and somewhat educational, too, as you can read the history about each world landmark you visit. Reading skill is a must, though, for the text instructions and tips. 7 Wonders II is rated E for Everyone.