Posted on
June 19th, 2012
by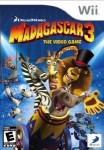 DA, DA, DA-DA-DA-DA AFRO CIRCUS. DA, DA, DA-DA-DA-DA AFRO CIRCUS, POLKA-DOT, POLKA-DOT… OK now that I've successfully got that stuck in everyone's head, here's a review of Madagascar 3, based on the recent CG animated summer movie. Is it a hit or a flop at the Big Top? Read on to find out! (Wii version reviewed here)
Play as Alex the Lion, Marty the Zebra, Gloria the Hippo and Melman the Giraffe as they get ready to make the circus in Europe a success so they can take it back to their home in New York. In the Story Mode, the penguins will give you missions, which end up being fetch quests for fireworks or a toolbox, etc. You'll bring two of the animals in each mission, and each character has their own skills. Alex can double jump, Marty runs and kicks, Gloria smashes stuff, and the giraffe can walk on tightropes. Switch between characters to work together to bypass obstacles and reach the goal. A second player can jump in at any time to control the other animal simultaneously.
Even though the Story Mode may mix things up with a race or other challenge, the fetch quest style missions are pretty boring. The game comes with a handful of circus themed mini-games starring all the characters from the movies, but it's not enough to completely save the game. Only the wildest of Madagascar fans would enjoy this game.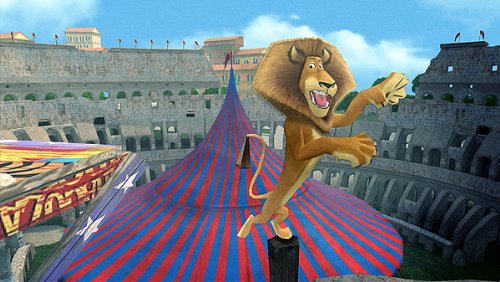 Kid Factor:
Reading skill isn't necessary as all the instructions come with spoken voice (very well done, too, actually). But sometimes the mission radar map is a little hard to decipher. Older players might get bored with the fetch quest missions, but if you're OK with your kids watching the movie, they'll be OK with the game, too. At least the difficulty is low, so young gamers won't get frustrated. Madagascar 3 is rated E for Everyone with an ESRB descriptor of Comic Mischief.