Posted on
November 6th, 2012
by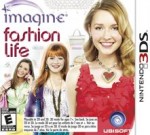 If your little girl has always dreamed of being a fashion model, clothes designer, or manager of their very own mall, now they can imagine it with this new 3DS game. Imagine Fashion Life lets you shop and try on clothes, design outfits, pose for pictures, and walk the catwalk.
First you'll design your character's look, eyes, skin color, hair, and more. Then you'll take your character on a story adventure through her beginnings in a career in fashion. You can choose to be a top model, fashion designer, or mall manager. But later on you'll be able to switch to different jobs at any time.
In each job you'll play mini-games related to that profession. As a top model, you'll have to select the right pose and take enough pictures before the time runs out, keep in shape on a treadmill or trampoline by tapping the touch screen at the right time, or play a music rhythm game to keep in step while walking down the catwalk. As a fashion designer, you'll have to choose fabrics and trace outlines to make your own dresses, plus many more games and challenges.
By completing mini-games and missions you'll earn money to use at the mall to buy clothes, accessories, decorations for your apartment, and gifts for your friends. You can even invite friends you've made in the game to your apartment to give them a makeover, give them a gift, or offer them a drink. If they like what you give them, you'll earn friendship points. If they like you enough, they might introduce you to more friends. Only problem is that gift and drink giving is more or less a guessing game. You'd think the fitness trainer would enjoy a glass of orange juice, but apparently not.
Only other problem with the game is that some of the touch screen menus to select clothes and makeup aren't as intuitive as what I would like to see. But I guess it's not too bad of a game if you enjoy playing dress up and whatnot.
Kid Factor:
Imagine: Fashion Life is rated E for Everyone with an ESRB descriptor of Mild Suggestive Themes. I guess that has to do with some of the outfits, but it's nothing worse than Barbie. Reading skill is a must, as everything is text based. If you have a girl who enjoys playing dress up and putting on makeup, she might like this game, too.