Posted on
November 8th, 2012
by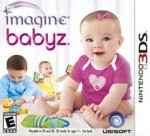 Take care of babies all over the world in your quest to become an expert infant caregiver in Imagine: Babyz for Nintendo 3DS. After you choose your character's look, play the role of a young lady who just graduated nursing school, with the goal of opening her own day care center someday. In the meantime, you'll earn your reputation working at a world-class nanny agency. You'll travel the globe taking care of all kinds of babies and making their parents happy.
To start, pick a destination to travel to. The parents at that location will have set objectives for you to do with their baby. Completing these objectives earns you stars. The more stars you have, the more places you can go to take care of other infants. Objectives include specific tasks like feeding baby, giving them a bath, or teaching them certain skills.
These objectives take the form of mini-games using the 3DS touch screen and stylus. Feeding baby solid foods requires you to use the stylus to pick up the spoon, dip it in the bowl of food, blow into the 3DS microphone to cool it, and then put the spoon in baby's mouth. You'll do similar motions to feed baby a bottle, give baby a bath, change diapers, and more. Although in the bath game it was hard for me to remember what was soap and what was shampoo at first. In Cuddle Mode, you can hold baby and make him or her happy by touching with the stylus.
You can also play games with baby to help increase motor skills and teach words. Use the stylus to hold a blankie or the baby's hand to teach them to crawl or walk. Some kids may have a hard time with these mini-games because they require a pretty steady hand. To teach baby words, help them flip a picture book and repeat the word in the microphone. The voice recognition works great, but one of the picture books has a cat in it, but the word they prompt on screen to say is "pussy." Technically that would be right, but I think it's still a poor choice of wording, especially when "kitty" would've sufficed.
Another one of these games I couldn't figure out at all. And it's a shame because it makes clever use of the 3DS' capabilities. To play 'peek-a-boo' with baby, you cover up the 3DS camera, then uncover it and say 'boo' to baby to make it happy. I couldn't get this game to work for the life of me, and I can't figure out why. Luckily, you don't have to finish ALL the games to complete a chapter in the story, but it was still frustrating.
You can also take baby to the park and meet other babies with StreetPass and accept challenges with SpotPass. Take milestone pictures and put them in your diary blog on the in-game cell phone. With the money you earn from completing objectives, you can take baby shopping for clothes as well. Graphics are a bit cartoony, but do a good job showing the babies' expressions.  Don't dismiss these baby care video games, I've reviewed a lot of them and trust me, they're very popular!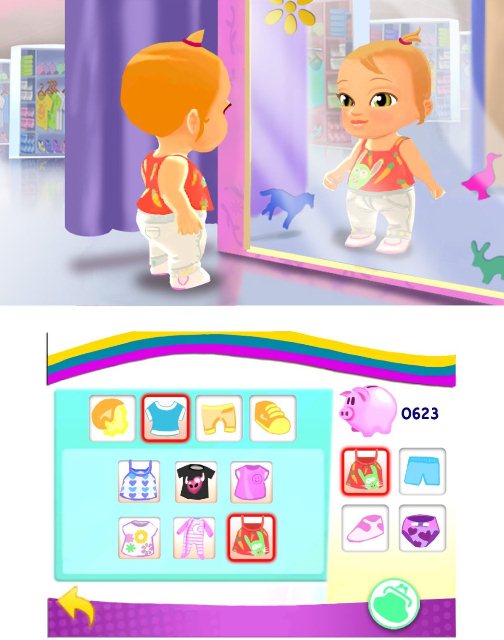 Kid Factor:
Any little girl who loves to play with baby dolls should enjoy this game, but they might get frustrated at some of the unclear objectives and mini-games. The babies aren't anatomically correct, but you will see lots of poopy bottoms when changing diapers. Good reading skill is a must because everything is text based. I guess the game could be considered educational as you travel the globe taking care of babies from different cultures. Although that doesn't explain why you only teach them English words. But I guess that's overthinking things. Most importantly, this may be a great present to give a child who is about to become a big brother or sister. Because while the game isn't intended to be a teaching tool for taking care of babies, it can give kids an idea of what to expect when the new baby comes, and how the family will take care of them. Imagine: Babyz is rated E for Everyone.