Posted on
November 27th, 2012
by
Now your little girl can enjoy a selection of mini-games taken from the Smart Girl's Playhouse game series, downloadable on the Nintendo DSi or 3DS. Drawing, coloring, dress-up, counting, and more!
There are six activities in this collection. There is a drawing area where you can use different colors and stamps to draw with the stylus. There is also another area where you can color existing pictures. Although I don't know why they didn't include a fill-in paint tool.
Another activity requires you to pack pretend lunches, but this one seems pretty pointless. You can also play dress-up in another game. There is also a counting game where you must tap the correct number of the item you're supposed to count.
Finally is a 'find the differences between two pictures' game, and this one is the most fun. There are two pictures shown on each of the DS screens, and you must tap the differences on the bottom one within the time limit. Even I had fun playing this one, and wouldn't mind an entire game of this (actually there is one called QuickSpot on DS and it is very awesome).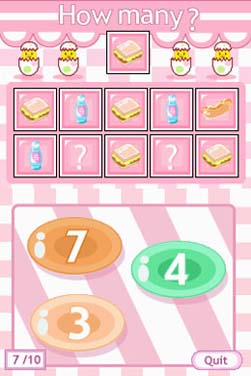 Kid Factor:
Reading skill is helpful for the instructions, but the games are pretty easy to figure out on their own otherwise. Number recognition is needed for the counting game. Games are easy enough so that most youngsters won't get frustrated. You may want to turn the volume down, though, as the constant piano rendition of "This Old Man" can get pretty annoying. Smart Girl's Playhouse Mini may entertain young girls for a while, and is rated E for Everyone.