Posted on
December 3rd, 2012
by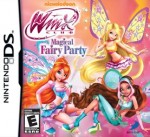 Winx Club is a cartoon about girls who can transform into fairies, and they attend a school for fairies, too. And they, oh I don't know, have adventures and learn lessons and stuff. Now your little girl can pretend to be one of the gang and help plan parties at their fairy school with Winx Club: Magical Fairy Party for Nintendo DS.
The most unique thing about the game is that you hold it sideways, like how you would read a book. First you must design your own fairy character. Pick hair styles, skin and hair color, clothes, fairy type, even design your own wings. Then you'll hop into story mode as the new fairy in school, and are enlisted to help plan various school parties throughout the year by playing mini-games.
The mini-games include a memory matching challenge, a pipe puzzle game where you must rotate pipes for juice to flow through to make punch, and a music game where you must catch the right notes. Other games let you create your own centerpieces, cakes, and party posters. You'll earn stars based on how well you perform on the mini-games. In many of the games, you can create how you want, but the computer will give you more stars if you follow the fairies' directions. After you complete all the mini-games in each chapter, you can attend that party and tap on guests and favors to earn more stars. Stars help you unlock goodies like clothes, hairstyles, pets, and items to use in the games. You can also play each mini-game separately.
Kid Factor:
While the mini-games vary slightly in difficulty and variation from chapter to chapter, it never gets too hard or frustrating. Some kids may get bored at the repetitiveness, though. At least you can tell the makers of the game didn't just slap this together, as it does have a higher level of quality and authenticity than most titles this this. Reading skill is a must as everything is text based. Winx Club: Magical Fairy Party is rated E for Everyone.