Posted on
December 4th, 2012
by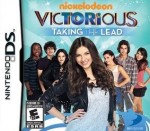 Victorious is a live action TV sitcom on Nickelodeon about a teen girl and her friends who attend a school for performing arts. Now you can get in on the act with Victorious: Taking the Lead for Wii and DS (DS version reviewed here). First, pick from two different characters from the show: Tori or Jade. There is a school play coming up and both of them want the lead part. So they'll battle it out on the dance floor in this music/rhythm game.
In each level, the opponent will do a set of dance moves, and you must copy them by sliding the stylus in different directions, or tapping to the beat. It's a bit like Space Channel 5, except here it is easier because they always give you picture cues as to when to slide and tap. Sometimes, stars will fly across the touch screen; tap a bunch to do a special dance move for more points. At the end of each song you'll earn stars based on your performance, and you'll unlock goodies like new high scoring dance moves, outfits for your characters, and decorations for your locker (which is what your save file will look like when you start the game).
Every so often in story mode, you'll play a music based mini-game other than dancing. At one point you'll have to block attacks in a mock stage sword fight, guide your character with the touch screen to stay in the spotlight, or play a music game featuring that weird kid with a puppet (reminds me of one of the music games from Rhythm Heaven Fever).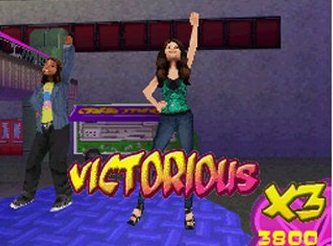 Kid Factor:
Victorious: Taking the Lead is rated E-10 with ESRB descriptors of Comic Mischief and Mild Lyrics. The songs aren't anything worse than what you'd hear on the radio, and if you're OK with your kids watching the show, they'll be OK with the game, too. There are multiple difficulty levels for each song and mini-game, so players of all skill levels can enjoy it. Reading skill is a must for all the text. While the game has a higher level of quality due to the use of actual songs and character likenesses, probably only big fans of the show will really get into the game.