Posted on
April 15th, 2013
by
Even though the BioShock game series isn't my cup of tea, I do have to admit they have loads of unique atmosphere. Now BradyGames has you covered with a strategy guide for the newest in the BioShock series: BioShock Infinite. Is it worth getting even though we have the Internet now? Read on to find out!
The BioShock Infinite guide is divided into several sections. There are descriptions of all the controls and items in the game, as well as all the main characters. Next are all the guns you can use in the game, as well as all the Vigors you can find and use. Vigors are special potions that give your main character super powers like levitation, possession, or zapping enemies with fire or electricity.
The majority of the guide is dedicated to maps and descriptions of each location you visit in the game and how to find all the items and defeat the bosses.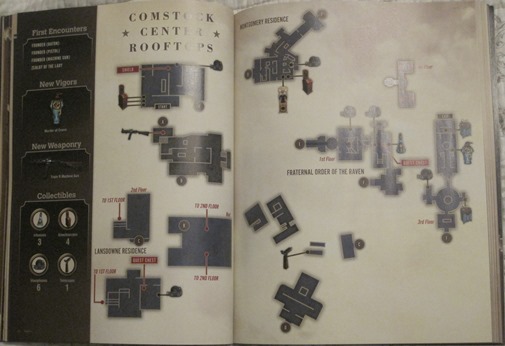 After that is a list of every enemy in the game, as well as a list of all the Achievements and Trophies and how to get them. Interestingly enough, the last page has an ad for a BioShock Infinite board game!
With the Internet and sites like GameFAQs so prevalent now, why should you even bother getting the BioShock Infinite strategy guide? Well, for one thing, not only is this a very comprehensive guide, but it also doubles as an art book. The guide is loaded with full color pictures of every character, enemy, weapon, Vigor, and more!
It may contain a few spoilers here and there, but for fans of the newest BioShock game, this guide is a good buy to complete your fan collection.  Plus I like how the text isn't too small and easy to read.