Posted on
May 5th, 2013
by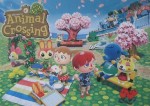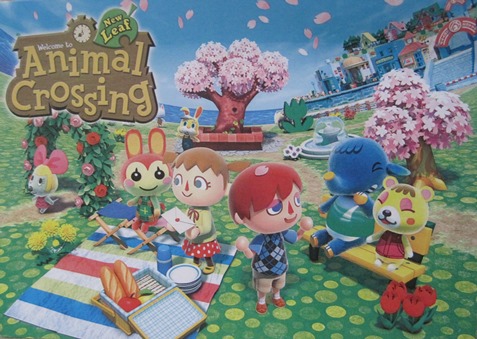 In about a month I'll be moving to a new town. Oh don't worry about me, I've done this before so I know what to expect. Once I get there, a raccoon will try to sell me a house. My neighbors will be critters like talking ducks and frogs. I'll be buying my clothes from a pair of porcupine sisters and spending my Saturday nights listening to a singing dog. No I'm not insane; I'm just talking about Animal Crossing. The next installment will be on the 3DS and will be called Animal Crossing: New Leaf. Apparently, someone knows I'll be moving there around June 9th, so they sent me a typical welcoming present (thanks Andrew). Click here to find out what it is!
In the Animal Crossing games, trees are everywhere. Some of those trees even bear fruit. Each town has a different kind of fruit that grows native to that town. If you visit another player's town, they may have a different kind of native fruit tree than you. If you take some of their fruit back to your town and successfully grow it into trees, you'll be able to sell that fruit for more money, or 'bells' than what your native fruit sells for! When I visit another player's town, I always try to bring some fruit with me to give to them as a present. That seems to be the idea for the welcoming present I just got.
First off I got this postcard. The front has a typical Animal Crossing scene: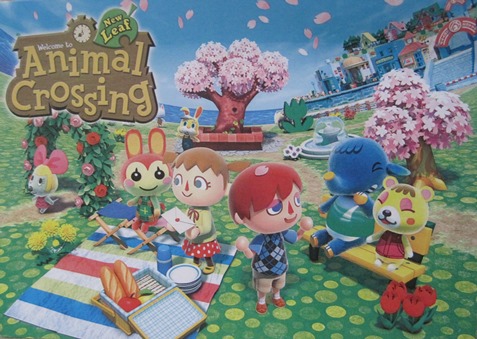 The back of the postcard has a friendly welcome message announcing an upcoming housewarming gift.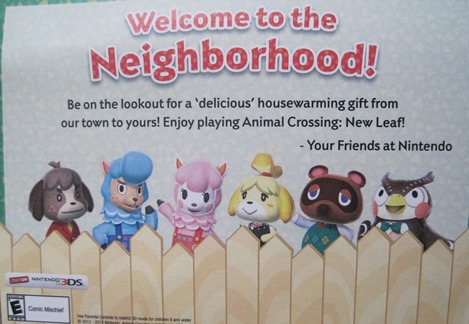 You know how when someone new moves in on your street, a friendly neighbor may give them a fruit basket? Well that's kind of what I got because on the front door was a box from Harry & David, a well-known order-by-mail fruit company. Inside was an assortment of apples and pears, two of the fruits in Animal Crossing. One was even wrapped in gold paper, which is a thing that Harry & David always does, I think. Here's a pic of what I got: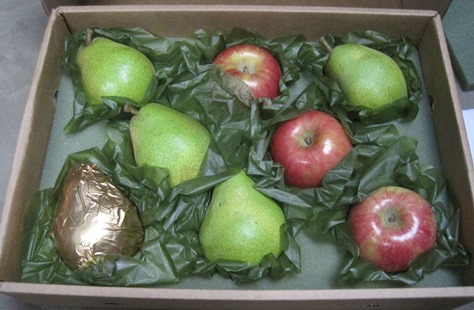 I wonder if I got a shovel and dug a couple of holes in the ground, then put the fruit in them, if I could grow apple and pear trees just like in the game. Ha ha!
Anyway, I think you can expect to see more Animal Crossing articles from me in the future regarding the new game! When New Leaf comes out, I hope that all of you will be able to play the game with me, and we can all share fruits and other goodies with each other! So to get a head start, here's my 3DS friend code if anyone wants to share theirs so we can be all ready when June 9th comes!
Cary's 3DS Friend Code: 1977-0161-5480