Posted on
May 10th, 2013
by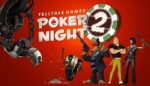 TellTale Games is best known for their popular point and click adventures like The Walking Dead and Sam & Max. But did you know that one of their first titles was a poker game? They used it to experiment with making conversations between characters, an important skill they would use for their later endeavors. A couple of years ago, they got some of their most well-known characters, and a few other video game stars in a new poker game. And now they've returned to The Inventory with some fresh faces with Poker Night 2 for PC, 360, and PS3.
In this game, you can play poker with either Texas Hold 'Em or Omaha rules. You'll play against four other video game and entertainment favorites. There's Brock Samson from The Venture Bros. cartoon on Adult Swim, Claptrap from the Borderlands games, Ash from Army of Darkness, and Sam from Sam & Max. Best of all, the dealer this time is GlaDOS from the Portal games. But you'll see lot of other favorites from other titles as well. For instance, even though Sam is playing poker this time instead of Max, his rabbit friend is never too far behind. The Maître D is still Winslow from Tales of Monkey Island, and the bartender is some weird lady from Borderlands. Characters from The Walking Dead and others have brief cameos, too.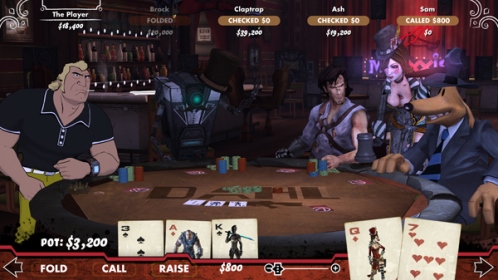 The poker gameplay is pretty standard stuff. It's helpful if you know a bit about the rules beforehand, but you can view written tutorials and a cheat sheet for winning hands as you play. But you're not really getting this game for the poker; you're playing it for the hilarious interactions between characters, of which there are tons. Best of all, they don't stop the game to have a chat; you can continue to play as they're talking! Plenty of laughs to be had for sure. My favorites are Sam and GlaDOS.
The other reason to get this game is all the prizes you can get! By playing and winning poker tournaments, you'll earn coins to use to unlock in-game treats, like themed felt tables, decks, and chips. Purchase every set of a kind to unlock a themed setting to play poker in. Here's a view of the Portal theme. Look out, Sam! Watch out for the laser turrets!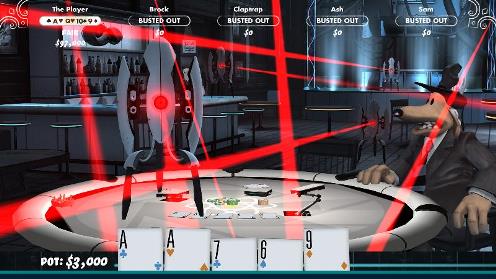 You can also win prizes to use in other games, too! By meeting certain requirements and then beating opponents, you can unlock special goodies. You can unlock outfits for use in Borderlands 2 on PC, 360, and PS3. The consoles have exclusive prizes, too. For instance, on the 360 you can unlock items for your avatar.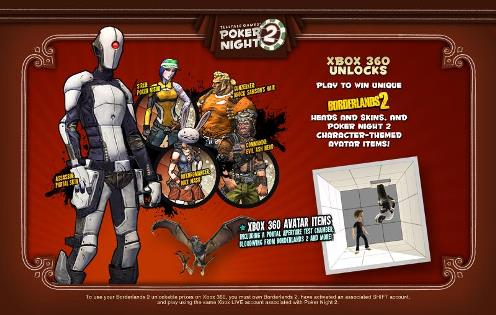 And on the PS3 you can unlock exclusive background themes. I only wish these prizes weren't so hard to get!

And that's all there is to it! Definitely worth downloading if you're a fan of any of the properties featured in the game!
Kid Factor:
Poker Night 2 is rated M for Mature with ESRB descriptors of Violence, Suggestive Themes, Strong Language, Simulated Gambling, and Use of Tobacco. Basically, if you're not old enough to watch Adult Swim, play M rated games like Borderlands, or watch scary movies like Army of Darkness, than you're not old enough for this game.