Posted on
May 27th, 2013
by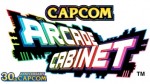 Renowned video game maker Capcom is 30 years old this year! (Way to make me feel old, Capcom). To celebrate, they've released a downloadable collection of some of their earliest arcade classics with Capcom Arcade Cabinet for PS3 and 360 (PS3 version reviewed here). In honor of their anniversary, this week we'll be looking at the games you can download for Capcom Arcade Cabinet. But today, we'll go over the hub where you select and play the games!
Downloading the Capcom Arcade Cabinet is free; you just pay for the games to play on it. You can buy the games separately, in packs of three, or all at once! If you get all the games, two secret bonus classics will be unlocked. There are seventeen games in all. I can't remember which titles are in each pack, but you can look on the PSN store or Xbox LIVE Marketplace and see them. Each day this week we'll go over a few of the games you can play. But Capcom Arcade Cabinet offers a lot in the hub itself.
Capcom Arcade Cabinet is set up very similar to other downloadable arcade hubs like the SNK Neo Geo Station and Sega's Vintage Collections. In fact, I'm pretty sure they are all developed by the same folks. In each game you can view high score rankings, view artwork, info, and history on each title, save and watch replays, and listen to the music in each game and create your own playlist.
To unlock items to view in the gallery, you'll have to reach certain stages, areas, or checkpoints in each game. You'll also earn trophies and achievements for each classic, too. Only problem is that these games were super challenging quarter munchers so you'll have to be a pro to unlock everything! You can select an easier mode for each game that makes things a LOT more plausible, but you won't be able to unlock artwork and trophies in the 'casual modes.'
Personally, I'd rather have these classics on a disc instead of having to download them. And if you have the Capcom Classics Collections on PS2 or PSP, you have all the games on here already (with better unlockables to boot). But otherwise, there are some excellent classics to play here, and we'll be looking at all them all week long!
Kid Factor:
The games on Capcom Arcade Cabinet are rated E-T. But the rudimentary visuals of each game help make the violence less graphic. I grew up with these games and I think I turned out OK. Plus, arcade classics are great to introduce kids to gaming, as they are simplistic and easy to learn. Some may find the difficulty of these arcade titles frustrating, but the 'casual mode' makes things a lot easier, as long as you don't mind not being able to unlock things.
Here's the schedule of games we'll look at the rest of this week:
Tuesday, May 28: 1984 Games
Vulgus, SonSon, 1942, and Pirate Ship Higemaru (my personal favorite)
Wednesday, May 29: 1985 Games
Savage Bees, Commando, Ghosts N Goblins, Gun.Smoke, and Section Z
Thursday, May 30: 1986 Games
Trojan, The Speed Rumbler, Legendary Wings, Side Arms
Friday, May 31: 1987-1988 Games
Avengers, 1943, Black Tiger, 1943 Kai