Posted on
June 24th, 2013
by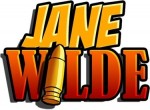 It's Free Game Week here at GamerDad! For the next four days, we'll be looking at games you can download and play for free! First up is Jane Wilde for iOS devices (iPad version reviewed here). Zombies are running rampant in a Wild West town, and it's up to sexy sheriff Jane Wilde to blast them to smithereens in this 2-D side-scrolling action game.
Use the arrows on the left side of the touch screen to move Jane left and right. On the other side of the screen are attack buttons. Use your selected weapon to shoot zombies from afar, and when they get too close, kick 'em back with the other button. Earn coins by defeating enemies, and spend those coins later at the shop to buy new weapons and upgrades, power-ups, and more! You can also use real money to buy more coins or outfits for Jane to wear. Only problem I had with this game is that it's very difficult. If you get ganged up on both sides, you're toast!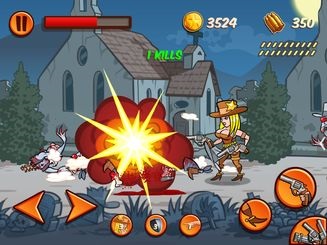 Kid Factor:
Even though the game is very cartoony, I'd say it's best for teens and older gamers. Jane is rather busty and there is plenty of animated blood and gore. The difficulty may frustrate gamers, too.