Posted on
July 17th, 2013
by
If you've ever wanted to own, build, and manage your own call center office, now's your chance! Smooth Operators is a downloadable simulation game where you design an office building, create facilities, and hire staff to run a call center and make money. You can buy it on iPhone and iPad (iPad version reviewed here). Is it more fun than work? Read on to find out.
You begin with a receptionist's office, and she'll guide you as you play. It starts off with a text-only tutorial, and the problem with that is after reading, they just kind of dump you into the game. So expect lots of trial and error and maybe starting new office buildings once you get the hang of things. But that means unlocking everything all over again.
First you must buy office rooms to put staff in. Use the touch screen to drag and drop offices where you want them. Make sure to build other facilities, too, to make your employees happy, such as restrooms, cafeteria, break rooms, and more. You can also upgrade these facilities later.
You'll also have to hire employees, too. There are inbound call reps, outbound call reps, IT, managers, janitors, and others. Employees help make money or increase productivity, but only if they're happy. You can tap on each employee to tell how they are doing, and choose to do things like give them a vacation or fire them. You can speed up or slow down the day as needed, and at the end of the workday, you can see how much money you've made and lost with an informative yet confusing chart.
The 16-bit style pixelated graphics add to the game's charm, but ultimately I had a hard time getting into this game. It could be because I'm not as accustomed to playing simulation games, but I found learning how to play to be a little difficult. Maybe if the tutorial was a bit more interactive in showing you what things do.
The other problem I had with the game is more personal than anything. Reviewing video games doesn't pay the bills, so during the day I have another job where I work customer service at more or less a call center, so to speak. So playing a game about work doesn't appeal to me too much. Kind of like how I would imagine waiters and other restaurant workers would be hesitant to play a game like Diner Dash. But if you enjoy complex simulation games, you might want to check this one out anyway.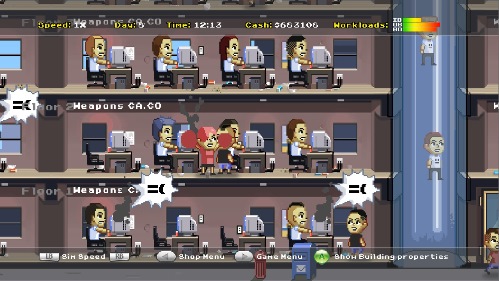 Kid Factor:
Because of the difficulty and high level of reading required, Smooth Operators is best for older kids and gamers only. It could be considered educational, though, as it teaches time and money management skills. And what working in an office is like.