Posted on
July 20th, 2013
by
Touch and Sing Along Picture Book, or Touch & Sing for short, is an activity center app for iOS devices and will be available later for other smartphones and tablets later on (iPad version reviewed here). Developed by two Japanese moms, Touch & Sing combines learning activities with familiar tunes. Two songs are available for free, with a third free song available for a limited time. You can buy others for 99 cents each, or get a group in a value pack. The free songs are Hokey Pokey and the ABC song, with Twinkle Twinkle Little Star for free until the end of July. Other songs include Ten Little Indians, The Wheels on the Bus, The Muffin Man, Old MacDonald's Farm, and more! Over a dozen in all. Let's take a look at the free songs.
Hokey Pokey
In this one, you can choose from five dancers (Bigfoot, a robot, clown, lady, and old man), and you can have them dance the Hokey Pokey while the song plays. This one teaches left and right directions as well as body parts such as left and right hands, feet, head, and bottom. You can also squiggle on the touch screen to make them shake, or tap a question mark on the bottom of the screen to make them 'turn themselves about.' Only problem with this game is that they really don't give you any instructions that you can do all that, you have to noodle around a bit to figure things out yourself. But they do have pictures cues that tell you to shake. So it can be a bit misleading. Some parents may object to the old man dancer, too, as when he 'puts his bottom in,' you can see a bit of a butt crack. The other dancers have pretty big bottoms, too.
ABC Song
This one is much better. As the ABC song plays, kids are instructed to touch a balloon that matches a letter. It will then show a picture of a word that starts with that letter, and kids can tap on it to have it move and make sounds. You can go through the whole alphabet this way, with upper- and lower-case letters. Spoken voice and subtle hints will keep kids from getting confused or frustrated.
Twinkle Twinkle Little Star
As the song plays, planets in the solar system rotate around the sun, and kids can tap on each to learn the names of the planets as well as other galactic words like sun, moon, spaceship, etc. So it teaches a bit of science and has some funny animations, too. Nitpicky astronomers may notice that they still consider Pluto a planet in this game, and I say, let them! What's the harm in calling Pluto a planet even if it really isn't?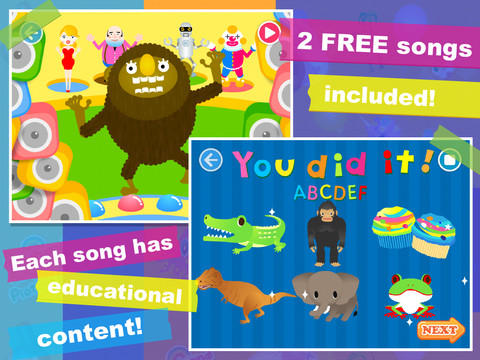 And that's all the free songs! Parents can switch from four different ways to play the tunes in each game. The regular mode has the game sing the songs for you. Karaoke mode just plays the music, and kids can follow the words and sing themselves. Music box mode has the songs' instruments changed to gentle, soothing music box sounds, perfect for bedtime or naptime. And finally, there is an 8-bit mode where the songs are played with chiptunes, like an old NES game! Parents may need to help navigate around menus for switching modes and buying songs, as reading skills are helpful. But the actual songs and games are great for all youngsters. It's free, so you don't have anything to lose to give it a try!