Posted on
August 28th, 2013
by
The latest in the Saints Row game series has been recently released, and now BradyGames has you covered with a strategy guide for the new title. Here's a peek as to what to expect inside.
The guide has several sections, with the first being ways to upgrade and customize your character. The majority of the guide is dedicated to the walkthrough of the main quest, as well as ways to optimize your experience. After that are maps showing where to find everything in the huge city hub.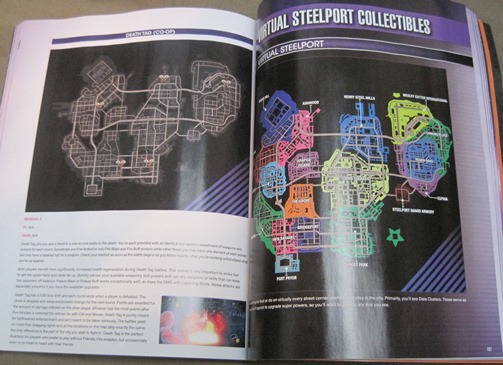 There are also descriptions for all the collectibles as well as pictures of all the weapons in the game.
Next are pictures of all the vehicles you can ride. I'd love to drive that panda car thing, myself.
The guide also shows you what achievements and trophies you can get, and much more. Best of all, at the end of the guide is a code you can enter online to specify your console preference, then you'll get another download code for exclusive skins and weapons in the game!
The guide doesn't look like it has anything too terrible offensive in it, but it is a guide for an M rated game regardless, so keep that in mind. There isn't as much artwork or detailed maps as I've seen and enjoyed in past BradyGames guides, and the text is a bit small, but I think Saints Row IV fans will still find everything they're looking for in this guide anyway.