Posted on
September 6th, 2013
by
One of the things PAX is known for is being very supportive of the indie game scene. They even have a whole area in the back of one of the show floors that's just dedicated to indie titles called the Indie Mega Booth. And that part of the show was ALWAYS crowded. So today, we'll look at some of the indie titles I checked out via appointments at PAX!
Midnight City
Midnight City isn't actually a game, but a publishing label offshoot of Majesco that will focus on releasing and supporting indie games! At PAX, they had a bus outside showing off the titles, but unfortunately, I missed the bus, so to speak. Sometimes at these conventions, communications aren't quite as good and wires can get crossed, so I missed that meeting. I hate it, too, because many of the games sounded really cool. Hopefully when some of these titles they showed get closer to being released, I'll be able to review them and talk about them more.
Jungle Rumble
Actually I played Jungle Rumble on the first day of PAX, but I thought it would be a better fit here, since it was shown at the Indie Mega Booth. It's an iOS game where you move a monkey from branch to branch on a tree, but it's a rhythm game so you do everything in time with the music. To clear levels, you'll need to pick up coconuts and toss them at rival monkeys. Eventually you and the rival monkeys will team up to toss coconuts at humans who are chopping down the jungle to make an aglet factory (look it up). I really like the graphic style as it reminds me of PSP classics like Loco Roco and Patapon. Hopefully when it comes out, I'll get to review it.
Dragon Fantasy Book II
It's a blast from the past! I don't know much about Muteki, the makers of this game, other than they have really cool business cards with 8-bit RPG depictions of their employees. So if I worked at Muteki, I'd have a picture of an annoying little critter who spouts phrases that would be overused on the Internet, like 'Kupo.' Anyway, their new game, Dragon Fantasy Book II takes everything you love about 16-bit RPGs (well, everything I love about 16-bit RPGs anyway), and mixes them with modern conveniences like being able to save anywhere and such. I was really into 16-bit RPGs back when I was in high school, so I think I could really sink my teeth into this one. It reminded me mostly of Chrono Trigger graphics-wise and the battles happened directly on the map, too. Some of your attacks could hit multiple enemies as well. I also noticed bits of other 16-bit RPG favorites, like FF6, Lufia 2, and Earthbound. And the text was really clever, too. And it's just the right length, not too short but not too long either! It'll be out soon for PS3 and Vita, and hopefully I'll get to review it, too!
Quingo
This is an upcoming iPad game that's a unique mix of a trivia quiz game and Bingo. You are presented a question with a bunch of right and wrong answers on a grid. Choose the right answers to score points, and if you have a row or column full of correct answers, you get a bingo for even more points! What's really cool about this game is that you choose a charity to play for, and whichever charity has the most points earned from you playing the game, they get a donation. Money for the donations comes from in-game ads and purchases. I think it's a pretty cool idea that will hopefully do well when the game is released.
PixelJunk Inc.
Q-Games latest title will be coming out for PCs and is a unique and fun mix of different genres. It's a split screen two player co-op game that looks like a 2-D platformer at first. Your job as an intergalactic soup maker is to explore planets to gather ingredients to make soup, and then send cans of it off into space to make money to grow your soup business. At first, you'll dig in the ground to collect ingredients using a ground cutting laser, and fend off monsters using your fist and other weapons. This part of the game would probably remind most people of Minecraft or Terraria, but since I'm old, I say it reminds me of Dig Dug. Then you carry soup ingredients back to your base to mix up to make soup, and then carry the cans to launch into space. Later on you'll need to build defense turrets to keep your factory from being destroyed by aliens, and build robots you can program to help you run your soup factory when it gets bigger. So there are also elements of cooking games, tower defense, simulations, and more! I wish PixelJunk Inc. was being developed for consoles, too, and not just PCs because it sounds like something I would really get into.
Contraption Maker
One of the last indie games I wanted to talk about was pretty early in development, and it's called Contraption Maker. It looks a lot like The Incredible Machine, a game I played to death back when I was a kid. In fact, most of the team who made The Incredible Machine is working on Contraption Maker, so if you're a fan of that classic, too, then you may want to keep up with this new title as well.
PowerA Skylanders Accessories
The last meeting I had on Day 3 was with a game accessory company called PowerA. They do all the accessories for the Skylanders games, so you know I had to meet with them! They had a display with all their new and upcoming accessories in one area, and I'm surprised they didn't have buckets nearby to catch the drool from young Skylander fans passing by. Some of the things they had were plush, storage shelf cases, blankets, a Monopoly game, phone cases, and much more!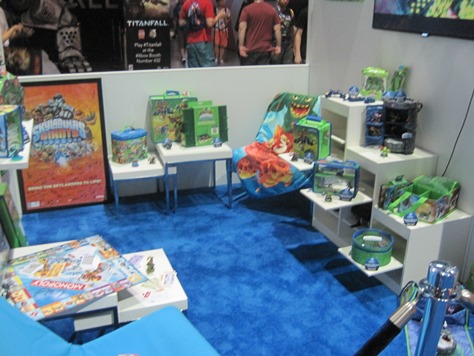 Man, I am so sorry that these next two pictures turned out so dark! I guess I'm not as good of a picture taker than what I thought. Oh well. Anyway, two upcoming Skylanders accessories that PowerA was showing off were a couple of playsets that will be exclusives to stores like Toys R Us. I could see them being a huge hit and being plastered all over the toy catalogs this Christmas. The first one is Flynn's ship, which looks just like the flying ship you use in the games to reach new areas (Flynn the braggart pilot is voiced by Peter Warburton in the game). You can open up the top of the ship playset and store your Skylanders figures in there as well.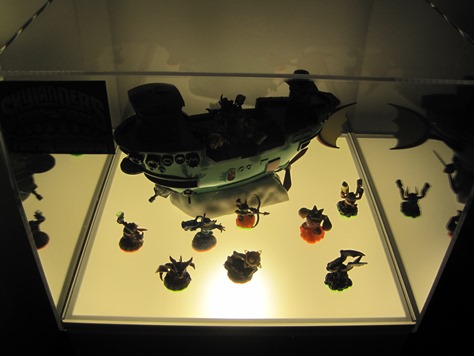 The other playset looks like the floating islands you tromp around in the game. Not only does this playset have storage areas, but it also has a place for you to set your Portal of Power. Hopefully I'll be able to include some of these accessories if I get to do a Skylanders Swap Force blowout like I've been able to do with the other games in the past couple of years.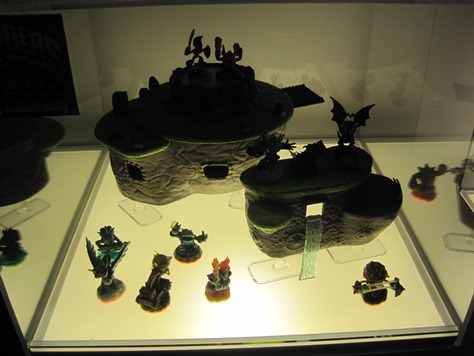 Misc. Pictures
I take a lot of pictures at PAX, and sometimes I don't know where to put them in my articles. So for today's and tomorrow's write-ups, I'm going to put some at the end for you to look at.
Near the PowerA booth was this giant controller that I took a picture of because I thought it was neat.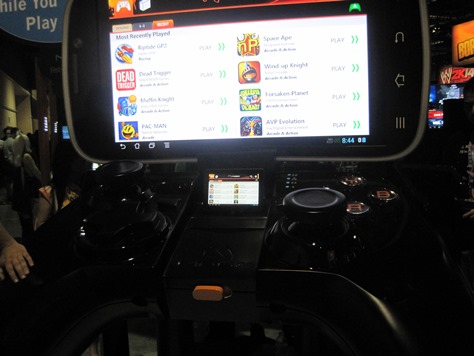 Speaking of giant accessories, here are some HUGE HEADPHONES! (yeah I know, I'm easily amused)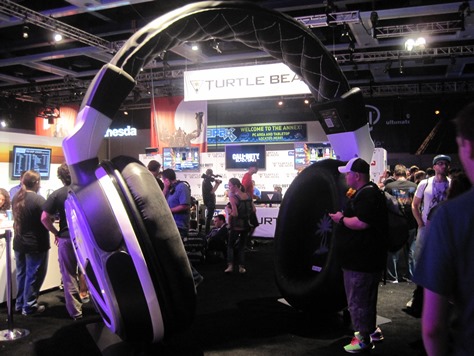 I really like The Behemoth's games like Castle Crashers and BattleBlock Theater, both of which were huge hits around the house. So I took a few pictures of their booth at PAX. Here is a statue of one of the cat guards from BattleBlock Theater.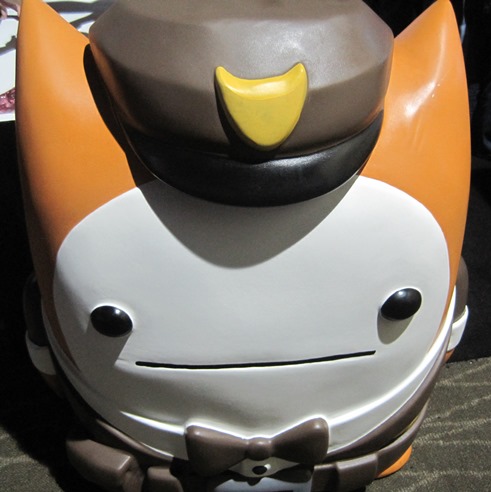 And here's a pillar with all the heads you can unlock in that game.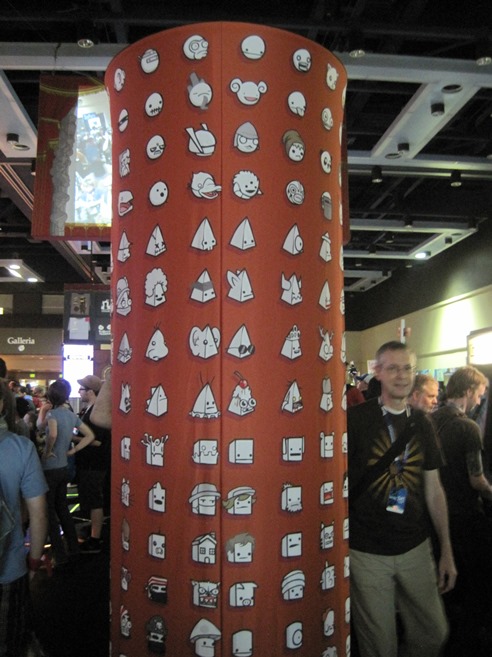 I also liked the arcade cabinet displays where you could play their games.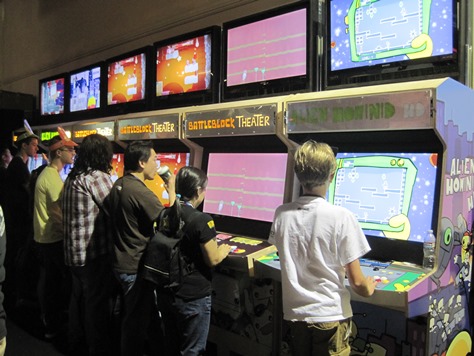 Not only does PAX feature video games, but they also have card, board, and tabletop games as well. Cards Against Humanity is a card game that's similar to Apples to Apples but with dirty words and adult themes. So yeah, NOT FOR KIDS!!! But my all-grown-up little brother Jeff (not really so little anymore) and his friends all enjoy playing it, so I took a picture of the booth at PAX because it looks like a giant box from the game.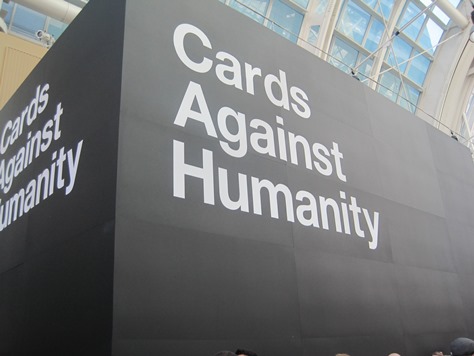 And finally, at PopCap's booth they were showing off sequels to hits like Peggle 2 and Plants vs. Zombies 2. I tried to take a good picture of this costumed zombie, but he always got too close to me! I guess zombies don't know anything about personal space! Ha!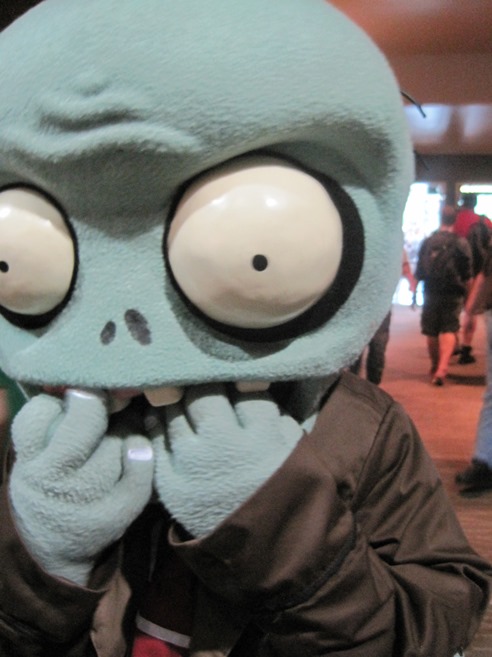 And that's all for now! We'll look at my final day of PAX in the last article tomorrow! –Cary