Posted on
October 2nd, 2013
by
Quingo is a free-to-play game that's like a mix of trivia and bingo. Each round you get five questions, and a grid full of right and wrong answers. Tap on the correct ones to increase your score, and incorrect answers will take a few seconds off your time limit. If you get a row of five correct answers horizontally, vertically, or diagonally, you get a score bonus. But the really unique thing about this game is that you're playing to help raise money for a charity!
That's right! When you first start the game, they let you pick a charity to play for, such as a children's hospital or food donation services. Your score is shown as "Hope points" and whichever charity has the highest total score from players across the country, they'll get the donation after a certain time. The money for the charity comes from ads in the game as well as in-game purchases.
Speaking of which, you can buy 'boosts' that you can use in the game to help you answer questions or increase your score. Some of these you can buy using coins you earn by playing the game. These boosts help you shuffle the questions, cheat and change a wrong answer to a correct one, or give you more time. Other boosts you can buy with real money, and include things like new question packs, or an ad blocker so you don't have to view any ads between rounds, for instance. By playing the game, you'll earn medals that will unlock new boosts for you to purchase.
Only problem I had with the game is that some of the questions are ridiculously hard. Like, "Name Five Elements Discovered Before 1850." Yeah, right. Although many others were right up my alley, like naming five Pokemon monsters or Pac-Man characters (I was impressed they put Yum-Yum on there). So there are a wide variety of questions. I also would've liked to have had more details on how the donation scoring system works, but since it's a free game, I'm not too concerned. If I was donating real money, though, I would definitely want to have more info about that. At any rate, Quingo is free, fun, and for a good cause, so you should download it if you have an iPad!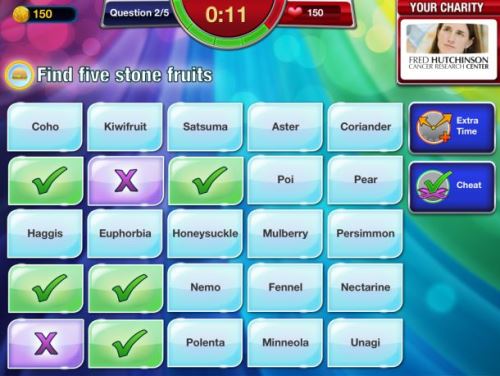 Kid Factor:
Reading skill is required for the question text, and some of the questions may be too hard for younger gamers. But with questions about topics like history and science, it could be considered slightly educational, though.