Posted on
October 3rd, 2013
by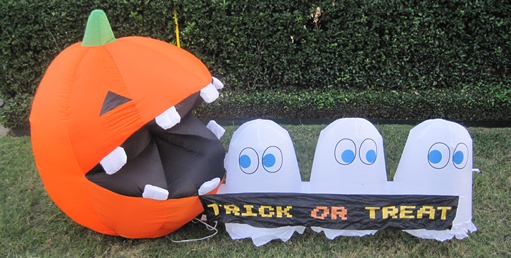 It's October, and that means Halloween is coming up soon! So to get ready for some spooky fun, here are some random pictures and things to get you in a ghost chomping mood!
First of all, I wanted to show you a Halloween decoration that I just bought and put up. It's one of those inflatable blow up decorations that you stake to the ground and plug in and it blows up and has lights in it. I ordered it online through a site called woot.com. Anyway, it's the perfect decoration for me because it has a pumpkin made to look like Pac-Man, chasing three ghosts holding up a pixel Trick or Treat sign. Here's a bigger picture of it in the daylight.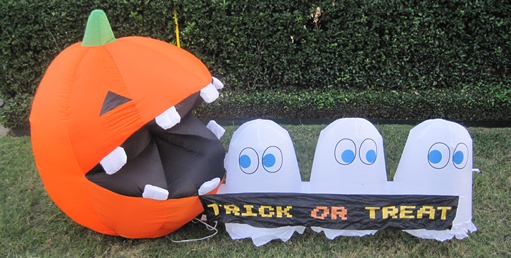 The cool thing about this yard decoration is at night, the ghosts flash three different colors. I wanted to try and get a picture of all three ghosts lit up at the same time, but it was just too hard to do. So here are two pictures so you can see all the colors, just not all at once.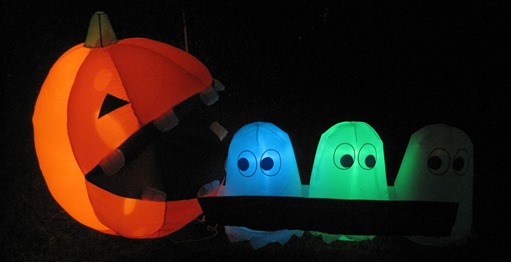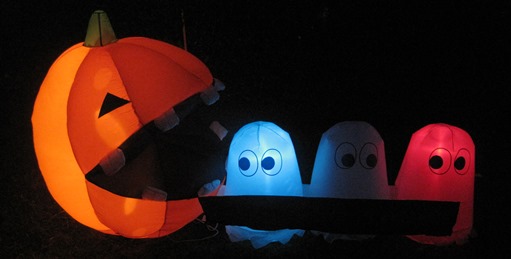 And speaking of Pac-Man, one of the Halloween stores near us had Pac-Ma costumes!
If all this talk about Pac-Man is making you hungry, you're in luck, because General Mills is bringing back the Monster Cereals like they do every time this season. Here are the three 'main' flavors: Count Chocula, Franken Berry, and Boo Berry.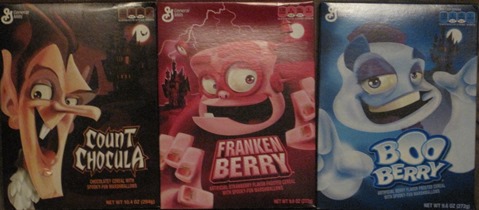 But in the past, there have been a couple of Monster Cereals that have been lost to time. They were both fruit flavored and I think they were the same kind of cereal. They were Fruit Brute, a werewolf from the 70's and Fruity Yummy Mummy from the 80's. And now they've brought them back this year! I like how they call it "The Return of Fruit Brute/Yummy Mummy."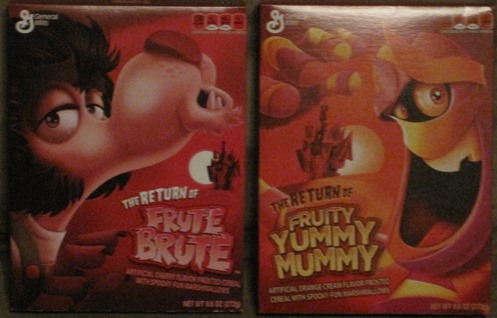 The interesting thing is that these two cereals are not the same. The Fruit Brute cereal is a cherry flavor and Yummy Mummy is an orange flavor. Although if you ask me, they all taste like sugar anyway. So the cereal purists out there may object to that. One interesting thing is that you can also buy boxes of this cereal that have the classic characters and designs on the box, and not the new ones pictured here. But they're only exclusive to Target stores. But the cereal is the same in both kinds of boxes. My friend bought the old ones, but I didn't take a picture of them.
On the back of all the boxes is a cute little comic on how the old and returning monsters have a midnight cereal snack.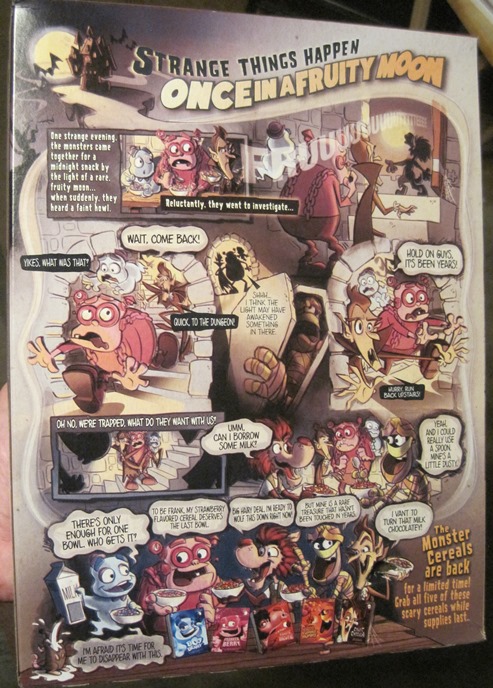 And on the sides of the boxes there are trivia questions about the Monster Cereals that no kids would know. You can tell this stuff is marketed at the adults just as much as the kids. Each box has different questions, so I posted them all here.
And that's all! Personally, I don't like Monster Cereals or Lucky Charms or any of those that have marshmallows in them. I hate marshmallows. And the cereal is too sweet anyway. I was sad as a kid when they came out with Pac-Man cereal, because it had marshmallows in it, too, so I wouldn't like it even though it had my favorite character on it!
Even though I wouldn't let kids eat this stuff all the time, I'd be OK with them having it as a treat every once in a while. I think that's just part of being a kid is being able to eat sugary cereals, because they won't be able to enjoy that as much when they get older! Have a happy Halloween! –Cary