Posted on
November 21st, 2013
by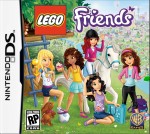 Lego Friends is a title that pretty much nails the stereotypical pre-teen female. Plug the cartridge into your 3DS and you're off into a world of making friends, trying on clothes, taking care of your pet, or even combining things by choosing your pet's clothes! While not everyone's cup of tea, Lego Friends does a pretty good job of serving as a (somewhat girlish) constrained version of the Sims. There isn't much of the LEGO brand videogame humor, but for what it offers, the game is a pretty solid title that allows players to explore the game at their own pace and pursue their own interests.
In Lego Friends, you take on the role of a girl "new to town" and proceed to meet new "friends" who show you around town. Each friend lets you interact with a different aspect of the game. One friend helps you care for your pet (when you acquire one – which is fairly quick), another helps you decorate your bedroom, another works with you to set you up with outfits, and so on.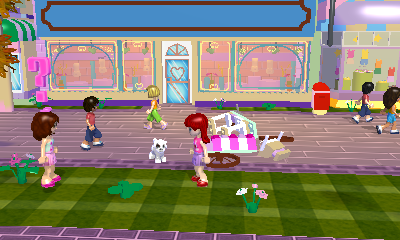 As you walk around town, you earn coins which can be spent for various things, including obtaining new outfits, decorations, etc… You also have a fair number of free-form activities with which to participate. Learn soccer, wander the mall where you can help with the science fair or coax a cat into being your pet. The little "minigames" are more than just ways to amuse yourself, they also reward you with new items or pets which can then go on to unlock additional areas or activities. For example, if you help with the science fair (find Legos, return them to the fair and "build" each character's project) you are rewarded with a little robot pet. The robot pet can then allow you to access some activities/areas that require mechanical assistance. A dog, given to you in the introduction, allows you to search for hidden areas (paw prints) as well. The game has a sort of mild puzzle vibe, as one must figure out what item or pet (watering can, dog, robot, pet treat, etc…) can be used to solve problems with which one is presented.
I was worried that this type of game might be heavy on the sexist side of things but it wasn't too bad. The principle is a male, but the science teacher is a woman. (In the science lab, you add primary colored potions together to make specific secondary colors.) The minigames are fairly fun (my preschool son enjoyed the button-pressing soccer game, as well as watching me wander about town.) There isn't the humor present in Lego Friends that can be found in many of the Lego adventure games, however the game has surprisingly more depth than I expected. It won't be a good title for everyone, but those fans who enjoy dress-up, finding pets, socializing with (virtual) friends will be pleasantly pleased with the quality of Lego Friends.
Kid Factor: Some reading is required to get through many of the activities, but a persistent button-presser might be able to navigate through the game menus without understanding all the words. There is a bit of stereotyping in the game, but those who do not fit the stereotype will not be all that inclined to play the game. As for typical inappropriate content found in a video game, it doesn't exist here. The game should be a good fit for any kid with rudimentary reading skills (the activities do not require too much coordination) all the way up to kids who are no longer interested in the subject matter.