Posted on
January 23rd, 2014
by
This is the story of a little boy and his favorite toy: a ball. But every night when the boy sleeps, a monster lad who lives in his closet sneaks into the little kid's room and takes his ball. So the next night, the little boy must enter the monster's room and take his ball back. And the cycle repeats. Help the boy and the monster take back the ball in this puzzle game downloadable for iOS devices (reviewed on iPad here).
In each level you play as the boy or the monster, alternating between each stage. To take the ball all you have to do is tap it. But in every room are objects that will react to your movement and wake the sleeping child or monster up. So you must tap on other items in the room in a certain sequence so that you can take the ball quietly.
Here is an example of how that works. In one room is the ball, a dog, a lamp, and a cactus. If you tap the ball, dog, or lamp first, it'll startle the dog and he'll start barking, waking up the sleeper. But if you tap on the cactus first, it'll move in front of the lamp. Then you can turn the lamp on and it'll cast a scary shadow, causing the dog to hide under the bed. Then you can take the ball! All the levels progress in this same fashion. Hidden in every stage is a star. You must tap on a certain object in the room to reveal the star, and then tap the star to collect it and finish the level. Stars are important for unlocking new stages and bonus levels. Overall, this is a cute and endearing puzzle game for kids and kids at heart.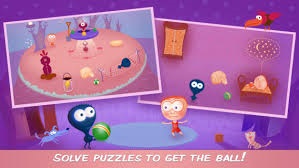 Kid Factor:
I can't really imagine any kids being scared of the monster, as he is about the same size and shape as the boy. Reading skill isn't needed to play, but very young gamers may need help with some of the more complicated puzzles. And it would be nice if, at the end of the game, the boy and the monster learned how to SHARE that ball!