Posted on
January 24th, 2014
by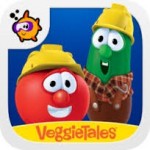 Personally, I LOVE VeggieTales. It's a fun computer animated series that combines great humor with Bible based lessons and values. And now Larry the Cucumber, Bob the Tomato, and the rest of the gang are entering into the 21st century with an interactive episode of VeggieTales for your iPad or iPhone (reviewed on iPad here).
The story of 3 Builders is basically a retelling of the classic Three Little Pigs tale. Except in this one, the lesson is that no matter what your house is built out of, it won't last without a good foundation. Just as a good foundation of lessons from the Bible is important in life. I'm not entirely sure that parable is totally applicable to the preschool audience who would watch this, but it's still a good lesson anyway. Spoiler Alert: Needless to say, the brick house may not win in this version of the tale.
3 Builders plays like a regular episode of the VeggieTales show and is about 20 minutes long. But what makes this one different is the level of interactivity during certain segments. At points during the adventure, your child will need to use the touch screen and microphone to complete certain activities. Your child will learn sorting and matching skills, and parents can even chart their progress on a special menu. I couldn't find a way to turn off the microphone option, though, so this may not be a good thing to do during "Quiet Time."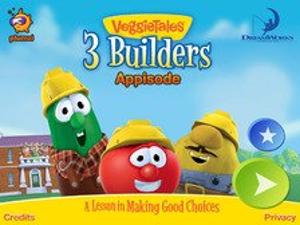 The episode itself is a little short, but I could see kids watching this one over and over again, especially since not all the mini-games repeat themselves. Even I laughed at some of the jokes in the episode. If your family is a big fan of VeggieTales, you'll definitely want to download 3 Builders.