Posted on
June 27th, 2014
by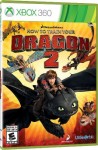 In the land of Berk, Vikings and dragons live and work together in harmony thanks to the heroic efforts of boy Hiccup and his dragon friend Toothless.  Now, instead of fighting against each other, riders compete in friendly dragon tournaments in this video game based on the new DreamWorks computer animated movie (360 version reviewed here).
When you first start the game, you're given a quick interactive tutorial on how to fly your dragon.  Then you are free to soar around and explore the village of Berk and the surrounding mountains and islands.  This is actually the most fun part of the game, as you can find all sorts of secrets around the land.  You can even earn special (yet seemingly useless) dragon tokens by finding hidden coins and performing daredevil stunts.  You can also switch dragons and riders, including all of Hiccup's friends and their dragon pals.
Scattered about Berk are special dragon perches.  Land on one to start a mini-game challenge.  Most of these involve racing through rings, but sometimes you'll have to cough up fireballs in shooting gallery challenges, or swoop down and catch sheep and bring them back to a goal for points.  Other times you'll compete in tournaments with other dragons and play several mini-games in succession.  By doing well, you can earn bronze, silver, and gold medals.
Unfortunately, the game has several problems.  For starters, the tutorial at the beginning of the game fails to explain how to use items (press Y) and brake (press B).  I had to fumble around and figure that stuff out on my own.  I don't know if the physical retail version of the game has better printed instructions, but my digital review copy sure didn't have any extra control help.  Also, most of what you do in the game is fly through rings, and Superman 64 proved that wasn't very fun after a while.  Plus, the computer-controlled opponents are way too hard and goals and objectives in the mini-games aren't very clear.  I think only players who REALLY like the characters in the movie will enjoy this game.  Speaking of which, I guess that's one good thing about the game is that you don't have to see the new movie to play it and not get the plot spoiled for you, as I'm sure the story of the new film doesn't involve flying through rings all the time.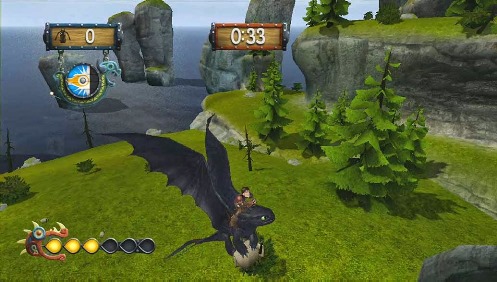 Kid Factor:
How to Train Your Dragon 2 is rated E-10 with ESRB descriptors of Comic Mischief and Mild Fantasy Violence.  You can fall off your dragon if you hit something, and you can breathe fire and throw weapons at your opponents to slow them down, but that's it.  Reading skill is helpful for the instructions, and younger gamers may get frustrated at the high difficulty and unclear goals.