Posted on
October 2nd, 2014
by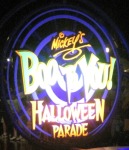 The next day we went to the Magic Kingdom, so I'll talk about that next. But what I'm really going to focus on was something we did that night at the park: Mickey's Not-So-Scary Halloween Party!
Now the first thing we did that morning was check out the newly designed Fantasyland (which needed an update), and go on the new Seven Dwarves Mine Train. I wasn't really impressed with it, though. It's just a lamer version of Big Thunder Mountain Railroad.  But after that we went on my favorite kiddy ride: The Many Adventures of Winnie the Pooh.  When I was little, one of my favorite rides was Mr. Toad's Wild Ride, so I was sad when they took it down.  But they replaced it with an even better (and cuter) ride starring Winnie the Pooh and friends.  I like how you ride in 'hunny pots.'  At one point in the ride when you meet Tigger, the whole pot jumps up and down as you bounce along with him.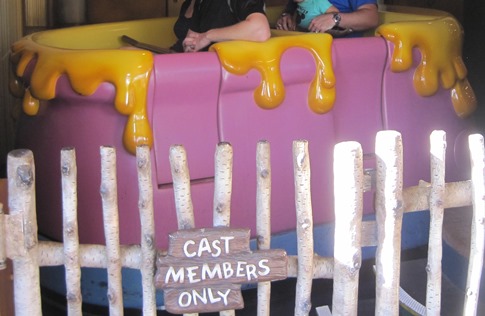 One cool thing about both the Winnie the Pooh ride and the Seven Dwarfs ride is that they added things to do in the line if your kids get bored. In the Winnie the Pooh ride, there's a little walk-through playground around the line where you can play in Rabbit's garden and move bees along those bead mazes like the toys you play with in doctor's office waiting rooms.  But my favorite was the interactive honey walls where you could draw pictures with virtual honey!  I'm sure that was the germiest part of the ride, though.  What's cool is that you don't even have to touch the screen.  Just put your hand near it and it works just fine.  Then you can pretend that you can control honey telekinetically!
Other rides we did in Fantasyland include Under the Sea: Journey of the Little Mermaid, which is another cute kiddy ride. And also It's a Small World and Peter Pan's Flight, which were both as lame as ever.  But after that we went to my favorite part of the park: Tomorrowland!  We rode my favorite ride at the whole park: Space Mountain.  And also Buzz Lightyear's Star Command, which is like a video game because you get a gun to shoot at targets on the ride, and you can control where your cart spins.  Here's Buzz briefing us on the mission in line.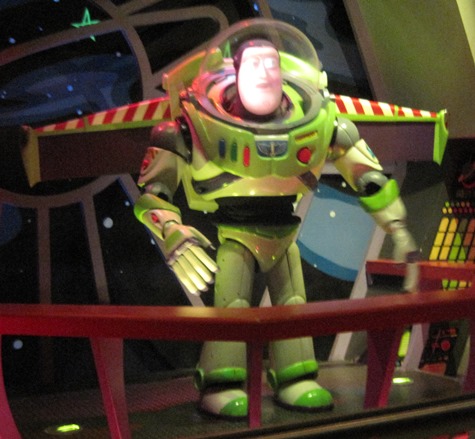 And after the ride, there was Zurg behind bars at the gift shop. Poor guy.
There were two new things I did in Tomorrowland as well. Stitch's Great Escape used to be two different rides I remember.  First was Mission to Mars, which was really old.  Then they changed it to an Alien Encounters thing which was probably too scary and intense for kids, although I still liked it.  So they toned it down and put Stitch in it, but it was still really cute.  Now he burps chili dog breath on you and it feels like he hops on your shoulders and pats your head!  The other new thing was Monsters Inc. Laugh Floor, which was a really funny interactive improv comedy skit.
Next we headed on over to Liberty Square to eat and ride my other favorite Magic Kingdom ride: The Haunted Mansion. Even as a child I've always loved this ride, so I must've been a pretty messed up kid!  I've always liked the gravestones you can read in the line, like these ones.
Aside from riding other things like Pirates of the Caribbean (now with Jack Sparrow), we didn't really do much else there. I did go to the Enchanted Tiki Room even though it's lame because that was my grandmother's favorite thing to do when she went there.  So I did that in honor of her since she passed away last year.  A while back they updated it to have Zazu and Iago in it, but they changed it back to the old way it was before this time.
But what we did do was stay for the Mickey's Not-So-Scary Halloween party, where they keep the park open later. There was some pretty neat pumpkin and fall decorations around the Main Street area, but the only bummer was that it rained pretty hard for a good portion of it.  Luckily the rain stopped just in time for the Halloween parade.  If it's one thing that Disney knows how to do at the parks, it's parades!  Sorry if some of these pictures didn't turn out so well.  It was hard for the camera to focus in the dark with all the bright lights and moving floats and people.  So there was a lot more to this parade that what I have pictured.
Here's Mickey and pals dressed up in Halloween costumes.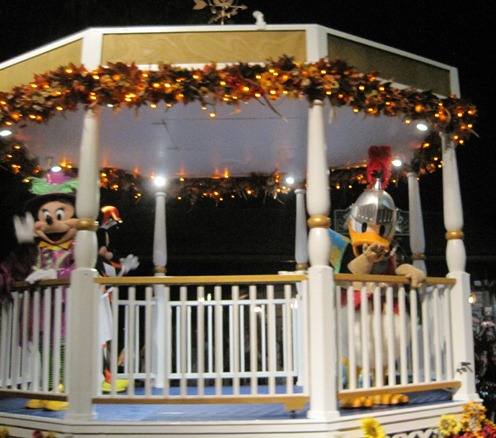 The Peter Pan cast on a pirate boat.
And also Pirates of the Caribbean. There were a lot of pirates in the parade, but then, pirates have been a strong Halloween theme for a long time.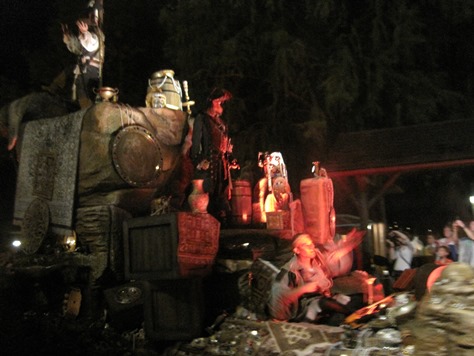 They also had floats featuring one of my favorite rides: The Haunted Mansion. Here are some of the gravestones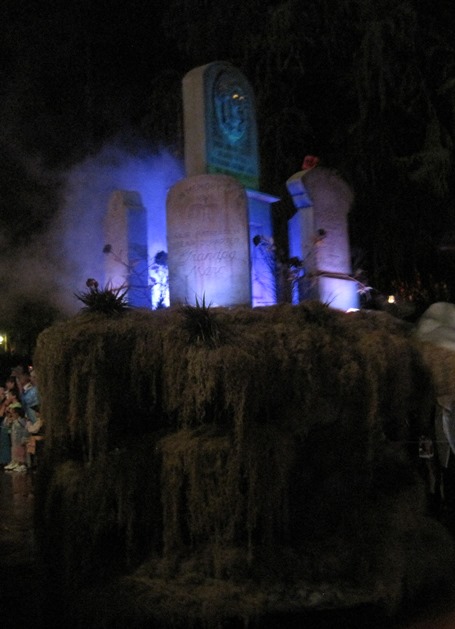 And here are the ghostly dancers. They looked pretty cool up close, too!  I even talked to one of the lady dancers for a little bit.  It was weird!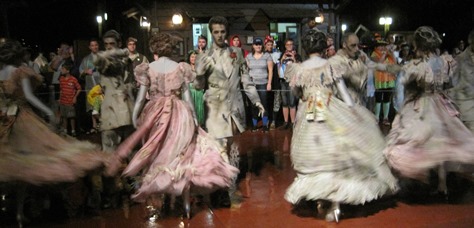 It's hard to tell from this shot, but thanks to clever makeup and lighting, the guys on top of this float looked like ghosts, too!
The next two floats featured a barnyard theme with two very obscure Disney characters on each float. The first had Clarabelle Cow!
And after that was Henrietta Hen in the barn! In between were costumed characters of the Country Bear Jamboree and Chip N Dale as cowboys, but I didn't get to take a picture of them.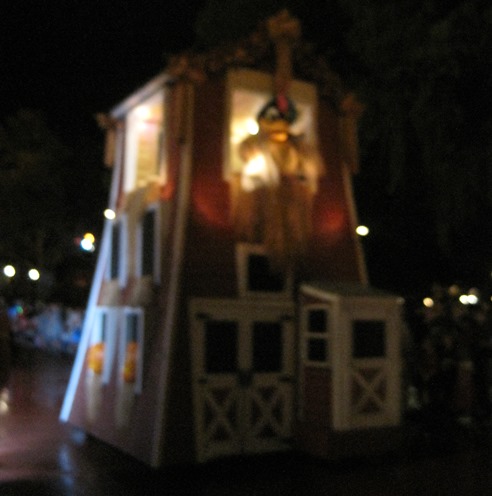 Halloween is also about candy, so next up was Vanellope Von Sweets and Wreck-It Ralph delivering candy straight from Sugar Rush!
In the shops you could buy candy from "Goofy's Candy Company," so here he is on a float advertising his wares.
The last part of the parade had floats for various Disney villains, but none of them came out well except for this one of Pain and Panic from Hercules.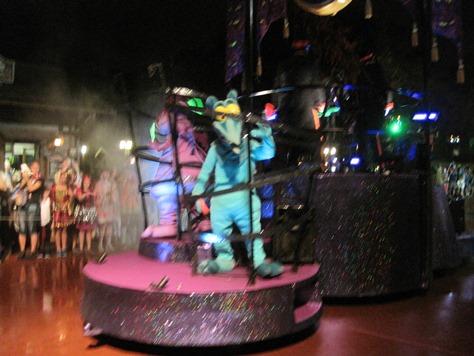 And that's all of the parade. After that we rode some rides at night, and it was cool to go on Big Thunder Mountain Railroad and The Haunted Mansion after dark!  We tried to go on Space Mountain again, but it was under maintenance, unfortunately.  But the cool thing is that we rode on the People Mover, which goes through Space Mountain.  And since it was under maintenance, we got to see it with all the lights on!
And that's all for the Magic Kingdom. Tomorrow we'll go wild at Disney's Animal Kingdom!  –Cary