Posted on
October 1st, 2014
by
Hey folks. Last week I went on vacation to Disney World with my dad's side of the family, and I took tons of pictures and did lots of things.  So I decided to share them in a week-long blog series!  Since Epcot has always been my favorite of the parks, and we did that first, we'll start with that.
Now keep in mind that I didn't take pictures of EVERYTHING there. Just the stuff that was new and interesting to me.  We all know what Spaceship Earth looks like (the ball), or the castle at the Magic Kingdom looks like.  And if you don't, you're on the internet so you can do a search for them after you read my articles.  Plus, one of the bad things about the trip is that it rained every freaking day we were there, so I didn't have my camera out at all times to take pictures.  Now, it's not as bad as it sounds.  It only rained for a small part of each day, and it did cool things off.  But I did get tired of having to mess with a poncho all the time and have wet shoes and soggy socks at the end of the day.  But oh well, let's get started!
The cool thing is that since we stayed on campus, we were in walking distance from our hotel to Epcot. So we walked right into the middle of the park near World Showcase.  See, Epcot has two parts: Future World has a lot of science-type rides, and World Showcase has pavilions representing various countries.  I always liked World Showcase because even though it's been criticized as being simulated culture, it's still fun to see the buildings and eat at the restaurants and see the shops.  For example, here's a picture of the outside of Mexico.  The inside is cool, too, as they made it look like a nighttime marketplace with a restaurant and little boat ride.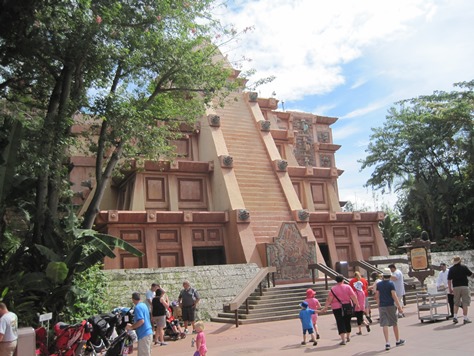 Norway is one of the newer countries to be added to the showcase (well I remember when it was new), and it has a fun boat ride called the Maelstrom. I liked the part where it looks like you're about to go over a waterfall, so here's a picture of that.  But that'll be the last time I get to ride that one, because I hear they are changing it to be a Frozen ride.  Too bad, but as much as I like the Maelstrom, it is certainly in need of an update.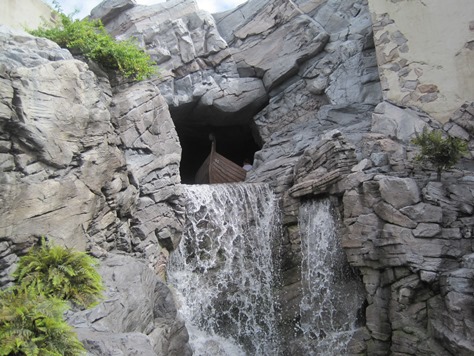 For lunch we ate at the German restaurant there. I took German in high school and college, and I used to be able to talk to the waitresses and waiters in German then, but I don't remember as much now.  On stage they had an Oktoberfest style band.  At one point they played those horns you hear in those Ricolla commercials.
I think my favorite country this trip was Japan, though. They had a neat shop with video game and anime items, and they didn't jack up the prices, either.  They had a ton of Studio Ghibli stuff, too.  They also had Taiko drum performances, but I missed that, unfortunately.  There was also a neat museum of Japanese mythical monsters and creatures, and I took a picture of the tanuki exhibit because they had a plush toy of Tom Nook from Animal Crossing in there!  And if you look nearby, you can kind of see a shirt that has Tanuki Mario on it, too!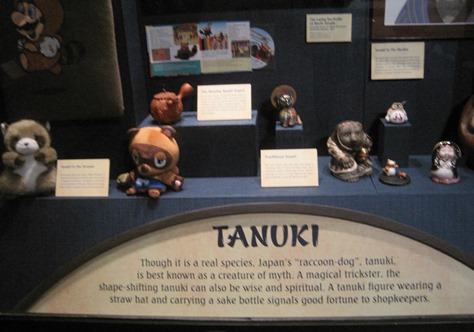 One special event they had going on during our stay was the Food and Wine Festival at the World Showcase. I wasn't really impressed with that, though, because who wants to spend 6 bucks or more for three bites of food and a drink at each station?  I did take a picture of a cool Mickey topiary, though.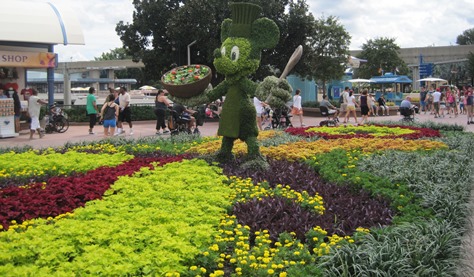 And that's really all the main things we did in the World Showcase. We did see the Illuminations fireworks show one night, and they did have concerts for the Food and Wine Festival, and we heard The Pointer Sisters and The Commodores for a bit.
OK, now onto Future World! The cool thing is that even though some of the rides are really old, they try and add a little something new to each one.  For instance, Spaceship Earth added a touch screen to the ride so you can design your own cartoon future, and they take your picture and put it in the scenes!  Universe of Energy (the dinosaur ride) added popular celebrities like Ellen and Bill Nye, although I remember them doing that when I was in Disney World 15 years ago.  I'm a little sad they changed Journey Into Imagination, as it's not as good.  But at least it still has Figment, who is one of my favorite Disney characters.  As they are both purple dragons, Figment and Spyro remind me of each other.  At the souvenir shop I got a Figment comic book!
One of my favorite rides has always been The Living Seas, as it's just a big aquarium that you go through, and I like aquariums. They added Finding Nemo characters since I was there last, which I'm cool with because Finding Nemo is one of my favorite PIXAR moves.  They had the characters in the trees as you walked past.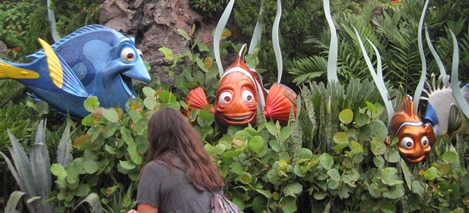 I also liked the seagulls on the sign near the entrance. Every so often a wave would come by and you'd hear them go "Mine! Mine! Mine!"
At the theme parks, one of the things you can do is find 'hidden Mickeys' all over the place, in areas where you would least expect them. With help from my brother Caleb, we spotted one in the aquarium, so I took a picture of it.  Unfortunately you can't see it as well because a group of fish photobombed my shot!  Darn ol' fish!
One of the brand new rides we went on (new for me anyway) was Mission: Space. They put you in a small little room that simulates being in a spaceship.  They give you a joystick and buttons to push, so that was cool.  If you don't like being in small spaces, I recommend skipping this ride as it was pretty cramped in there.  I thought the entrance was cool so I took a picture of it.  I bet it looked really neat at night.
We also rode Test Track, which I loved.  I had seen it there before, but it was so new at the time that the line was always way too long.  So I was glad to ride it this time.  It's not scary; it just simulated riding in a really fast race car!  If I owned Disney World, I would change it to be a Ridge Racer ride!
And finally we went to The Land, which had a few changes and a few things that had stayed the same. The new ride there was called Soarin', which put you in seats were your legs dangled down, and put you close to a movie screen so it looked like you were flying.  It was neat, but I'm sad they took out my favorite thing from The Land as a kid: Kitchen Cabaret.  It was just an animatronic show starring singing food, but it cracked me up as a kid.
Speaking of The Land, one other night we came back to Epcot to have dinner there at The Garden Grill, which ended up being my favorite restaurant we went to on the whole trip! It's a round revolving restaurant, so the scenery changes over time, and costumed characters like Mickey, Pluto, Chip, and Dale come out to greet you.  Here is Farmer Mickey at our table.  The picture of Pluto came out too blurry, sorry.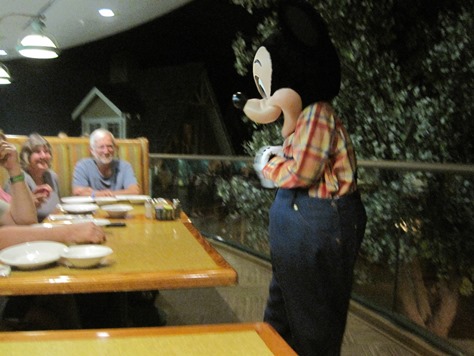 Chip and Dale have always been my favorite Disney characters, as I used to know someone who helped create them. And Rescue Rangers was my favorite of the Disney Afternoon cartoons.  So it was fun to be a kid again and get my picture taken with them here.  Here's Chip: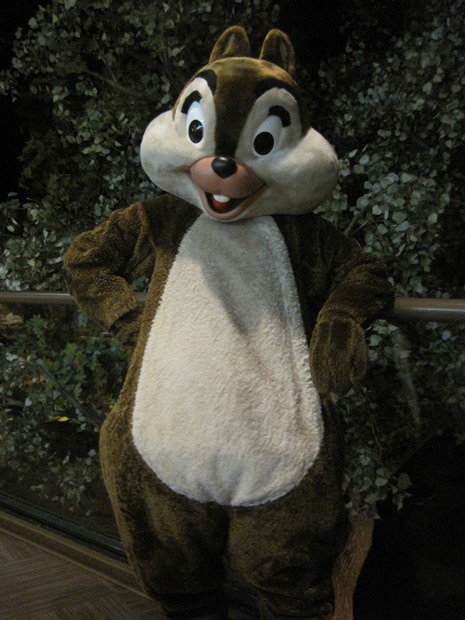 And Dale:
Of course the best part was the food. They bring platters out to you and it's like a Thanksgiving dinner.  There was salad and bread, turkey and dressing, mashed potatoes, and veggies.  But the best part was the beef.  It was SO GOOD and the waiter said they marinade it for a full day!  I ate a ton of it.  Next time I go to Disney World, I totally want to eat there again!
And that's all for Epcot. Tomorrow we'll look at what I did at The Magic Kingdom, and Mickey's Not-So-Scary Halloween Party!  –Cary