Posted on
November 3rd, 2014
by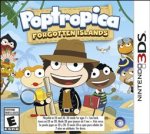 Poptropica is a popular online game for kids, and the author who wrote the Diary of a Wimpy Kid books helped make Poptropica, so that's kind of interesting. I'm not a fan of either, but I'm sure it's something kids would like.  Now you can have the fun of Poptropica on the 3DS with Poptropica: Forgotten Islands.  It's kind of a follow-up to Poptropica: Adventures on the DS.  In the new game, explore small islands and help out villagers and collect mysterious ancient artifacts in this 2-D platforming adventure.
When you start, you'll first create and name your character. You can design their hair color and style, skin tone, eyes, and more!  Only problem is this part is kind of hard to figure out at first.  They don't give you very good instructions on what buttons to push and whatnot.  After you've made your character, you'll control a yellow blimp around a map filled with small islands.  Fly near one and land to explore it.
Each island is a 2-D platforming level. Usually you'll find someone to talk to who will give you a fetch quest.  Then you'll scour the island looking for the items they need.  You might even have to play a touch screen mini-game every now and then.  When you are done, the islander will give you coins, passage to another island, or maybe even one of the six ancient artifacts you're going after!  Icons on the map make most of the goals and objectives fairly clear.
Back on the blimp, you can use the coins you earned and found to buy new outfits to dress your character in. When you collect enough artifacts, your blimp will receive upgrades, too.  On the map, winds, rocks, and other obstacles block your path, and the upgrades help you bypass those roadblocks.
Play control is a bit floaty, but this kind of game really doesn't need precise controls. Because the islands and level designs all look the same, I can't imagine too many people holding interest in this game for very long.  But it'll probably entertain kids and anyone who likes relaxing platformers, and also fans of the Poptropica online game.
Kid Factor:
There is nothing violent here, and since you can't die or lose, players shouldn't get too frustrated. Reading skill is a must, though, because of all the text.  If your child wants to play Poptropica online, and you want to limit their PC time, this game may be a good compromise.  Poptropica: Forgotten Islands is rated E for Everyone.