Posted on
January 29th, 2015
by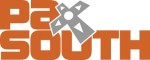 The Penny Arcade Expo, or PAX for short, is one of the biggest gaming conventions open to the public.  It's been around for a good while, but at first it was only limited to being in Seattle.  Over the past few years, that's changed as there have been PAX conventions in Boston and even Australia!  And now, for the first time ever, they had a PAX South convention located in San Antonio, TX last weekend!  I live near Dallas, TX, so I thought that was cool that they had one so close to where I am!  Usually when I go to PAX in Seattle, I only bring one or two people with me.  But for PAX South, I had a whole crowd including both my parents, almost all of my little brothers, and a few of my good friends, too!  Keep reading to find out everything I did at the show last weekend!
The PAX conventions aren't just about video games, they're also about board games, tabletop games, and card games, too!  In Seattle, these kinds of activities are spread out all over the convention center, but at PAX South, they had their very own section on the show floor, so it felt a bit more prominent here.  With the introduction of kickstarters and 3-D printing, board games and card games have had a bit of a renaissance lately.  Here's a picture I took from the second floor looking downward at the tabletop section.  As you can see, there were a lot of tables and chairs where people could sit down and play these games.  They even had a library of sorts where people could check out board games to play.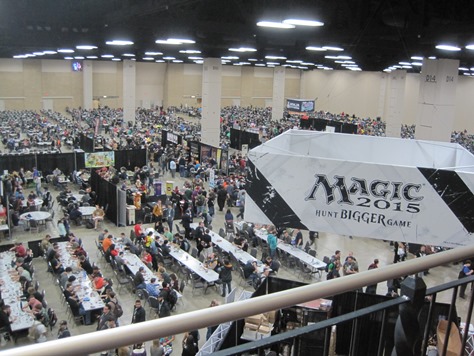 As you can see, Magic: The Gathering had a big presence at the Tabletop section, including competitions and a store!  But there were a lot of other board and card game companies there as well.  I even met with one of them: AdMagic.  They're best known for Cards Against Humanity, which is an adult game that plays similar to Apples to Apples.  Many members of my family have enjoyed playing it a lot, but remember, it's not for kids.  Anyway, AdMagic made it clear at PAX South that they make other titles as well, and many of these are good for kids.  Educational, even!  At their booth, they had demo stations where the creators of the different card games would demo their wares to anyone interested in learning how to play.  Two of their card games involve reading and spelling, and are certainly educational.  One was a fast-paced spelling card game called Twirk, and another was a combination of Scrabble and Monopoly, as you try and spell words to make money and buy letters so other people have to pay you to use them!  That was called Letter Tycoon.  Finally, I played a card game that was similar to UNO, but it was called Poop: The Game.  And yes it is safe to play with kids.  In fact, the creator of Poop designed it with his seven-year-old boy.  Here is the creator of Poop demoing the game.  I'll be reviewing the game soon, too, so be on the lookout for that later.
The other side of the show floor had all the other game companies and stores.  Here is a shot of that part of the show from the second floor.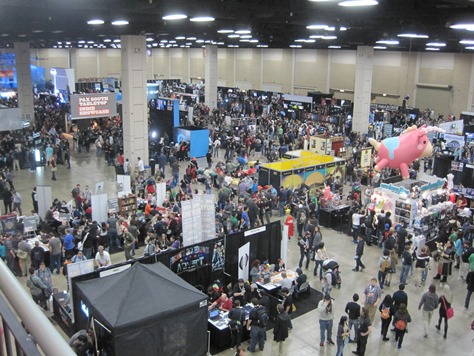 There were a lot of stores selling everything from used games, t-shirts, plush toys, and other goodies.  We even bought a board game called Duck! Duck! Go!  The game pieces are actual rubber ducks!  Here's a shot of the Valve store with a giant pink unicorn thing floating above it.
There weren't a whole lot of flashy booths at the show, but there were a couple that caught my attention with blinky lights and such.  Here is a truck at the Alienware section that had color changing flashing headlights.  I thought it was pretty so I took a picture.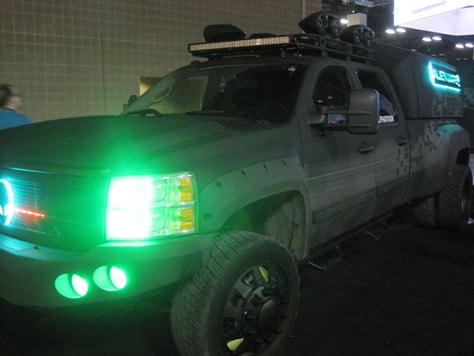 Another neat looking booth was the one for Dungeon Defenders.  Here is one side of the booth.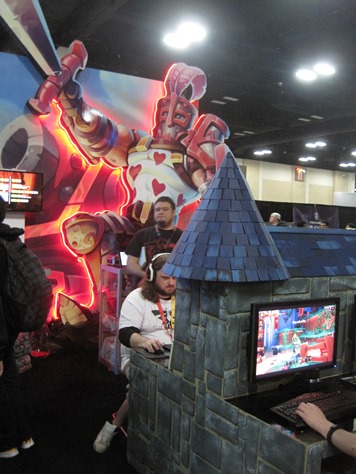 And here is the other side.
One disappointing thing about PAX South is that there wasn't a big presence from larger console game companies like there is in PAX Prime in Seattle.  Nintendo was there, but they were only showing upcoming 3DS offerings like Majora's Mask, Monster Hunter 4, and Code Name S.T.E.A.M.  They also had the New Nintendo 3DS on display.  I guess it's understandable that they had a smaller presence here than in Seattle, considering their home offices are in Seattle's suburb of Redmond.  But it would've been nice if they had some Wii U demo stations as well, to show off upcoming titles like Kirby and the Rainbow Curse.  Here is what the Nintendo area looked like.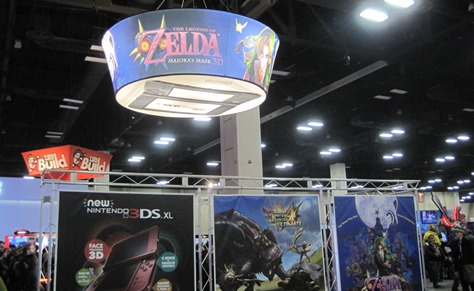 They had a statue of Majora's Mask in the booth that I took a picture of as well.  They even gave out paper Majora's Masks at the show!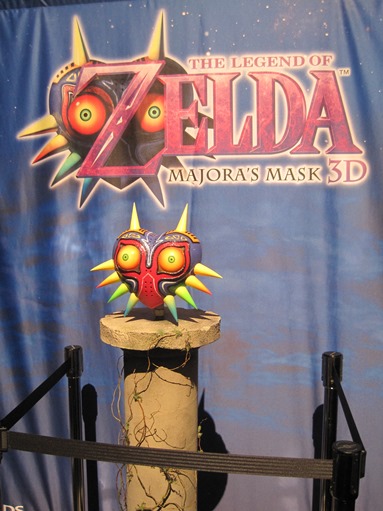 Tablet and mobile games had a larger presence at PAX South, and one of the bigger booths was for tinyBuild Games, which showed off almost a dozen titles!  I even reviewed one of them a while back called Spoiler Alert.  They had that and a few other games at the show that I played.  One was called Fearless Fantasy, a cartoon RPG with a turn-based battle system that uses timed screen taps and swipes for stronger attacks.  It was similar to the gameplay in Elite Beat Agents.  Another game I played there was Divide By Sheep.  It's a math game where you must put the correct number of sheep on a raft, but limited island space, wolves, and other obstacles keep your brain thinking as you calculate the best paths for the sheep to go.  Sheep can even be split in two, only to be duct taped again to make them whole!  So there are a lot of hidden fraction and equation problems in this puzzler.  They also had the multiplayer title BOID and a cute and colorful 2-D title called Snail Bob 2.  Hopefully I'll be able to review some of these games when they become available.  One last tablet game that I played at another booth was called Force of Elements and it played a lot like Puzzle Quest.  I hope to review that one, too!
While big name game companies didn't have much of a presence at PAX South, indie game companies sure did!  I even met with a few of them.  Serenity Forge had two games that caught my eye, one being Pixel Galaxy, which they described as a cross between Ikaruga and Katamari Damacy.  Another was The King's Bird, which is a 2-D platformer where you control the wind and has an emphasis on flight.  Another company, Berserk Studio, had Just Beats and Shapes.  The name says it all.  It's a multiplayer challenge where you avoid any shapes coming at you, but everything is timed with the beat of the music, so you can anticipate where things come by listening to the beat.
Other indie games that caught my eye were ones from Level Up Labs.  They had a 2-D platforming dungeon making game called Nefarious, a motorcycle racing game that plays like Road Rash called Road Redemption, but my favorite was Tadpole Treble.  It's a music game where you are a tadpole and must avoid music notes on sheet music.  There is even a creation mode that reminded me of Mario Paint's music program!  The neat thing about all these games is that while most were all PC games, they are looking to port them to consoles as well!
One of brother Jeff's favorite games at the show was called Guild of Dungeoneering.  In the game you have an explorer venture into 2-D top-down dungeons that you make with cards in your hand.  You don't control the explorer directly, but attract him where you want him to go by placing monsters for him to defeat and treasure for him to collect.  This game will be published by Versus Evil, who had some other cool games at the show including The Banner Saga, Kyn, and more!
I don't know if it's the popularity of games like Shovel Knight, or gamers my age longing for the simpler games of their youth, but I saw a lot of 2-D retro styled games at the show.  But the best one was probably Adventures of Pip.  It's a successful kickstarter game that's a 2-D platformer.  An evil queen has stolen all the pixels of the world, and it's up to a single red pixel named Pip to stop her.  It's a pretty typical 2-D platformer, as you run around and stomp on enemies.  I played it at PAX Seattle but they had a new and better demo here.  In the game, you can stomp on certain enemies and evolve into different versions of Pip.  8-bit Pip, or Agile Pip, has more human-like features and can run fast and wall jump.  16-bit Pip, or Strong Pip, attacks with a sword but is really heavy and can't wall jump.  You can de-evolve at any time, but you must find special enemies to stomp on to evolve again.  Not only does the game have a neat retro style, it also has tight controls and lots of secrets to find.  It may even end up being this year's Shovel Knight.  Just as in that game, Adventures of Pip was made from ex-Way Forward employees, and the music was done by the same person who did the songs for Shovel Knight, Shantae and the Pirate's Curse, etc.  It'll be available for nearly every game console out right now, and they're hoping for a release day around May-ish.  And I'm hoping I get to review it!
Other retro styled games I saw at the show include Freedom Planet, which looks like a cross between Sonic and Gunstar Heroes.  Jumpjet Rex features a dinosaur in a jetpack.  Super Slam Dunk Touchdown looks like a cross between all those 8- and 16-bit sports games we loved, like Super Dodge Ball combined with every other sport out there.  Capsule Force is a capture the flag game with old school 80's anime characters.  And The Terrian Saga has a flying robot in a 2-D 8-bit world.  One of the most creative combinations is in a kickstarter right now and it's called Star Mazer.  It's a mash-up of a 2-D shooter and a…point and click adventure?!?  If you're interested, you can look it up and see if you want to support the kickstarter for it.
One last thing to conclude this article.  PAX conventions always have lots of panels you can attend about various subjects.  Most of the ones here at PAX South featured various YouTube celebrities, so I didn't go to those.  But they did have a Gamer Parenting panel that I did attend, which was hosted by Kristin Lindsay and Jeff Kalles from Penny Arcade, and Eric Neustadter from Microsoft.  They talked about various subjects, like what games are best for kids and how to balance gaming with regular life.  It was a very informative panel, but naturally they couldn't cover everything you could talk about in just an hour.  But the coolest thing was they posted a slide of various gaming resources for parents, and the GamerDad.com site was up there!  (see below picture)  I was really excited to see that and stood up and introduced myself during the Q&A part of the panel.  So if any of you are visiting this site from PAX South, welcome and please don't hesitate to ask us questions!
I think that panel was probably my favorite thing at PAX.  I don't really need recognition and attention most of the time.  But sometimes I do get discouraged and wonder if anyone is really reading my stuff and if I'm really doing anything useful.  So it's nice to see things like this every now and then.  It sure made my day and helped me feel better.  Maybe someday, I can do a panel, too!
Anyway, that's all I saw at PAX South.  Tomorrow in Part 2, we'll look at pictures of people in costume at the show, as well as other things I did in San Antonio last weekend!  –Cary