Posted on
January 30th, 2015
by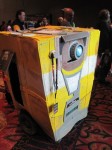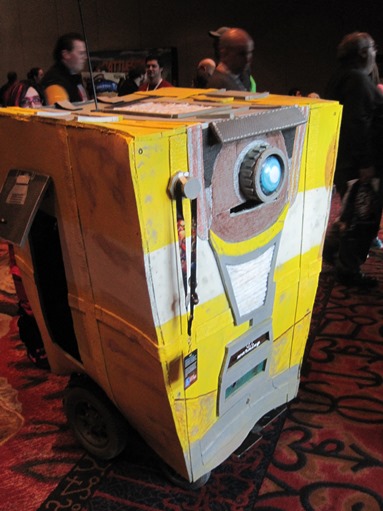 At PAX as well as other gaming and cartoon conventions, many people like to dress as their favorite characters.  So for Part 2 of my PAX South article, we'll take a look at my favorite costumes that I was able to take a picture of (and could recognize who they were).  And we'll also look at some other things I did around San Antonio when I wasn't at PAX.  There's a lot of stuff to do there in the city, too!
I was glad to see someone dressed as Captain Toad.  If I were going to dress as a character, Captain Toad would be one of my first choices.  I've already got the Toad hat; all I'd need to do is wear khakis and a bandana and find a head light thing.  But this dude beat me to it.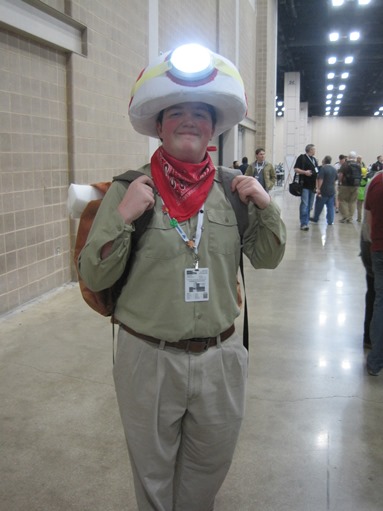 I'm not sure if this is someone's disguise or Gearbox's company costume, but here's a neat Claptrap outfit.  Gearbox had a pretty big presence at PAX South.  But then, they are a local company.  In fact, they are pretty near where I live and I could nearly tell you how to get to their offices from my house!  Anyway, Gearbox makes games like Borderlands and Homeworld.  I don't know much about their games, but I do know who Claptrap is because he's also in Poker Night 2, a game where a bunch of video game and cartoon characters get together to play poker.  Any game that has Sam & Max and GlaDOS dealing the deck, you know I'll play that!  Anyone else think Claptrap looks like a juice box?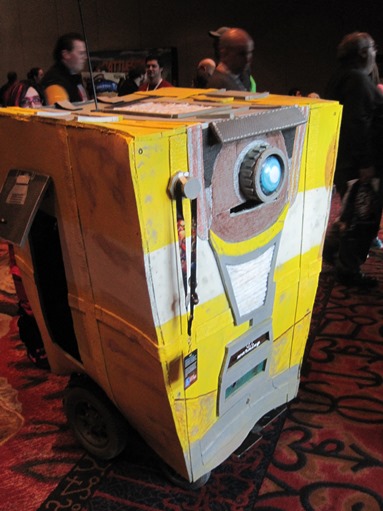 Not all costumes were cosplays from show goers.  This next costume was at a booth called Ghostery.  They have a program you can download that tracks which companies keep tabs on you on the Internet.  I didn't even know such a thing existed!  Anyway, I liked their ghost mascot so I took a picture of it.  Anyone who knows me can probably figure out why I liked this costume, as it looks an awful lot like a ghost from a certain classic arcade game that I really enjoy.  Of course, the people at the Ghostery booth denied the similarity, but if it quacks like a duck…well, you know.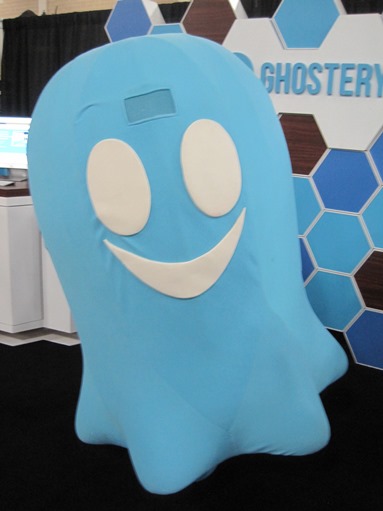 I was thrilled to see someone dressed as 9-Volt.  That's my favorite character from the WarioWare games.  You don't see too many people dressed as characters from that series.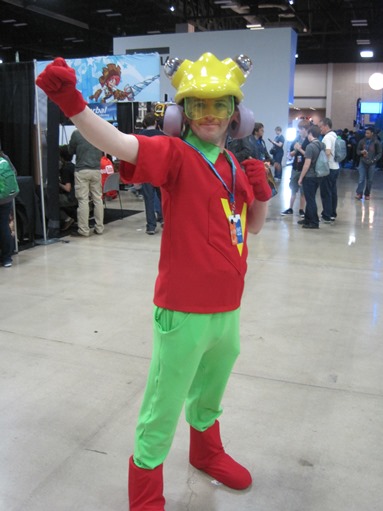 And here is the wooden guy from Tekken.  His eyes even lit up!  Pac-Man drives a mechanical version of him in Street Fighter X Tekken, and he also even appears in one of the Point Blank games!
But the cutest costume of all was this Yoshi and Baby Mario combo.  Yoshi's island is one of my favorite Mario games.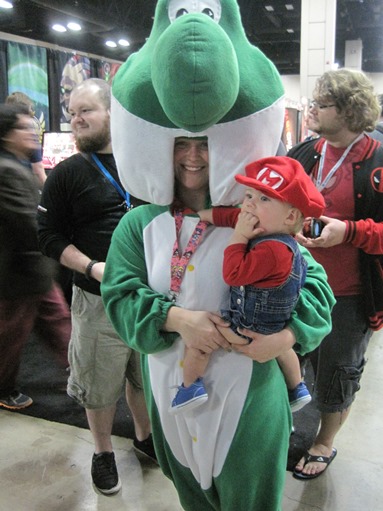 And that's pretty much all I did at PAX South.  I was worried it would be really dinky, and while it was smaller than in Seattle, it was a lot better than I expected it to be.  Luckily, there are plenty of other things to do in San Antonio, so the rest of this blog is going to be about that.  I've been to San Antonio many, many times before, but it's been a long time since I've been there lately.  You can go to the Alamo, walk around the Riverwalk and even ride a boat, and go to Sea World, too.  Here are some of the sights we took in on this trip.
Of course if you want to learn about Texas history, the Alamo is a good place to start.  We walked by it one night, so I took a picture of it.  All these are night pictures because we were busy at PAX during the day.  While you can learn a lot about Texas and San Antonio by visiting the Alamo, there is another good way to learn the history of the city.  And surprisingly, it's via a city Ghost Tour!  I went on one the last time I was in San Antonio and I learned more about the history of the city than I did at the Alamo!  It's more about the history than ghosts, of course.  It had been a long time since I was in San Antonio last, but this time I found out there are THREE different ghost tours there now!  We didn't go on one of the tours, but we did walk by the Alamo, so here it is.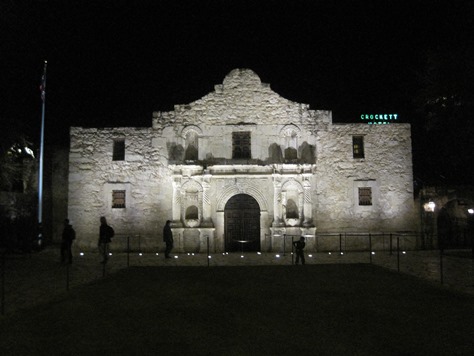 Another fun thing to do in San Antonio is walk around the Riverwalk.  It's really pretty and there are lots of neat things to do.  Here is a view of part of the Riverwalk from outside our hotel room.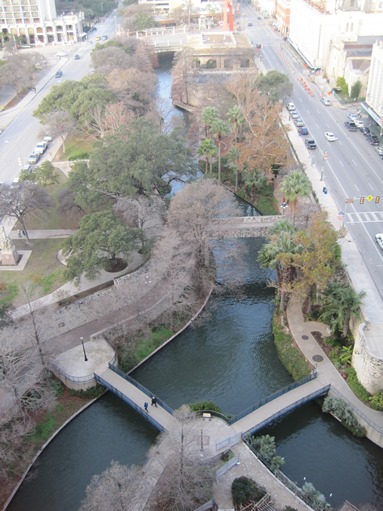 You can also ride these little barge things and go on a tour and learn about some of the buildings around the river.  We did that once when I was little bitty, and one time later I even got to go on one of the barges that serve you Mexican food as you ride around.  We did just the boat tour again this time, too.  Sorry the picture was so dark.  Like I said, we were at PAX during the day.
On the tour we floated by the mall on the river.  It's a pretty mall and it hadn't gotten too dark yet, so I snapped a picture.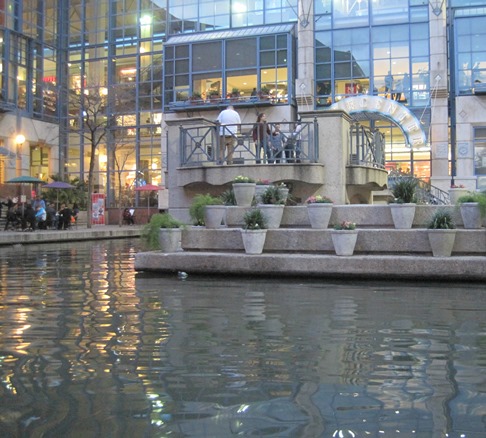 While we were walking around the city, I took a picture of this sign in front of a bar for no reason other than Bender from Futurama was on it.  "Cheers, Baby!"
And that's all we did in San Antonio.  On the drive there and back, we stopped at a neat store called Buc-ees.  It's a huge gas station and convenience store and kind of reminds me of a giant Stuckey's.  There are a few of these in Texas, but I also hear they have them in the Carolinas.  They must be fairly new, too, because I had never seen one when I was in college in Austin.  They have lots of food and snacks, souvenirs, and huge and VERY CLEAN bathrooms!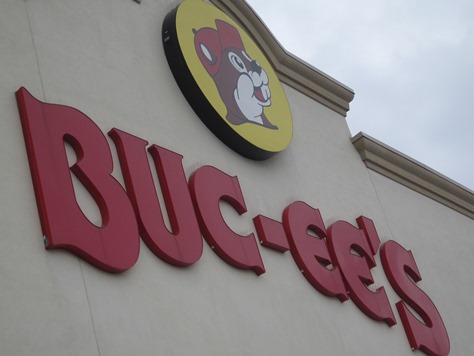 As you can see, they even have a cartoon mascot, Buc-ee the Beaver.  They even had a statue of him greeting guests at the corner before going in!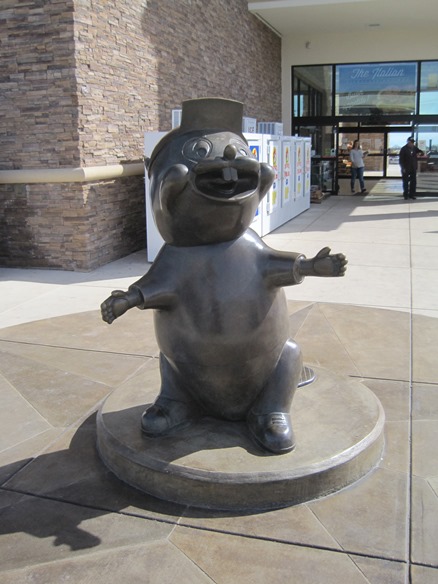 And boy, do they know how to market their mascot!  This beaver was on everything from plush toys, pillows, puppets, shirts, bumper stickers, magnets, snow globes, cups, and more!  I'm surprised Buc-ee the Beaver didn't have his own video game there!  If it were the 90's, he certainly would have!  I could see it now: Buc-ee the Beaver in a 2-D platformer fighting the evil Road Hog!  Yeah I just made that up.  Here's a shot of just a smidgen of the Buc-ee merchandise they had!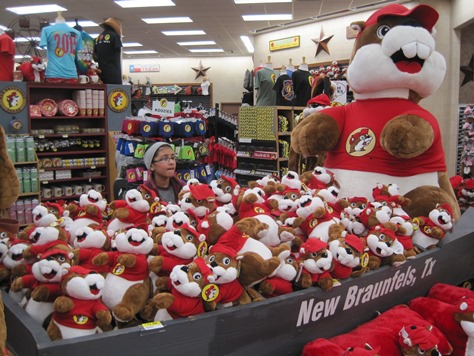 And that's all for now!  I hope you enjoyed my PAX South articles.  Please let me know if you have any questions!  Later!  –Cary