Posted on
May 18th, 2015
by
So apparently, it's the hit fighting game Tekken's 20th Anniversary.  Doesn't really seem that long, does it?  I still remember when I first saw it in arcades, and thought it was just a fancier, prettier Virtua Fighter.  Anyway, so how do you suppose Bandai Namco Games is celebrating this momentous event?  Are they going to release a new Tekken game, or maybe a collection of old classic ones?  Nope, they're just combining Tekken characters with…Galaga?!?  Galaga: Tekken 20th Anniversary Edition is a downloadable game for iOS, Android, and Google Play, and best of all, it's free!  So how exactly does this game work?  Oh, you'll definitely want to read on to find out!
So basically, this is just Galaga, but they replaced the spaceships and alien bugs with blocky, 8-bit representations of Tekken characters!  Otherwise it plays just like the arcade classic you know and love.  Move your character left and right on the bottom of the screen, and shoot at flying enemies in formation, avoiding their shots and attacks.  You can even allow your ship to be captured, and then shoot the flagship on the next dive down to get your ship back for double the firepower.
They did add a few new things to this Tekken version of Galaga, though.  First, before you even start you choose which characters to use.  These three characters will act as your three 'lives.'  Each character has different rates of fire.  Some can shoot multiple shots super-fast, and one character shoots a missile that cuts through all enemies in its path!  You'll unlock more characters as you reach certain rounds.  Also, when you first do the trick where you double up to increase your firepower, you'll do a screen clearing move involving a random classic Namco arcade character, like Mappy, Rally-X, or Dig Dug.  I hear Pac-Man is an attack, too, but I haven't seen him yet.  If you own this game and have seen other characters, please let me know as I'm a classic Namco arcade junkie.  And finally, if you are on your last life, don't fret, as you can still double your firepower in this game.  Every so often, the flagships will carry a captured fighter in their formation, and you can nab it then, just be careful not to shoot it before they dive down at you.
The problems with this Galaga/Tekken mashup are few and far between, and are hardly worth mentioning, but I'll bring them up anyway for the Galaga purists out there.  One tiny problem is that thanks to the blocky graphics, it's hard to tell who some of the characters are in this game.  And would it have hurt them to spell out the playable characters' names in the select screen?  Granted, I'm not as familiar with all the Tekken characters, so it may just be me.  Also, with the different firing rates of the characters and the fact that you can double up ships more often, this version of Galaga is a lot easier.  Of course, I don't mind that either since I'm not too terribly good at the original game.  Some persnickety Galaga players may not like the controls either.  You have two options on the bottom of the screen: slide your finger to move or shoot and move at the same time.  Since the game records your shot accuracy percentage at the end of the game, some may not like the lack of control of when you shoot here.  Maybe an optional virtual fire button would've worked.  Also, you can't enter your initials when you get a high score; it just has the name of whatever character you used.
Luckily, this game doesn't have most of the problems other free to play games have.  You don't have to buy anything to enjoy playing, and you can play as much as you like.  There are pop-up ads, but they don't appear as frequent and they're all related to other Tekken games anyway.  Otherwise, you're just getting a free version of Galaga, and that's always a good thing.  As long as you don't mind the minor changes, I think this little freebie is great!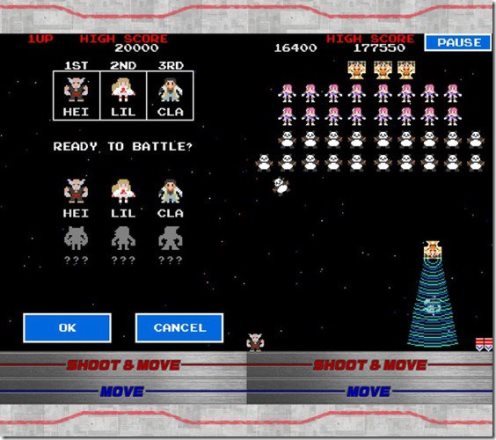 Kid Factor:
The only violent thing you do is shoot at blocky Tekken characters who pop into fireworks when destroyed.  But it's basically just Galaga, a game we all grew up on and turned out OK, so I'd say it's perfectly safe for kids.  Reading skill isn't needed, as the game is pretty easy to figure out how to play.  But parental supervision is recommended for the pop-up ads, although even those aren't too terribly bad.