Posted on
December 11th, 2015
by
I've been lucky lately and have been able to get pretty much all the Amiibo figures that have been released recently, so let's take a look and see what I got this time!
I'm surprised they actually made figures of the Mii Fighters, considering how customizable they are in Smash Bros.  In the US, the Mii Fighters were sold as a three pack and were exclusive to Toys R Us.  I didn't even know they were out until the day of release, and I went to Toys R Us about 15 minutes before they closed.  They still had plenty!  One good thing you can say about Toys R Us is that they are pretty good at stocking Amiibo figures.  I heard another exclusive Amiibo at Toys R Us was Mega Yoshi, but I've never heard nor seen anything about that Amiibo!  Does it really exist?  Speaking of Yoshi, the Mii Fighters work in Yoshi's Woolly World, to my surprise.  Anyway, here are the Mii Fighters in their package.
And here they are out of the package.  Nothing special, but still cool.  Wouldn't it be neat if you could customize them to look like your Mii in the game?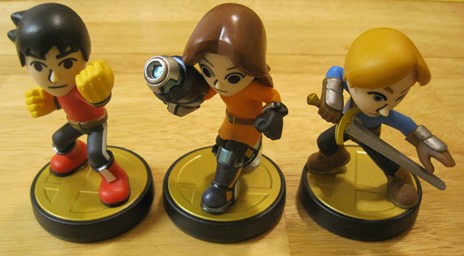 Some other new releases include Mewtwo and Falco.  I thought Mewtwo would be hard to find, but I've actually seen it in several stores.  Falco was a Best Buy exclusive, and luckily my brother Jeff was able to pick up the last one for me at a nearby Best Buy store.  Best Buy isn't too good at stocking Amiibos, I've noticed.  One of the only Amiibos I've had to import was Meta Knight, and that was also a Best Buy exclusive.  Anyway, here they are in their packages.
And here they are out of their boxes.  Falco has some nice details, including the cuff buttons on his jacket and his headset/eye view thing.
And last are a bunch of Animal Crossing Amiibo figures released alongside the new Wii U game, Animal Crossing: Amiibo Festival.  It's a board game where you use your Amiibo figures like game pieces, and you can't play the game without 'em, so make sure you have at least one Animal Crossing Amiibo before playing.  The game comes with two figures, Isabelle and Digby.  There is also a three-pack that has Reese, Cyrus, and K.K..  They also sell single packs of Lottie, Tom Nook, and Mabel.  Lottie was a Target exclusive, but the others you can find at pretty much any game store.
And here they are out of the boxes.  There are some nice details on these, too.  Tom Nook's sweater is weave-textured, and K.K.'s guitar has a wood-grain look to it.  The game also comes with a few Animal Crossing Amiibo cards.  You can use them to play some single player mini-games in Amiibo Festival.  I'll probably write a blog about that later, but it'll take a while to unlock them all, so don't expect that blog until January or so.  The Animal Crossing Amiibo figures and cards will also work with Animal Crossing: Happy Home Designer, so that's cool.  Unfortunately, they don't work with Yoshi's Woolly World.
I'm glad I was able to get all the Animal Crossing figures.  I heard in January they are releasing four more, including Blathers the owl, his little sister Celeste, Resetti, and Kicks.  I hope I can get those, too, especially Blathers because he is my favorite Animal Crossing character.  The Animal Crossing series is very special to me because I've had so much fun playing the games with friends and family.  The one on GameCube is one of my top five favorite games of all time.  I may have told this story already, but a few years ago when my grandmother passed away, after the funeral my family gathered at her house to eat dinner and visit.  My cousin and her kids were there and we all played Animal Crossing: New Leaf together on our 3DS systems.  I used to play with my cousins a lot when we were kids when I would visit them, so this was a bittersweet reminder that playing Animal Crossing with them might've been one of the last times we get to do that again.  So yeah, I really like that game.
Also, if anyone wants to trade or buy, I've got an extra Bowser Jr. and an import Zero Suit Samus, plsu a Limberg card.  Anyway, I've gotta run, so see you all later!  Sonic better run, too; I think Mabel's found herself a boyfriend!