Posted on
April 7th, 2016
by
There are all kinds of museums in the US, but none so far dedicated to the history of video games. Until now!  On Saturday, April 2, the National Videogame Museum opened its doors in Frisco, TX.  Which is cool because that's only about 15 minutes driving distance from where I live!  So for the next couple of days here at GamerDad.com, I'm going to take you all on a virtual tour of the museum.  But I won't show you everything!  You'll just have to come out and see it all for yourself.  And I hope you do, too!  It's not some rinky-dink operation either.  It's like something you'd see at E3 or even Disney World!
Anyway, the three main founders of the museum, Joe Santulli, John Hardie, and Sean Kelly, are avid video game collectors and experts in the industry. The museum contains their personal collections of video game history that they've amassed since the 1980s.  In the past, they've taken their exhibits on the road travelling to various video game and trade conventions like E3.  In fact, if you've ever read any of my past E3 articles, you might've seen pictures I took of their collections.  But the founders wanted a permanent home for their museum, and I'm glad they decided on Frisco, TX!
So here is the front of the building. You'll know you're at the right place when you see the big National Videogame Museum banner and the reddish-orange part of the entrance.  The museum is actually in the Frisco Discovery Center, which is a pretty cool place because it also has a children's science museum and a train exhibit outside.  So it's a great place to take kids and the video game museum is totally family friendly.  At the end of this article, I'll post more information on the location, hours, cost, etc.  So be on the lookout for that at the bottom.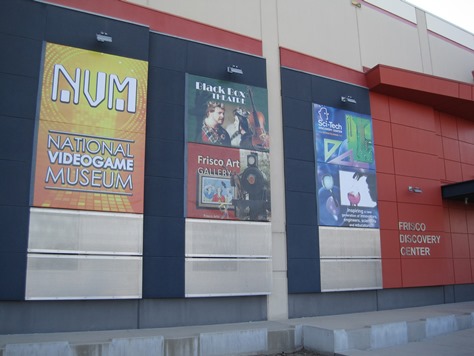 When you first enter the museum, on your left is a big display featuring one of the very first video games: Pong. They have a Pong arcade machine and a super rare Puppy Pong display, which was supposed to be used in children's doctors and dentists waiting rooms back in the 70s, I think.
Right next to the Pong display is a HUGE TV screen and paddle controller. I should've taken a picture of it with some people beside it, so you could get a sense of the scale.  But you can still kind of tell how big it is if you look at the ropes and wall.  Don't worry, though, tomorrow I'll have more pictures where you can see better how big it is.  I'm not sure if the giant Pong is Guinness World Record big, but it's pretty darn huge regardless.  And the icing on the cake is that the giant Pong is totally playable!  That's what's great about the National Videogame Museum is most of the exhibits are interactive, with items you can touch and games you can play.  So it's great for kids and adults of all ages!
On the other side of the entrance greeting you is a great big Mario statue, and behind him are some giant controllers and screens.
On closer inspection, you use the giant SNES-style controllers and big screens to cycle through all the video game consoles ever made, and read about the history behind them.
The next exhibit in the museums honors third-party developers. From early starts like Activision and EA, all the way to today with local companies like Gearbox.  You can even play some third-party games here, too!  On the other side of the wall, they have nine different versions of Q*bert running at once!
Video games are known for having cheat codes, bugs, and extras that are sometimes called Easter Eggs, and that's what this next exhibit is all about. From the hidden credits in Adventure on the Atari 2600 all the way to cheat devices like the Game Genie, it's all here!  In fact, the National Videogame Museum has some Easter Egg cheat codes of its own, and you can play a game to find them all over the museum and post your answers on the arcade machine at this display!  But they're super hard to find!  I've been to the museum several times and I haven't found a single one!  So if you find any, please let me know!  Maybe I should write a National Videogame Museum Strategy Guide!  Yeah!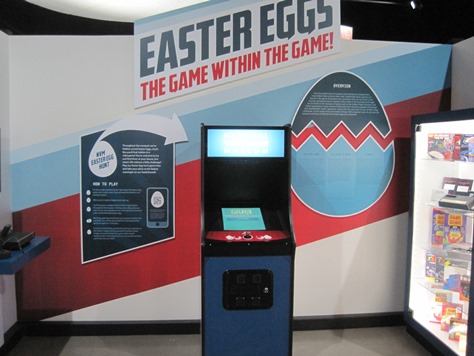 There's also a special room dedicated to handheld gaming, so I took a few pictures of the displays in here. See that arcade cabinet-shaped Pac-Man machine at the top?  I used to have that when I was a kid.
And here are some other handheld games. Check out all the cool Game & Watch goodies on the bottom right.
Next is a recreation of a store during the video game crash of the 1980s.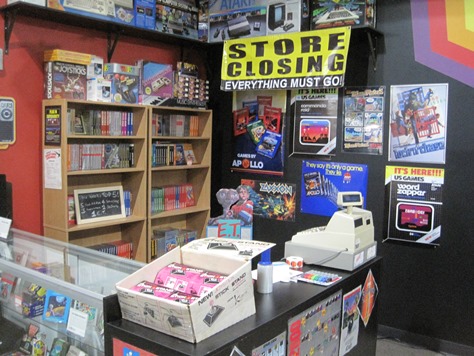 And right next to it shows the rise of gaming in home computers.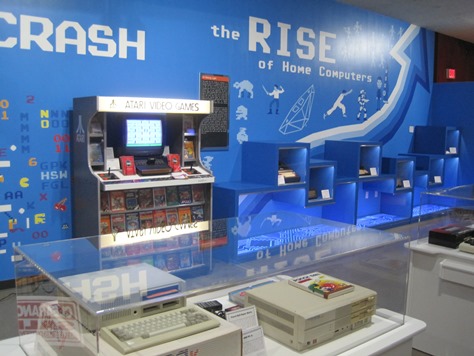 On the other side is a row of old computers from the 1980s with games on them that you can actually play! They even have the first computer my family had, an Apple ][!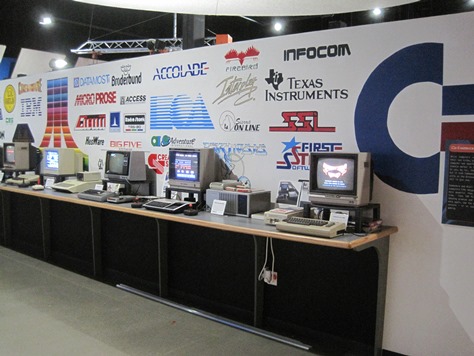 The next display is all about games with user created content. It's decorated to look like Minecraft, and you can play games like Mario Paint and Super Mario Maker!  Not pictured on the other side of this display is a great big TV with a touch screen game that lets you design your own pixel art!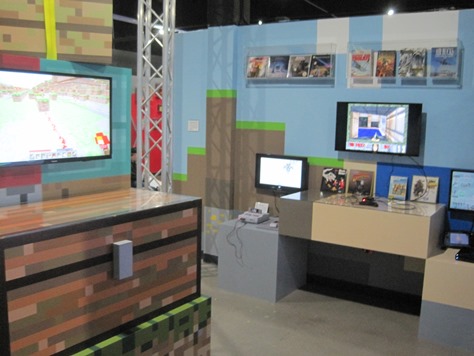 Next up is a display honoring songs in games and the music game genre. Here you can play PaRappa the Rapper in three ways.  First, try it without headphones.  Next, listen to the music with headphones, but without the game.  And finally at the third station, play them both together!  It took me a while to figure out that's what you do because I can be a dummyhead sometimes.  On the other side not pictured is a TV screen where you can select different music from games and how they would sound on different consoles.  One last thing I wanted to note is the artwork in this exhibit.  We'll talk more about the art at the museum in Part 2, but I wanted to point out that all the artwork is hand painted by super talented local artists, even for this display!  I'm glad they included some of my music game favorites, like Taiko Drum Master, Samba de Amigo, and my pretend girlfriend Ulala (just joking) from Space Channel 5.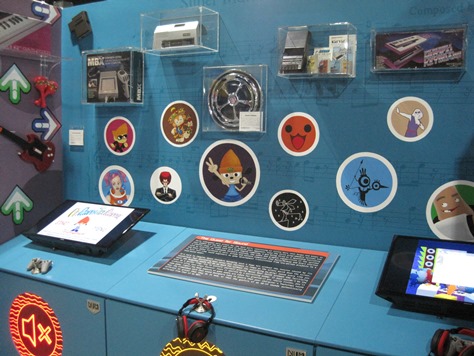 Gearbox is a third-party developer who is responsible for popular titles like the Borderlands series, and they are very close to where I live. And they are even closer to the National Videogame Museum.  So a few Gearbox employees had some input and involvement with the museum.  In fact, when Randy Pitchford, CEO of Gearbox, wanted to move his office, he allowed the museum to have his old furniture to use as a display so visitors can see what a game developer's workspace looks like and what inspires them!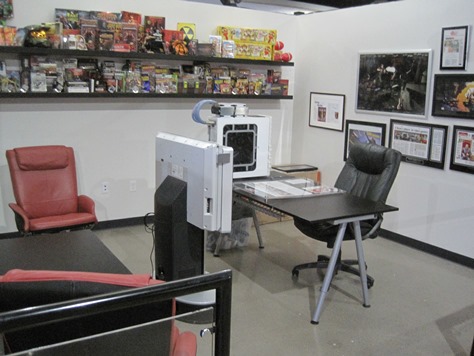 Next is a display about online gaming, with peripherals used in the early days and such. On each side of the exhibit are two computers, and you can test connection speeds on each one.  See that clear pipe thing going from one computer to another?  When you try a connection, you can see a light going from one computer to the one across from it, simulating how fast the info travels.  And yes, you can even hear that old dial-up sound!
Time for a photo-op! This next display is a recreation of a kid's room from the post video game crash mid-1980s era.  You can get your picture taken like you've gone back in time, and even play a few rounds of Super Mario Bros. and Duck Hunt on an original NES!  Now, take a close look at the bedsheets.  Those are Pac-Man sheets, and I had some like that when I was a kid!
Right beside it is a display made to look like a living room from the 1970s and you can plop down on the couch and play some Intellivision. When I was a kid, our living room looked quite a bit like that, wood paneling on the walls and all!  Back when this museum was more of a travelling affair, they had a similar display set up at their E3 booth.  When I would visit, they would always have people crashed on the couch!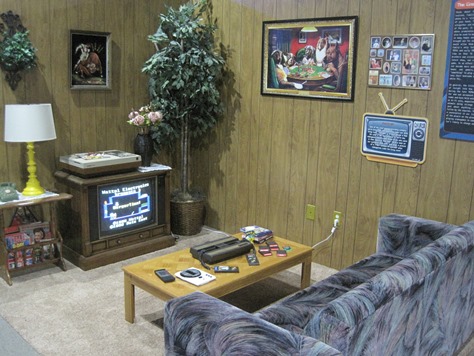 In between all the exhibits are tons of glass and acrylic displays with thousands of video game themed memorabilia and whatnot. I didn't take pictures of ALL of it, but I did snap a few shots of things that snagged my interest.
Here's a sewing machine that was used with the Game Boy Color to make patterns. It's super-rare and I've never seen one out in the wild. Check out the Pikachu N64 right beside it.
Here's a wall with nothing but video game themed shirts. I could probably make a similar wall with all the shirts I get from trade shows!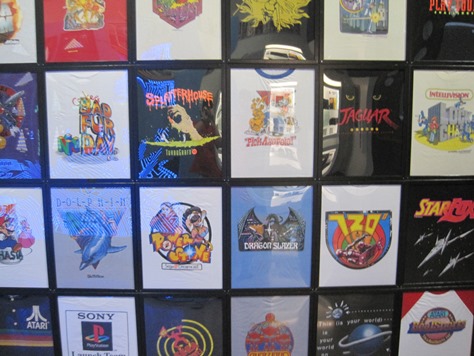 Hey Unplugged fans! Check out all the video game themed board games!  When I was a kid, I had the Pac-Man, Ms. Pac-Man, and Q*bert board games.  The Pac-Man and Ms. Pac-Man games were exactly the same, just different colors.  And they all played like crap.  Most of the other board games I had never even heard of until now!
I think I ate all those video game cereals on display as a kid. Well, maybe not the Pokémon cereal as it came out quite a bit later and I was already an adult.  The Donkey Kong cereal was basically Cap'n Crunch.  The Nintendo Cereal System had two bags in the box.  One with Mario Cereal and one with Zelda Cereal.  They both were similar in taste to Froot Loops, and they were supposed to be shaped like characters from the game but I thought they looked more like multicolored cat turds.  I've never liked marshmallows in cereals like Lucky Charms, so I was so upset when the Pac-Man cereal came out when I was little.  Here was a cereal based on my favorite video game of all time, and I couldn't eat it because I hate marshmallows.  Now, look closely at the Pac-Man cereal box.  See Super Pac-Man on it?  For a while they had special Super Pac-Man marshmallows that were twice as big, to add insult to injury!  Yuck!  And the Donkey Kong Jr. cereal was like Trix with fruit-shaped pieces.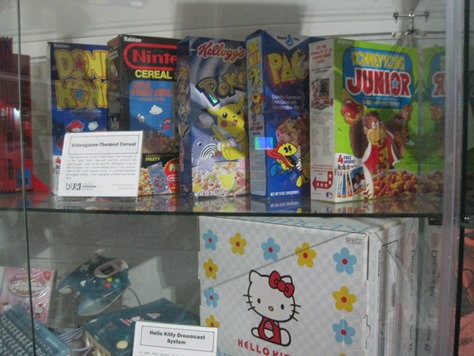 So if you couldn't tell by now, I'm a HUGE fan of Pac-Man, so I had to take a picture of this stuff on display. I hope I didn't drool on the glass!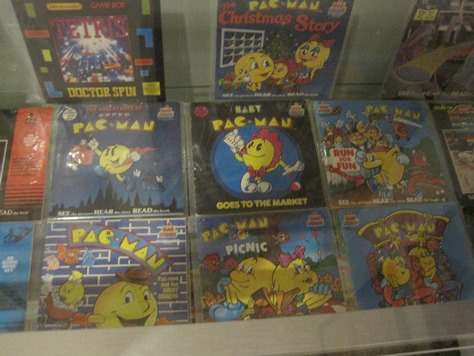 And finally here's a shot of the gift shop. If I had a million bucks, I'd be tempted to buy everything in there!  But then other visitors wouldn't have a chance to buy anything, so I guess I wouldn't do that after all.  You should've seen the gift shop after opening day, it was totally cleared out!  But don't worry!  When YOU come visit the museum, I'm sure they'll have the gift shop restocked again!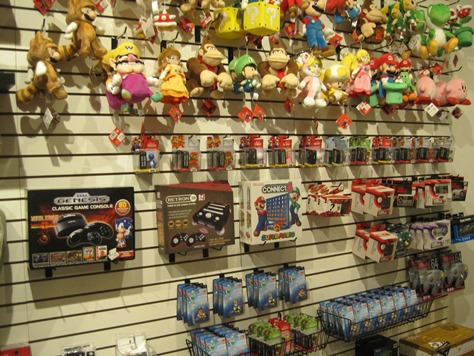 And that's all for this article. But is that everything in the museum?  OH, HECK NO!  We're just getting started!  The museum is so big that I have to treat it like my PAX and E3 articles and post them in multiple parts!  In Part 2, which should go up tomorrow, we'll take a look at the artwork in the museum, as well as the super awesome arcade, plus some opening day fun and shenanigans!  So be sure to check it out then!
Before I post some information on the location and hours, I wanted to ask you all if you would please pray for the museum and that it would do well and be a lucrative venture for the founders and anyone involved. I'm really glad that it's so close to where I live, and I want it to stay there for a long time to come.  Also, I wanted to share that I've already been volunteering at the museum a few times, and hope to continue to do so a bunch in the future as well!  So if you come to the museum, you might even see ME!  I've had so much fun helping out visitors, and I'd love to see as many of you all as I could, and we could share video game stories and have fun!  It's definitely worth the trip, so if you're in the Dallas/Fort Worth area in the future, please look it up!
OK, so here's some info on the museum's hours and location and such. I'll also post this at the end of tomorrow's article as well.  The address to the museum is:
8004 North Dallas Parkway
Suite 300
Frisco, TX 75034
General admission is 12 bucks, which is a good deal since you get some tokens to use at the arcade as well. Children ten and under can get in for 10 bucks, as well as seniors, teachers, and military with a valid ID.
Hours of Operation:
Monday: Closed
Tuesday – Thursday: 10 am to 5 pm
Friday – Saturday: 10 am to 8 pm
Sunday: 12 pm to 5 pm
If you have any other questions or need more info, you can check out their Web site at www.nvmusa.org.  –Cary