Posted on
April 8th, 2016
by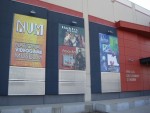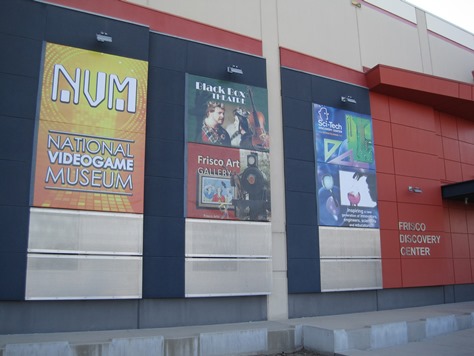 Yesterday we went over the exhibits in the newly-opened National Videogame Museum in Frisco, TX. If you haven't read that article, I encourage you to go back and read it, too.  But the museum is more than just exhibits; it's just as much of a video game art museum as it is a history museum.  So today we're going to look at the artwork in the museum, all of which was hand-painted by super talented local artists.  We'll also look at the museum's awesome arcade and some opening day fun and shenanigans, too!
Even before you enter the museum proper, you're greeted with a huge sculpture before you buy tickets. This piece of art has monitors with all sorts of ever-changing video game themes, along with a bunch of home consoles painted gold (they were ones that were donated but beyond repair).
As you enter the museum, on the right side you'll see this gigantic mural featuring all sorts of popular video game characters. It's one of my favorite pieces of art in the entire museum.  If you look on the bottom you can see a row of TVs with consoles connected that you can play.  This is called the Head to Head Hall and features consoles from the NES, Sega Master System, SNES, all the way up to the Dreamcast and PS2!  It is one of the more popular exhibits in the museum, and I think the giant mural helps attract people to it.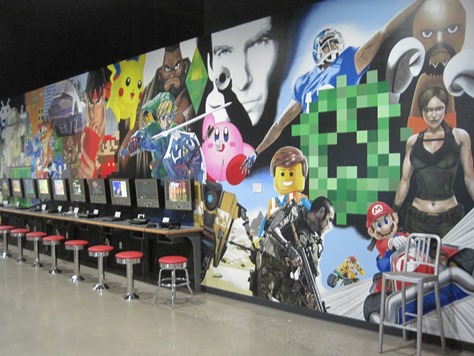 Here's a shot of the mural from the opposite site of the wall. I love the fact that Robo from Chrono Trigger is five times the size of Sonic!  Take that, you cocky blue hedgehog!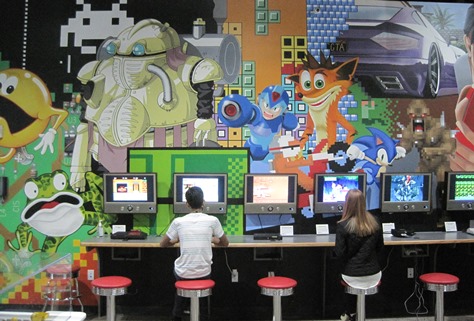 Here's a wall with all sorts of video game controllers, with a background painted to look like Galaga.
The room with all the handheld games has a really neat perspective piece of art. The National Videogame Museum has a cartoon mascot named Blip, and he's a robot made up entirely of video game parts like controllers and cords.  Although personally I think he looks a bit like Clank from the Ratchet and Clank games (can't wait for the movie).  When you first walk into the handheld room and look up, the painting is supposed to look like you're a handheld game and Blip is holding YOU!  I sure hope Blip is playing a happy, friendly game like Loco Roco, and not a scary game like Resident Evil!
If you play every game and read every marker in the museum, you could be there for a long time! Maybe even two hours or more!  So let's just say you're bopping along having fun at the museum, and then it hits you.  Ya gotta go potty!  What do you do?  WHAT DO YOU DO?  Well luckily there are restrooms at the museum, and all you have to do to find them is look for the Dragon's Lair mural.  Dragon's Lair was a laserdisc arcade game in the 1980s, with animation from Don Bluth (The Secret of Nimh, The Land Before Time, An American Tail, etc.).  It was like nothing seen at the time for an arcade, and always drew in a big crowd.  The exhibit at the museum even has a Dragon's Lair arcade machine.  It wasn't working when I took the picture, but I'm sure the owners will try to get it up and running as soon as they can.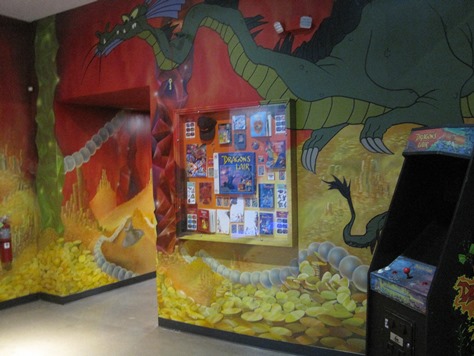 When you turn into the hallway where the restrooms are, the ladies' room has Princess Daphne on the door, while the men's has Dirk the Daring. I hear that Don Bluth has a kickstarter to try and get a 2-D Dragon's Lair movie made.  I hope he succeeds!
On another wall is a mural made to look like Super Mario World. The displays on the wall have all sorts of video game pins and patches.  Back in the Atari 2600 days, if you got a high score on an Activision title, you could take a picture and send it in to them and get a patch.  The museum has all those patches on the wall!  In Activision Anthology on the PS2, if you get a high score on some of the games in the collection, you could get a virtual patch just like it!  That's a very good collection and I highly recommend it, by the way.  Anyway, do you see that pipe on the far right of the picture?  That's actually painted on a door, and inside is a room that's empty right now, but later on the founders of the museum are thinking of using it like a classroom.  For instance, a local game developer could come in there and teach a class on game design.  Heck, I bet even I could teach a class in there! Maybe about the history of Pac-Man!  You think anyone would want to take that class?  Yeah, probably not.  But it's fun to think about and imagine anyway.
Even one of the pillars has a painting on it. It's of an old game called Crazy Climber, where you're a man scaling the side of a tall building.  I remember seeing it in arcades everywhere when I was a kid, but I was never good at it.  Right next to it is a mural about Duck Hunt.  This was a very popular mural and I took lots of people's pictures in front of it on opening day!  Folks would pose in front of it with their hands positioned to look like guns aiming at the ducks, while others made rude hand gestures at the laughing dog!  Even little babies loved the painting, and would point to the ducks and say, "Duck! Duck!"
Here is a picture of Ralph Baer, one of the founding fathers of video games. So yeah, he's kind of a big deal.  The neat thing is that this piece was made entirely out of Rubix Cubes, and created by students at SMU!
Heck, even the gift shop has some hand-painted art in it. The back wall of the checkout is made to look like some sort of item shop from a role-playing adventure game.  As the shopkeeper says in the old NES Legend of Zelda game, "Buy somethin', will ya?"
But you know what one of the coolest things about the National Videogame Museum is? Right before you leave and enter the gift shop, you walk through a real life working arcade with classic games from the 80s and even some from the 90s!  When you buy your tickets at the front, you'll get a few tokens to use at the arcade, so hold onto them until the end!  This arcade has both popular mainstays and true rarities.  For instance, check out this cabinet at the front (sorry for the glare).  It's a sequel to Q*bert called Q*bert's Qubes!  I've heard of the game before, but I've never seen a cabinet of it out in the wild.  And the National Videogame Museum has it!
Here's another row. You can see the Rally-X machine pretty clearly.  I hardly ever saw Rally-X in arcades when I was a kid for some reason.
Oh no! It's Sinistar!  When I was a little kid and first saw this game, it scared the stew out of me!  In the game, you are a spaceship and must destroy a robotic space station with a demonic face and an evil digitized voice.  It would say things like, "Beware, I live!  Run, coward! RRRAAAAWWWWRRRR!"  And run I did, back to my parents and hid behind them!  Still kind of creeps me out to this day.  And look what they did here!  They put Zoo Keeper and Ms. Pac-Man, two of my favorite arcade games, right next to it!  Joe, John, Sean! What are you trying to do to me?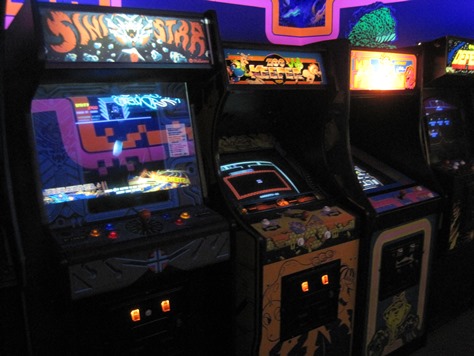 Aw, yeah, it's Mappy! I love this game!  If I ever get a chance to play it at the museum, I'm going to try and get the high score.  I'm kind of good at this game.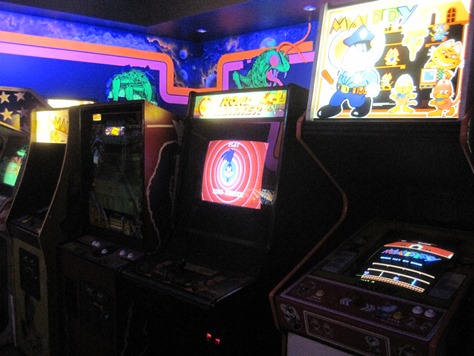 And here's Spy Hunter. When my brother Jeff was very little, I had one of those arcade collections and he loved to play Spy Hunter on it.  He'd play it for hours, laughing maniacally.  And he was only like, five years old.  It's a fun game, for sure, but I don't know why he liked it THAT much!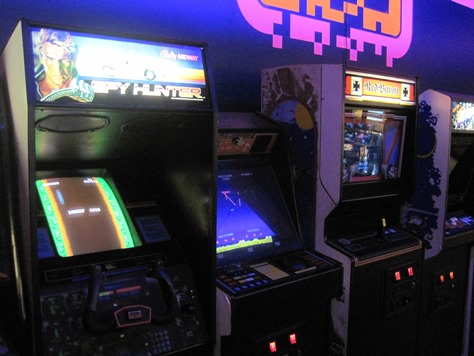 And that's pretty much all that's in the museum arcade. Pretty cool, right?  Lastly, I'd like to share with you some pictures I took at opening weekend, which was on Saturday, April 2.  It was super crowded and there was a two hour long line to wait to get in!  Inside, there was even a waiting room with games to try, a DJ playing music, and coloring pages featuring video game characters for the little ones.  But don't worry, I'm sure when you visit the museum, it won't be THAT crowded again for a while.  At least I don't THINK so.  Here's a picture of the line that wrapped around the building outside.
And here's another picture of the line outside. Check out the old train cars behind it.  I think that's part of the train museum.  I'll have to check that out sometime, too!  Looks cool!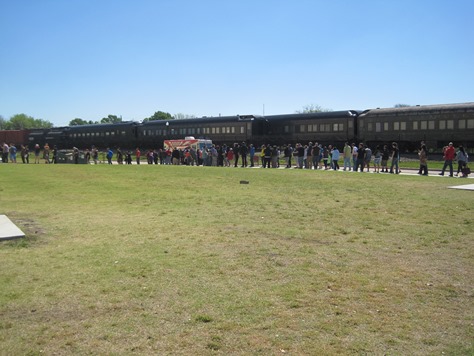 They even had a food truck outside to serve folks waiting in line. I'm not sure what kind of food they had, but I like the panda on the side of the truck.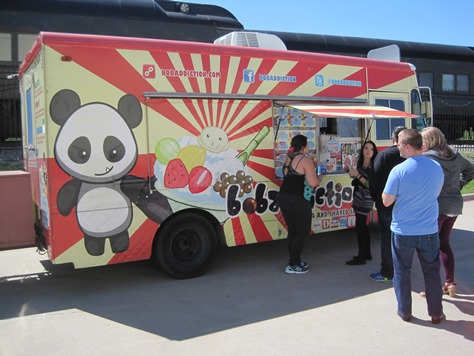 Sometimes at video game, comic book, cartoon, and anime conventions, people like to dress up as their favorite characters in a practice known as 'cosplay.' I've even seen some do it at amusement parks!  On opening day at the museum, they had a few cosplayers roaming around.  Here are some folks dressed as Rosalina and Wario from the Mario series.  Someday I'd like to try and cosplay as Kirby, but I don't think I have the body for it.  Plus I'm probably too old to be doing stuff like that anyway.  Oh well!
But you know what my favorite part about opening day at the museum was? Video game legends Garry Kitchen and David Crane came down and I got to meet them!  Garry Kitchen made games like Keystone Kapers, and David Crane is known for titles like Pitfall and A Boy and His Blob.  In the background you can see the Pong machine, so you can tell how big it really was.  I do apologize for the blurry picture.  I usually snap multiple shots when taking pictures, but I just couldn't get a clear shot of them this time.  Maybe my camera was tired of taking pictures, or maybe I was so excited to see those two that I couldn't keep still!  Again, sorry for the blurriness.  Just remember, nobody's perfect!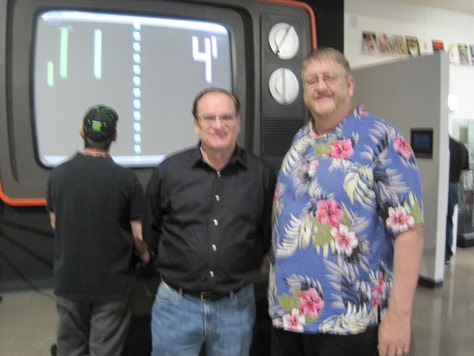 And that's all of the museum! I hope you enjoyed my articles and pictures!  Before I post some information on the location and hours, I wanted to ask you all if you would please pray for the museum and that it would do well and be a lucrative venture for the founders and anyone involved.  I'm really glad that it's so close to where I live, and I want it to stay there for a long time to come.  Also, I wanted to share that I've already been volunteering at the museum a few times, and hope to continue to do so a bunch in the future as well!  So if you come to the museum, you might even see ME!  I've had so much fun helping out visitors, and I'd love to see as many of you all as I could, and we could share video game stories and have fun!  There are a lot of other great volunteers, too!  It's definitely worth the trip, so if you're in the Dallas/Fort Worth area in the future, please look it up!
OK, so here's some info on the museum's hours and location and such. The address to the museum is:
8004 North Dallas Parkway
Suite 300
Frisco, TX 75034
General admission is 12 bucks, which is a good deal since you get some tokens to use at the arcade as well. Children 10 and under can get in for 10 bucks, as well as seniors, teachers, and military with a valid ID.
Hours of Operation:
Monday: Closed
Tuesday – Thursday: 10 am to 5 pm
Friday – Saturday: 10 am to 8 pm
Sunday: 12 pm to 5 pm
If you have any other questions or need more info, you can check out their Web site at www.nvmusa.org. –Cary