Posted on
November 23rd, 2016
by
Hey folks.  Just got a new batch of Nintendo amiibo figures.  This time they're of more Mario characters.  This set includes Wario, Waluigi, Daisy, Rosalina, Donkey Kong, Diddy Kong, and Boo.  Let's check them out!
Here they are inside their boxes.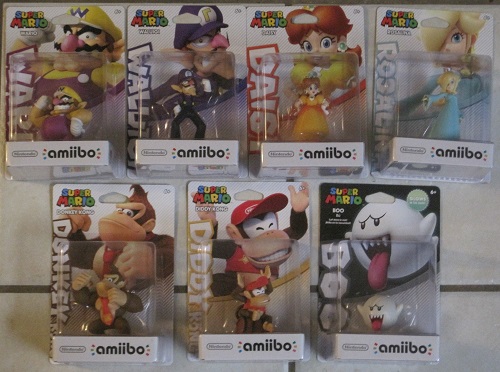 And here they are all opened up.
Wario was already an amiibo in the Smash Bros. series, but he was wearing his WarioWare biker clothes, so he's in his more traditional outfit here.  Waluigi is new, but I'm not really a fan of him.  The only reason why he was created so that they could do doubles with him and Wario in the Mario Tennis game on the N64.  There was already a Rosalina in the Smash Bros. series, and I like that amiibo better because it was more detailed.  But since Rosalina was an exclusive, I hear it's harder to get, so many may have to settle for this new one.  Daisy is new and her dress is awfully poofy.  I'm not sure why they felt the need to make another Donkey Kong, as there is already one for Smash and a Skylanders one.  Diddy is also a Smash amiibo as well.  In this new one, he looks pretty weird sitting on a barrel!
And finally is Boo.  It's a pretty small amiibo and doesn't seem to be as manufactured as well as the others (the bottom molding part is a bit off).  But the cool thing about the Boo amiibo is that it glows in the dark!  Anything's cooler when it glows in the dark!  I tried to take a picture of it, but it didn't come out very good.  Oh well.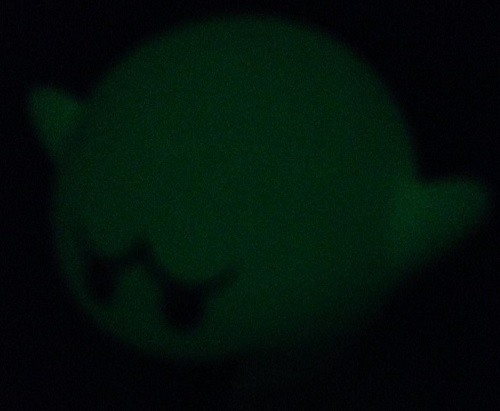 And those are all the new Mario amiibo.  Before the end of the year, the last set of amiibo figures Nintendo will release are some new Zelda ones.  I've already got 'em reserved, so when they come in, I'll show pictures of them here, too!  Later!  –Cary