Posted on
June 2nd, 2017
by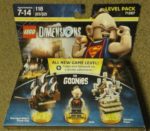 The Goonies was a very popular movie when I was a kid, but for some reason, I never saw it in theaters.  It didn't hold my attention the way other movies like Ghostbusters, Gremlins, Star Wars, Indiana Jones, and Back to the Future did.  I know when it was on videotape, my friend's cousin would always visit him in the summer and she'd always bring that movie with her and make us watch it every time she was around, so I got sick of it and avoided watching it again for a long time.  Luckily I was able to catch it on TV a few weeks ago so it would be fresh on my mind and I could be prepared to write this review!  The Goonies are also no strangers to video games, as there were two games that came out on the NES.  The first was only available in Japan but you could play it on PlayChoice arcade machines in the US.  The sequel was one of the earliest examples of a "Metroidvania" type of game and you played as Mikey and used a yo-yo as a weapon as you tried to stop the Fratelli gang again as they kidnapped your friends and Annie the mermaid.  Yeah it was a little weird.  But now, many years later, you can enjoy the Goonies in a video game again in LEGO form with the LEGO Dimensions The Goonies Level Pack.  It's available for nearly all current game consoles, but reviewed on Wii U here.
LEGO Dimensions is essentially like Skylanders except the figures you get are made out of LEGOs that you must build.  I even wrote a big article about LEGO Dimensions a while back that you can read if you want more information.  The Goonies Level Pack includes a playable character and two 'vehicles' and unlocks a special themed level and hub world as well as a battle arena.  Here is a closer shot of the box.
Like with other LEGO Dimensions sets, you build the figure first, and during the level they'll give you instructions to build the other two items.  Of all the Goonies characters, I'm surprised they went with Sloth.  The older Goonies games had you play as Mikey, who was kind of the main character in the movie.  But Sloth is a pretty versatile guy.  He can throw candy bars at long distant objects and he's super strong.  He can pull open special handles and break cracked walls with a super punch.  And he's a pretty good swimmer, too.
You'll also build One-Eyed Willy's pirate ship.  You can ride it around on water but it can also hop around on land, which is pretty silly.  While on the ship, you can fire cannonballs that can break metal LEGO structures. The LEGO figure of the ship is pretty neat and has little cannons and a plank, but it's also one of the more complicated things to build.  The other item you build is the skeleton organ.  You can also ride it around, which is even sillier looking.  Hold down the A button to make a sound blast that breaks glass.  You can also set the organ on special pedestals that allow you to play a little music game that will open up special passages.  You can choose to upgrade the vehicles and give them other skills as well.  Here are what the figures look out all built and out of the box.
The level takes a unique approach to telling the story of the movie.  They skip past the first half of it and get straight to the part where the Fratelli gang captures Chunk, one of the boys, and imprisons him with Sloth.  Sloth is very disfigured and the Fratelli gang chained him up but he and Chunk become friends and escape from their prison to rescue the other Goonies.  So the level is told from their point of view.  I have to say I enjoyed this more than the actual movie!  While you mostly play as Sloth, you can also switch to Chunk as well.  Chunk can throw ice cream and fit into small spaces.  Hold down the A button and Chunk will do the "Truffle Shuffle" and follow it up with a spin attack.  Later on in the level, Chunk will get a pirate hat and sword and be able to cut down LEGO vines as well.  You'll also briefly be able to play as some of the other Goonies, like Data, but that's about it.
You'll also be able to explore a hub world featuring locations from the movie like the suburb, beach, cave and pirate ship, as well as the Fratelli's hideout.  Like the other hub worlds, there are goodies to find and missions to complete.  My only problem with this set is some of the puzzles and objectives in the level aren't very clear, and using the portal pedestal is sometimes not as intuitive.  And I'm also disappointed that Cyndi Lauper's "Good Enough" song didn't make it into the game.  Oh well.  I'm sure Goonies fans will enjoy this pack anyway.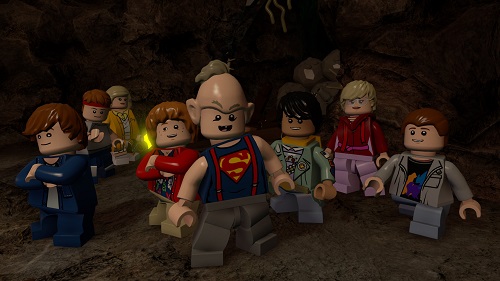 Kid Factor:
LEGO Dimensions is rated E-10 with ESRB descriptors of Cartoon Violence and Crude Humor. I think this level pack was clearly aimed at adults, because I don't think most kids today would know what The Goonies are.  But it's still a fun little adventure in LEGO form anyway.  While I would recommend most LEGO games to all ages, I think LEGO Dimensions is best for older kids.  One, the things you build are pretty complicated sometimes, so they would need to be experienced LEGO handlers.  And like other LEGO toys, the sets are pretty expensive so kids would need to know how to keep up with and take care of their toys, as the game is useless without them.  And plus using the pedestal is not very intuitive.  Also don't forget the whole choking hazard thing with small LEGOs!