Posted on
June 5th, 2017
by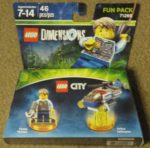 After being a Wii U exclusive during its lifespan, LEGO City: Undercover was recently released for nearly all current consoles.  You play as Chase McCain, a heroic undercover police officer who is also a master of disguise.  It plays a lot like Grand Theft Auto, only that it's also family friendly and full of LEGOs.  It's actually one of the better LEGO games I've played and I recently reviewed it.  Now you can extend the fun of that game with the LEGO City Fun Pack for LEGO Dimensions.  It's available for nearly all current consoles, but reviewed on Wii U here.
LEGO Dimensions is essentially like Skylanders except the figures you get are made out of LEGOs that you must build.  I even wrote a big article about LEGO Dimensions a while back that you can read if you want more information.  The LEGO City Fun Pack includes a playable character and vehicle and also unlocks a special hub world and battle arena.  Here is a closer shot of the box.
Like with other LEGO Dimensions sets, first you build the figure and they give you instructions to build the vehicle during the game.  You get Chase McCain as a playable character.  He has his trusty grappling hook that can latch on to certain structures so you can pull up to higher ledges, swing from the rope, or pull things down to you.  I'm not sure if you can don disguises like in the original game.  The vehicle you get is a police helicopter, a handy flying vehicle.  You can upgrade the vehicle if you so wish.  Here is a shot of the figures all built and out of the box.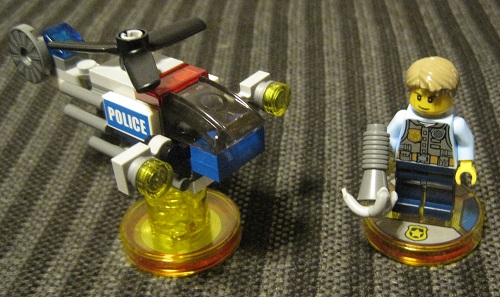 The hub world you get is like a mini version of LEGO City.  You have all the familiar locations: the police and fire stations, Bluebell Park, Blackwell Towers, Bright Lights Plaza, Apollo Island, and more.  There are missions to complete and things to build that give you gold bricks and other goodies.  Ellie will even call you on the radio if there are nearby criminals to battle.  It's a great way to revisit the fun of the full game.
Kid Factor:
LEGO Dimensions is rated E-10 with ESRB descriptors of Cartoon Violence and Crude Humor. While I would recommend most LEGO games to all ages, I think LEGO Dimensions is best for older kids.  One, the things you build are pretty complicated sometimes, so they would need to be experienced LEGO handlers.  And like other LEGO toys, the sets are pretty expensive so kids would need to know how to keep up with and take care of their toys, as the game is useless without them.  And plus using the pedestal is not very intuitive.  Also don't forget the whole choking hazard thing with small LEGOs!