Posted on
August 14th, 2017
by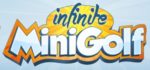 Zen Studios is best known for their Zen Pinball/Pinball FX series of video pinball tables, and now they're taking a swing at another game where you hit a tiny ball down a hold.  Introducing Infinite Minigolf, where you can play 9 hole single player tournaments, compete against local and online players, and even design and share your own courses!  It's available to download for nearly all the current game consoles, but reviewed on PS4 here.
You'll start by selecting your avatar player, either a boy or a girl.  You can dress up your character in various outfits and accessories, and you'll unlock more as you play.  Control is very simple.  Just move the L stick to direct your angle, and pull back on the right stick to pull back on the putter.  The further you pull back, the more power you'll have, which is indicated by an arrow on screen.  Then just let go of the stick to putt.  Scattered about the courses are various items you can pick up with your ball.  Gems give you points, and power-ups in bubbles can give your ball special abilities when you hit the button, like speed up, flight, jumping, and even letting you control the direction of the ball.
Right now there are three different course themes you can choose from (I can see them adding more later as DLC).  A kid's room, a Halloween themed course, and a Christmas snowy level.  In each area you can do all sorts of single player activities.  You can compete in 9 hole tournaments with pre-designed holes, or you can do Quick Play and try out random holes people have designed.  Speaking of which, you can also create your own holes and share them online as well!  You can also play against others locally or online, too (you'll need to have PS Plus to do online stuff, though).
As you play, you'll earn coins which you can use to buy items and clothes for your avatar.  You'll also earn trading cards that I think unlock new things to buy.  But it's a little confusing because you can also use coins to buy more cards.  I think they could've made this part of the game a little simpler and easier to understand.  Other problems I had with the game are how you control the ball when activating some of the power ups.  And while there are picture instructions that show you how to play, the game is a little vague in telling you how to do other aspects, like claim rewards and such.  And if you're playing people's courses online, you run the risk of having to play a very badly designed hole.  Plus I wish the game had more camera options to see the hole you're on.   But other than that, this is still a pretty decent game of minigolf that's fun for the whole family.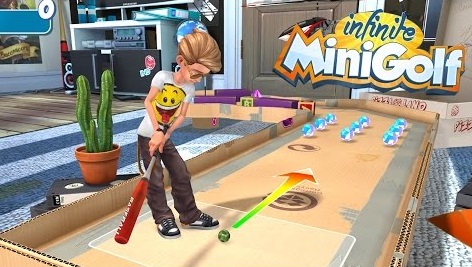 Kid Factor:
It's minigolf, so there's nothing violent or objectionable here.  While some of the instructions have picture cues, reading is still helpful for menus and such.  Parental supervision is recommended for online interactions, but everything seemed pretty safe when I was playing.  Infinite Minigolf is rated E for Everyone.