Posted on
February 16th, 2018
by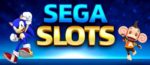 SEGA may be nearly synonymous with video games now, but when they first started out as SErvice GAmes in the 40's and 50's, they made mostly slot machines.  Now SEGA is going back to their roots with SEGA Slots, a free-to-play downloadable slot machine game for iOS and Android (reviewed on iPad here).  Many of the slots here feature SEGA's most popular video game characters and games, like Sonic the Hedgehog, Super Monkey Ball, Shinobi, Samba de Amigo, and Golden Axe!
Play control is easy to learn.  Just tap the bottom of the screen to spin.  You start out with just a Sonic table, but you'll have goals to achieve, like win a certain number of times, etc.  When you reach a goal, you'll gain a level.  When you gain enough levels, you can unlock other tables, too.  You bet using virtual money, and can set it to various amounts.  You can buy more coins with real money via the in-game store, too.
I don't know if I was incredibly lucky at first, and then unlucky later, or if the game is rigged.  But after I got to about level 17 or so, it was nigh impossible for me to gain any more levels because you have to set the bets to max and by then it was in the million coins mark.  Even when I set it lower, I still couldn't win enough.  You can get more coins daily by hitting piñatas in a bonus game and such, but it still wasn't enough.  So I kind of lost interest.  It's a shame, too, because I really wanted to see the Samba de Amigo and Golden Axe slots.  After those tables are some slots without licensed video game characters.  I wonder if those are based on SEGA's older slot machines?  I also wish they had more tables based on other SEGA properties, like Space Channel 5 and such.
Kid Factor:
Obviously there is simulated gambling here, and parental supervision is highly recommended for the in-game purchases of coins.  It also makes me feel a little weird to see these popular kids' characters like Sonic in a slot machine, but I guess that's just me.