Posted on
May 17th, 2019
by
When I was in college and writing game reviews for The Dallas Morning News, the first E3 I went to was when Nintendo was going to release Pokémon in the US for the first time.  I knew it would be a big hit, so I requested to my editor that I be in charge of covering everything Pokémon related for the newspaper.  He was like, "yeah sure, whatever," but he did keep his promise for at least a couple of years.  I even learned how to play the Pokémon card game so I could cover events and competitions revolved around it.  I like to say that Pokémon helped pay my way through college as I was writing tons of Pokémon articles then!  It's amazing to me that Pokémon is still super popular after all this time, even the card game.  And now there is a new live action movie out in theaters called Detective Pikachu.  To celebrate, the makers of the card game have released a wide selection of Detective Pikachu cards and packages, so today we're going to look at all of them!
The first is a blister pack featuring Detective Pikachu himself.  It comes with a special card from the movie, two Detective Pikachu booster packs, and one regular booster pack.  There is also a collectible coin featuring Detective Pikachu as well.  Here's a bigger picture of the box.
And here's what you get inside.  The packaging is the best part of these products, as you can fold the box out to see what you get.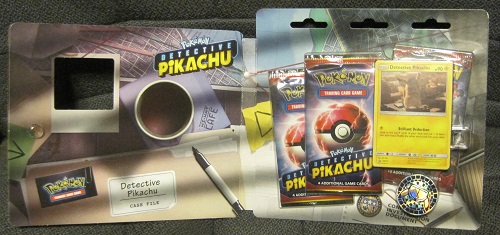 And here's a closer shot of the coin and card.  This package runs about ten bucks.
The special Detective Pikachu cards feature images from the live action film.  Here's another example of two of the cards in the booster packs.
There are also two 20 dollar each packs featuring another character from the movie: the Detective Pikachu Charizard-GX Case File and Mewtwo-GX Case File.  Each pack features a giant size shiny foil card of the character as well as a regular sized card.  You also get four Detective Pikachu booster packs and two regular booster packs in each box.  Here's the front of the Charizard box.
And here's what is inside.  Another nice thing about the packaging is that they make sure the cards are well packaged inside so they won't get bent or anything.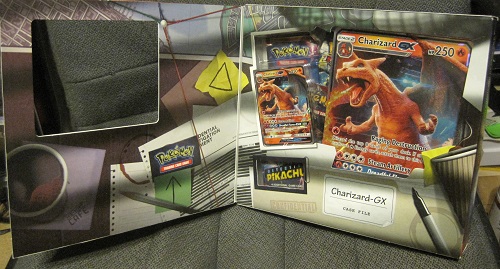 And here's the front of the Mewtwo box.
And the inside of the Mewtwo box as well.
Next up is a set featuring Greninja.  Similar to the other two previous sets, this one features a large foil card as well as a regular sized shiny card with Greninja.  You also get a Greninja pin and four Detective Pikachu booster packs and two regular booster backs.  All for 25 bucks, which isn't a bad price at all.  Here's the front of the box.
And here's what you can see when the box is folded out.
And last is a lunch box tin with goodies inside, all for only 25 bucks, too!  Inside you get seven Detective Pikachu booster packs, two regular booster packs, a Detective Pikachu pin and coin, as well as a notepad and stickers.  The tin I got was a little dented, though, so if you get this one in a store, inspect it first.  Hopefully they package it better when sent in bulk to stores, rather than when mine came in through FedEx.  Any of these sets would make great gifts for fans of the Pokémon card game.
On the official Pokémon Web site, you can order these and other neat Detective Pikachu products as well.  I especially like the Detective Pikachu hat, which looks like an inspector's hat with Pikachu ears on it!  But there are other Detective Pikachu promotions going on right now as well.  Since we're on the topic, I thought we'd take a look at those as well.  The first is Burger King, who is doing Kids Meal toys featuring Detective Pikachu.  The first two I got are of Pikachu and Mewtwo.  The Pikachu one has cheeks that light up, but I don't know what the Mewtwo one is supposed to do.  He holds a ball but drops it a lot, and I don't know if it's because they based the toy off the movie, but Mewtwo also looks a little weird and ugly and doesn't stand up very well.
The next two toys I got are of regular Pokémon, and are a bit better as they stand up on their own better and have nice and annoying features.  The Bulbasaur's Vine Whip acts as a grabber, and can be used to pinch people, too.  And I'm not sure if that's supposed to be a Growlithe or Arcanine, but it shoots out a little missile when you put it in its mouth and press down on the tail.  It shoots out pretty far and fast, so be careful!
And finally, 7-11 is doing some Detective Pikachu promotions as well.  You can download an app and play a game as well as get special Slurpee cups and flavors, among other things.  Here is a picture of the Slurpee cup I got.

And that's all for now!  Later!  –Cary