Posted on
May 29th, 2019
by
When I was a kid, I read a lot of Nintendo Power.  It was Nintendo's own self-published magazine.  But they did more than just magazines, they did strategy guides, too.  In fact, I think they helped popularize strategy guides, and theirs were very well written, too.  One of their guides was Mario Mania.  It was a cleverly disguised guide to Super Mario World, but it also had a large section at the front about the history of Mario up to that point.  As a kid, I poured over that guide.  And now, nearly 30 years later, there's another Mario history book making the rounds with the Super Mario Bros. Encyclopedia.  I got it for Christmas, so let's take a quick look at it!
The book is a very nice hardcover one with full color pages.  Here is a larger shot of the front of the book.
The inside starts with a four page intro and foreword from Takashi Tezuka.  You'd think the intro would be from Shigeru Miyamoto, but Tezuka has been working on Mario games since Super Mario Bros., and probably deserves more credit than he actually gets, so it's nice to let someone else get the spotlight every once in a while.
After that they go through every title in the Super Mario series.  Meaning, any game with Super Mario in the title gets featured.  So no spin-offs or kart games or whatnot.  It's a shame they had to omit a lot of games like that, but if they included them all, this book would be three times as long with ten volumes, so I can understand why they had to do that.  Each section in the book features a game, the story, characters, stages, secrets, and memorable moments.  There is plenty of artwork and screenshots, too.  The book only goes up to Super Mario Maker, so no Odyssey.  Here's a page featuring my favorite Mario game in this book, Super Mario World.  Sometimes I think I like Yoshi's Island better, but it's not featured in this book even though it does have the subtitle of Super Mario World 2.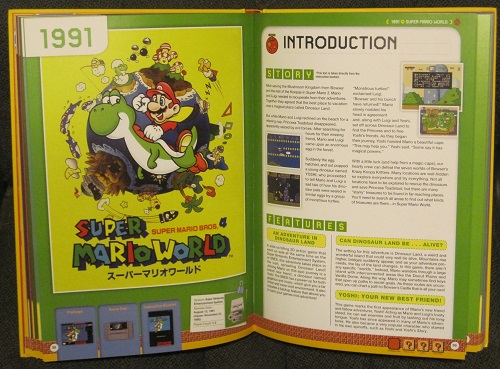 Even though they don't feature ALL the games in the Mario series, the book does have special sections with spin-off games and the last part of the book lists every game Mario has been in!  I guess the only other problem I had with the book is that they only use the Japanese box art and logos.  But this is still a nice book for any Mario fan.  Now if only they could make a Kirby Encyclopedia!  Actually I think they did in Japan.  They should bring that over here, too!