Posted on
August 9th, 2019
by
One of the most revisited Pokémon spin-offs has been Pokémon Rumble.  In the game you play with toy Pokémon as you bash into other toy Pokémon in real time.  The Rumble game on the Wii U even let you buy real toys you could scan, which would become the prototypes for amiibo figures!  Now that Pokémon has found new popularity on mobile devices thanks to Pokémon GO, now the Rumble series is on mobile as well with Pokémon Rumble Rush (reviewed on iPad here).  It's basically an endless clicker in disguise, but it's certainly one of the better ones I've come across.
In the game, you take a toy Pokémon and travel to areas to battle other toy Pokémon.  Your toy will automatically move forward, and when you tap the screen, it'll attack.  Each toy can have different moves, and some moves are strong and weak against other types of Pokémon, so it's good to be familiar with that aspect of the game.  At the end of an area, you'll fight a boss.  As long as you can get through everything without losing all your energy, you'll pass the level.  You can switch out Pokémon if the one you have is low on power, or if you have a better one for the situation.  At the end of the round, you'll earn new Pokémon to play as, coins, and maybe feathers and ores.  Levels only last about a minute, so it's a good quick time waster.
You use feathers to pin spots on the map to find new levels with more Pokémon to fight and catch.  You can refine ores over time and collect new gears to attach to your Pokémon to give them more power.  To progress in the game, you'll need to battle super bosses which have requirements before you can face them.  Some of these requirements include catching a certain number of Pokémon or having a toy in your party above a certain level.  These super boss fights are timed so you have to be even stronger to beat them.
The only problem I had with this game is that shortly after the first level, progress slows down a lot, as these free-to-play games tend to do.  I'm also not a big fan of how they turned this series into an endless clicker, but it is one of the better ones I've played.  It might be a good short time waster for Pokémon fans.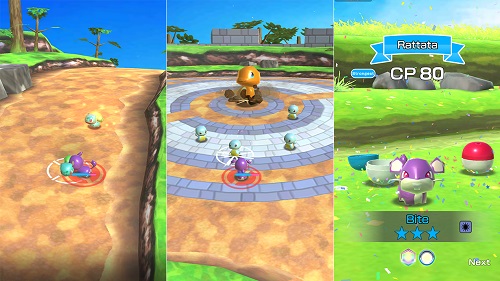 Kid Factor:
The toy Pokémon can ram into each other and use attacks like electricity and water, but defeated toys just fall over and disappear and that's it.  If you're OK with your kids playing other Pokémon games, they'll be OK here.  Reading skill is helpful for the text, and parental supervision is recommended for the in-game ads and purchases.