Posted on
November 5th, 2019
by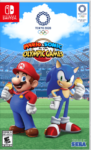 The simplicity of track and field events made them an excellent candidate for early videogames. I remember hammering away at our family computer in 1982 as my brother and I spammed keys in an effort to defeat each other in Olympic Decathlon. One year later, Track and FIeld appeared in the arcades and was an instant hit, allowing up to four players to spam buttons in a head to head competition. Mario & Sonic at the Olympic Games Tokyo 2020 (yes, that's the full name) blends modern gaming with some retro-inspired gameplay through dozens of Olympic-themed mini-games. When played multiplayer (as it should be) iIt manages to capture much of that early videogame magic.
Mario & Sonic at the Olympic Games Tokyo 2020 is (in my opinion) two different games in one. It depends on whether it is being played multiplayer or solo. In multiplayer mode, it can best be thought of a collection of olympic-themed mini-games, which can be played as one-off events or in a series of competitions. In single player mode, the game focuses around a cast of SEGA and Nintendo characters who become separated in time [*see below for a full list.] "Good Guys" Mario & Sonic are beamed back in time with Bowser and Dr. Eggman. They arrive at the Tokyo Olympics of 1964 and need to collect gold medals to return to their own time. Meanwhile, all the other Nintendo & SEGA characters are wandering through the Olympic venues of Tokyo 2020, trying to sort out what when wrong and how to get Mario & Sonic back again. Through the story mode, gamers are taken through the various Olympic events in a series of competitions, where you challenge another character to an event in order to advance the story. Thus, the storyline hops back and forth between the future and the past as more and more events are explored. I thought the solo storyline was a nice touch, although there was a bit more wandering around, talking to people, and hopping between venus that I would prefer. An option to speed up dialogue (I can always reach much faster than games will typically allow me) would have been a godsend. One nice touch was many scattered toadstool-like guys and hidden event markers that would give you quick trivia questions about the Tokyo Olympics of the past and present.
Where the game really shines is in the multiplayer mode. Played either game by game, or in a series of matches, players can square off against each other (or even sometimes pair up against the computer) in one on one game modes. Each of the events are short little games bordering on what one might call a "mini-game" although they involve more than just a couple of button pushes. One thing that irked me was that you are provided with the basic rules for an event before starting, but you are not given a full rundown of options. You might be told how to attack and block in Judo, for example, but not be aware of some additional moves (takedowns, etc…) that are also included in the game. When searching for more details, you are pointed towards the game's website for more information.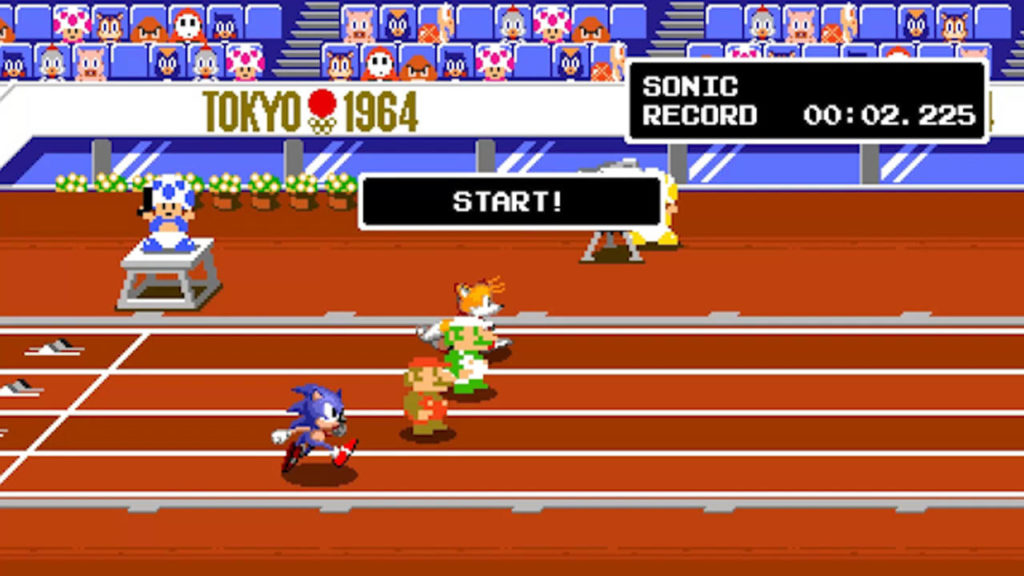 Games are either set in present-day, 2020 Olympics using 3D graphics or the 1964 Olympics using old-school sprite style 2D graphics. I particularly liked the nice touch that Sonic and Eggman are 16 bit graphics while Mario and Bowser are distinctly blockier and use their original 8 bit graphics. Games can be played in almost any controller configuration, using one or both Joy-Cons or rely only on button-presses.
Verdict:
I'm old enough to have a soft-spot for retro-styled games, and I've always loved the old-school decathlon/olympic games, so I'm very much in the target audience here. There are 21 (2020 era) 3D games and 10 (1964 era) 2D games available, providing many gameplay options [*see below for a full listing.] (There's also three "special" games with a strong arcade feel and only loosely based on Olympic sports.) You may find a few of the events sort of "meh," but there should still be plenty here that suit your fancy. Some are fairly robust – one might boot up the game just to play a round of table tennis or skateboarding, while others are firmly in the mini-game camp and are best played in short increments. In the story mode, there are some mini-games unrelated to the Olympics (like climbing a building or racing boats) that are fun, but unfortunately they do not seem to be selectable from the title screen. It would have been nice to have a function that included them in a multi-stage multiplayer tournament. As things stand, players just need to select them individually (although there's a randomizer feature.)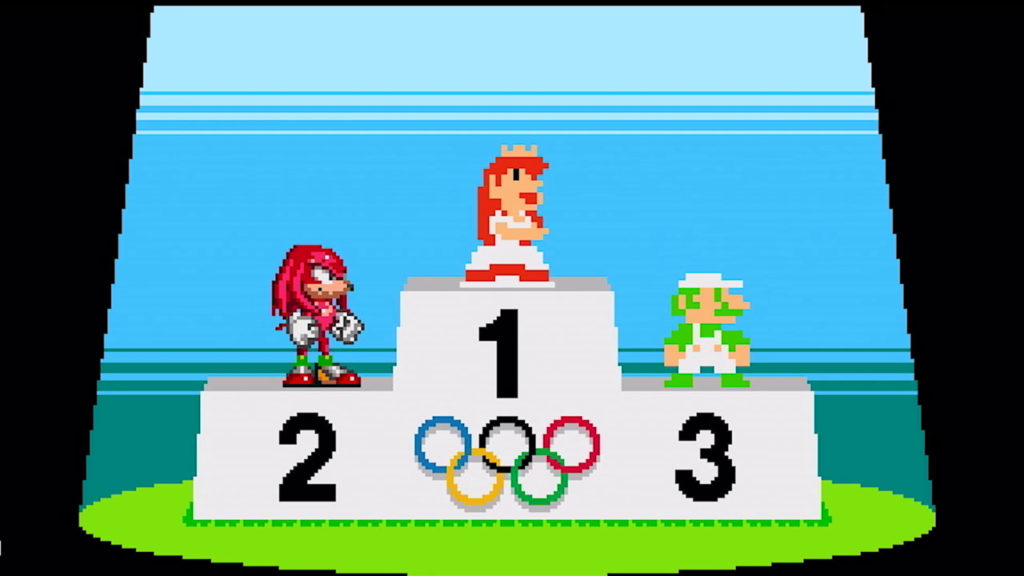 If the game only comprised the set of events and games listed for play against friends or the computer, I would give it full marks and say it lives up to its A-list title and price. Some of the individual events are surprisingly deep, but I was disappointed that you need to go onto the internet to a web site to get the "full version" of the controls for each event. I don't see why there couldn't have been an encyclopedia included in the main menu of the game. Not all of the games are hits, but many are very good so it should be a solid purchase for most gamers. Unfortunately, the solo story mode is more of a lost opportunity. There's a lot of unneeded wandering around, and especially too much slow dialogue. I don't mind reading it, but its pace makes it more of a "suffering through it" situation. It is probably still worth a play-through since there are little minigames involved you would find nowhere else, but it could have been so much better.
All things considered, if local multiplayer games are your thing, Mario & Sonic at the Olympic Games Tokyo 2020 should be high on your to-buy lists. There is online play (tracking high scores, etc…) but to me, local multiplayer is where it's at.
Kid Factor
An excellent game for kids. Most of the controls are intuitive and not difficult to grasp. A bit more strategy is helpful but even that is fairly straightforward and more a case of getting button timing, etc.. Very little reading required (and can probably fudge through things even in the story mode.) It does have online play so parents should be aware of that feature.
Additional Data
Characters:
Mario, Luigi, Peach, Daisy, Donkey Kong, Bowser Jr., Yoshi, Bowser, Wario, Waluigi, Sonic,Tails, Knuckles, Amy, Dr. Eggman, Shadow, Silver, Metal Sonic, Blaze, Vector
3D (2020) Events:
100m, 110m Hurdles, 4 x 100m Relay, Archery, Badminton, Boxing, Canoe Double 1000m, Discus Throw, Equestrian – Jumping, Fencing, Football (Soccer), Gymnastics – Floor Exercise, Javelin Throw, Karate – Kumite, Rugby Sevens, Skateboarding – Park, Sportlimbing, Surfing – Shortboard, Swimming – 100m Freestyle, Table Tennis, Triple Jump
2D (1964) Events:
100m, 10m Platform (Diving), 400m Hurdles, Volleyball , Gymnastics – Vault, Judo, Kayakingle (K-1) 1000m, Long Jump, Marathon, Shooting – Trap