Posted on
January 22nd, 2020
by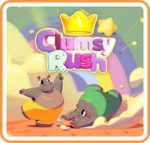 Race as cartoony, fat, waddling hippos in Clumsy Rush, a comical two player racing game on Switch.  Your goal is to make it to the end of a finish line wearing a crown.  Controls couldn't be simpler.  Press the L button to move your left foot, and the R button to move your right.  Press a button to bump into another player and knock the crown away from them.  Sounds easy, right?  But when your hippos waddle around like Jell-O, it's harder than it seems!
When you start a race, you'll be randomly selected a hippo character.  You might get a police hippo, ninja hippo, Santa hippo, etc.  Then a card will be drawn that'll add a bit of random zing to the race.  You might have your controls reversed, or everything you bump into can send you flying.  The race tracks are randomly generated, too, with obstacles like rocks and slippery surfaces in the way.  You never know what to expect in each race!
And that's pretty much it.  I did like the cartoony Katamari Damacy styled graphics, but the randomness of the game is a bit of its downfall, too.  My brother and I both wished we could pick which hippo we were, at least so we knew who was who in each race.  And it would've been neat to pick your random card in each race as well, just as an added customization feature.
Also, it would be neat if you could have four players at the same time, but this might prove to be too chaotic as well.  And while you can play the game with just one player, you're just by yourself.  A timed challenge or CPU opponents might've made things more interesting.  It's a neat idea, I just don't know if this game will have enough staying power.  I read in the press release that part of the proceeds from the game will go to an organization to protect real hippos, so I guess that's cool.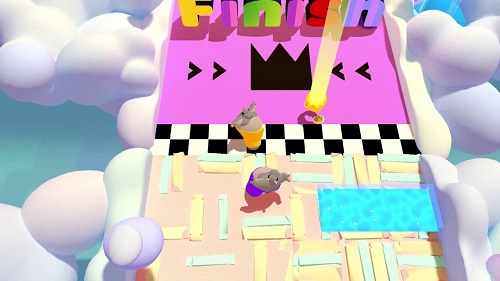 Kid Factor:
You can bump a crown off of another player, but that's about as violent as it gets.  Reading skill is helpful for some of the text, but not necessary just to play.  If the traditional controls are too hard and frustrating for younger players, you can change the controls to just use the directional stick instead.  Clumsy Rush is rated E for Everyone.