Posted on
January 24th, 2020
by
The Penny Arcade Expo, or PAX for short, is one of the largest video game conventions open to the public in the US.  It started out in Seattle, then expanded to another show out East in Boston, and for the past few years, they've also had a show in San Antonio with PAX South.  Since that's only a few hours' drive from where I live, I decided to go again this year along with my dad.  Let's check out what I saw.
One thing I will note is that this show was a bit smaller than the last few years' shows.  Usually a few big name companies will attend, like Capcom, Namco, or Nintendo.  But none of them were here this time, and the show floor was a bit smaller, too.  One of the reasons why is because PAX East in Boston is only a month away, and a lot of the companies chose to attend that one instead since it's so close, timeframe-wise.  I don't know why PAX scheduled those shows so close together, they kind of shot themselves in the foot.  But I still took a couple of pictures from the second floor down below, and there was still a lot to see. I was just able to finish everything in a day.  Who knows if I'll go again next year if it's still like this.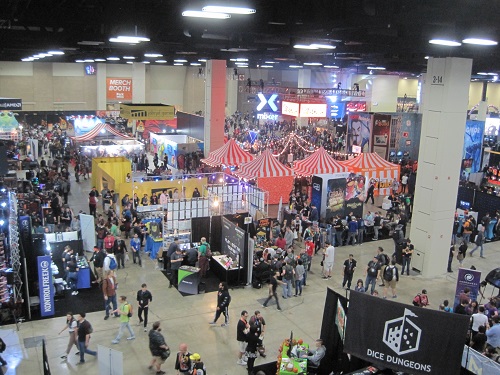 And here's a shot at the other side of the show floor.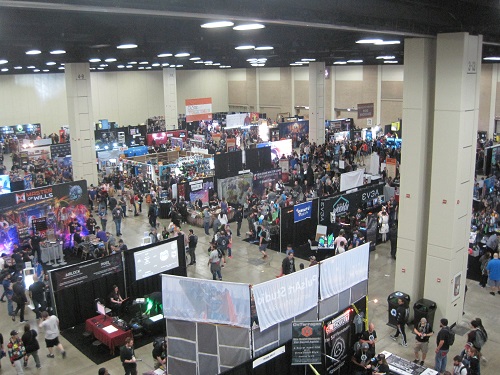 PAX Rising
One good thing about PAX is they focus more on indie games, and there are even booths where a bunch of indie developers show off their titles.  PAX Rising is one of those booths, and there I played two games.  The first is Konsui Fighter.  I played it at last year's PAX South, and it's a 2-D fighter where you play as a man in a coma (Konsui means coma in Japanese), and he has to fight characters who represent emotions inside his head.  It's going to be available for mobile devices but new at this show was that it was also on PC!  It looks pretty good for a mobile fighter, and I hope I get to review it soon.
Another one I played at PAX Rising was Aeolis Tournament.  You play as colorful characters in Mario Party style mini-games where the main gimmick in all of them is that you can suck in and spit out projectiles.  Up to eight players can go at it at once!  And in case I don't specify, most of the games I played here will be either available on mobile, or at least the Switch, if not more consoles.  It seemed everyone was trying to get their game on the Switch.
Stack Up
Another neat thing about PAX South is that a lot of charity organizations show up.  I think my favorite is Stack Up.  They donate games and consoles to military and veterans.  Please check them out if you are interested.  Only bad thing is that this year at PAX South, they didn't have their push-up contest.  Oh well.
tinyBuild
I think tinyBuild had the best booth at the show.  They had a neat carnival midway theme for their booth, and they had a wide variety of games for PC, mobile, and console.  And they gave out the best swag, too.  Here's a picture of a part of their booth.  I'm so sorry it's so blurry.  It was hard to focus with all the lights and stuff.
I think my favorite game at their booth was Totally Reliable Delivery Service.  It's a 3-D action game for four players, and you try to deliver packages as fast as you can around an open world.  But you can also mess around with all sorts of vehicles.  Lots of humor and references to other games, too.  Even Untitled Goose Game gets a nod!  Another one I checked out was Black Skylands.  It's an overhead shooter with 16-bit graphics set in an airship run world.  They had other games, too, but there were so many I couldn't see them all!
Luminosity
I always like visiting with Luminosity at PAX South because they're local and have some neat games.  They showed the same stuff as last time, but I still can't wait to play them when they come out.  The Painter's Apprentice is a 2-D platformer where you use color and paint to bypass obstacles, and the worlds are based on different styles of paintings in history.  Osunia is a farming simulation set in the future.  They're also planning on remaking their first game, Once Upon a Runner.
Dotemu and The Arcade Crew
Another one of my favorite booths was Dotemu and The Arcade Crew.  Dotemu was showing two games on the outside of their booth.  I've already played them at PAX West, but I still can't wait for when they come out later this year.  The first was Streets of Rage 4.  I really liked the Genesis games, and this demo added a new character since last time, and I think the stage was different, too.  It had a dojo theme with lots of new weapons you could pick up, like cleavers and spears.
I didn't get to play Windjammers 2, but that's OK because I've already played it at other shows.  It's a sequel to an old game that combines throwing flying discs and Pong.  It's a heck of a lot of fun.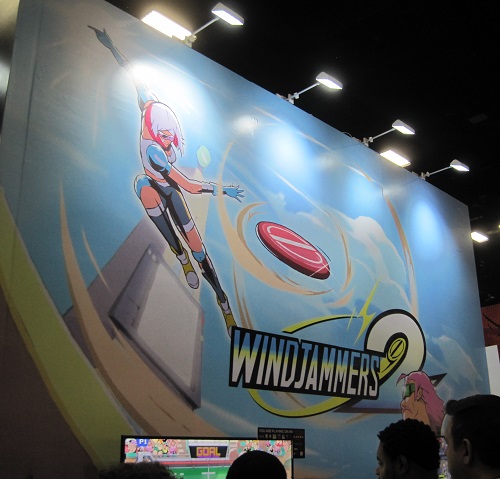 On the inside of the booth, The Arcade Crew was showing Kunai, a neat 2-D action game.
And they also had Young Souls, which combines RPG dungeon crawling with beat 'em up gameplay and colorful characters.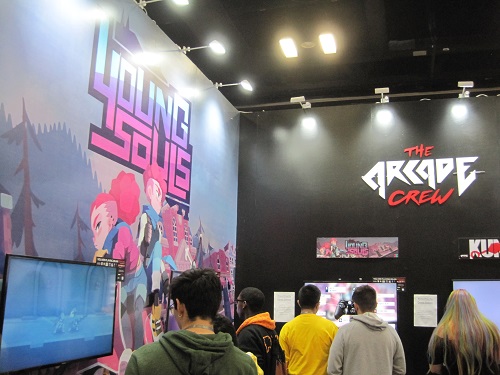 And speaking of Windjammers, I should note another company is making a game similar to it called Shot One.  I know I talked about them before in another PAX article, but I think it's neat that they're based in Austin, TX, and I like the character designs for their game.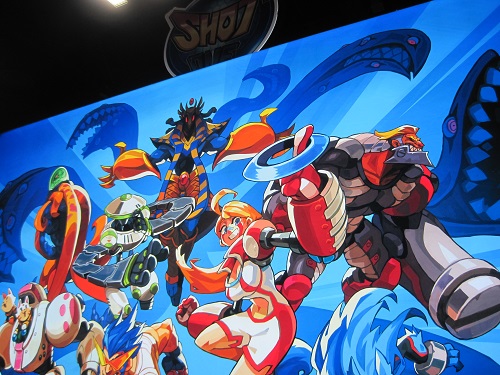 Latinax Lounge
There was a room on the second floor where a bunch of Mexican game developers were showing off their new titles, and I tried two of them.  The first was Lunch-A Palooza.  You play as different kinds of foods like a hamburger or donut, each with different attacks.  You try and push the other players off the ledges for points, and you can pick up power-ups and power-downs as well.  My favorite was a stage set in an arcade and you're on a slippery air hockey table that changes to a foosball table halfway through the round.  Another game I tried here was Floppy and the Sleepy Planet.  You play as a robot bunny and a flying robot…carrot?  Gameplay hearkens back to 3-D platformers from the PS2 era, but they need to work on the jumping controls a bit in this one.
SoundSelf
PAX South wasn't all about hectic running around and playing crazy games, as I got to try a VR title called SoundSelf that's supposed to help you relax.  You don't have to have VR for it, as you can just play it on a PC, but the VR helps.  What I did was lay down and was supposed to breath in and out, and when I breathed out, I had to hum.  The game records the sounds you make and makes random pictures that are supposed to relax you, I guess.  It certainly worked, but I think it was mostly because I got to lie down for ten minutes in a massaging chair.  But I was still glad to try it out because I enjoy doing new things.
Blowfish Studios
They usually have a few games that interest me at these shows.  Last time I tried their Kung Fu Kickball, which is a 2-D sports game that mixes elements of basketball and dodgeball with a Kung Fu setting and characters.  But their newly announced game was really neat, too.  It's called Infinite: Beyond the Mind, and it's a 2-D platformer hack and slash game with chibi 16-bit pixel art and you get to play as a character with pink hair.  It looks like a lot of simple fun and the characters look neat, too.
Annapurna Studios
Annapurna is a movie studio but they also have a division that publishes games!  They had a bunch at the show, but the big showcase was The Artful Escape, a 2-D platform game with brightly colored psychedelic graphics.  But the game that really got my attention was Wattam.  Once they said it was made by the same guy who did Katamari Damacy, I was like, "I'm sold!"  I'm definitely going to have to check it out!
Axe Cop
I saw a bunch of 8-bit styled games at PAX South, and each one caught my attention.  But the one I remember most was Axe Cop.  They said it was based on a comic book whose story was created by a five year old (with help from his family, too).  I think I remember my brothers telling me about that a few years ago, and I think that's kind of cool.  The game looks like it came straight from the NES, or at least the Game Boy Color.  It has elements of turn based RPG battles and Zelda-like action gameplay.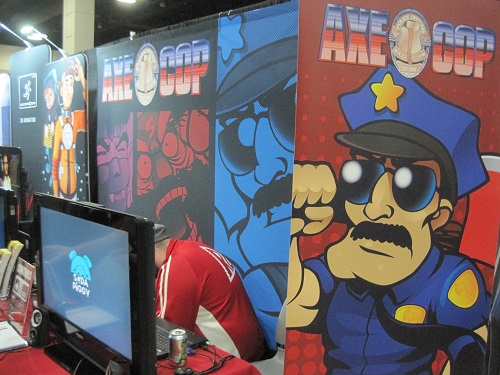 Garden Story
Another one that grabbed me was Garden Story.  It has elements of farming games like Harvest Moon, as well as action games like Zelda.  So really I think it'll be a lot like Rune Factory.  But the coolest part is you play as a grape with a sword.
PAX South also has a lot of vendors where you can buy overpriced stuff.  But I liked this particular display, as it was especially cute and colorful and eye catching.  I don't know what it is, though.
Cosplay
At these conventions, some people will dress as their favorite video game or anime character.  Most of the time I don't recognize them, but I had to take a picture of this cosplayer dressed as Bass, since that's my brother Jeff's favorite Mega Man character.
When I first saw this costume from behind, I though it was just a black Shy Guy.  But when I walked to the front, it looked more like one of the characters from Spirited Away.  Maybe it's a combination of the two?  I don't know.
Conclusions
And that's all for now!  I hope you enjoyed my little tour of PAX South.  Let me know what you think and if you have any questions.  Later!  –Cary