Posted on
January 27th, 2020
by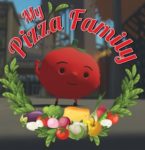 Two young city dwelling siblings, Camilla and Alex, are making a video blog, or vlog.  Their family is both Italian and Spanish, and they're documenting the rise of their family's pizza restaurant.  It's fallen on hard times, but is about to have a grand reopening.  Their newfound success comes from the fact they grow some of their own ingredients, and the family encourages their neighbors to join in and make a community garden in a vacant lot.  Pretty normal stuff so far, but here's where it gets weird.  The family gets advice from a group of talking pizza ingredients, like a tomato, dough ball, basil leaf, pepperoni slice, and more.  My Pizza Family is an activity center for kids that focuses on family and community, as well as shape recognition and Spanish and Italian language learning, too!  It's available to download on mobile devices, but reviewed on iPad here.
The game has three short chapters that explains the plot of the game.  In each chapter you may need to play a mini-game to progress.  Most of the time, you just drag and drop scrambled letters to spell words in English, Spanish, or Italian.  Then at the end of each chapter, they sing a song and dance.  Then after that, the game turns a complete 180 and becomes a 3-D free roaming adventure where you control one of the kids and build a garden and grow vegetables for your neighbors.  Or at least that's what I THINK you do.  There were no instructions for the 3-D part, and the camera and movement controls were so bad I stopped playing at that point.
Aside from the chapters, you can play some mini-games separately, like the spelling game.  But when I played it, I had to spell out 'scissors' but the letters went past the screen so I couldn't complete it.  You can also trace shapes of pizza, or put toppings on your own pizza and bake it.  That was actually the best part of the game because it was neat to see what your designed pizza looked like after it had been cooked.  You can also do the awful 3-D city exploration part separately, too.
Aside from that and the broken spelling mini-game, the only other problem I had was the game as a whole just looks very amateurish.  The graphics and animations look like it could've been done back in the early 2000s.  I don't think kids will mind the bad graphics, but it sure does look creepy when the characters dance and they tilt their head sideways and it looks like they just broke their neck!  I like the idea and concept of the game, I just think it needed a little more time in the pizza oven.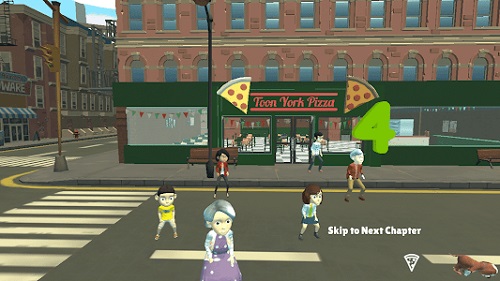 Kid Factor:
Nothing violent or objectionable here.  Letter and shape recognition is helpful to play, although I don't know if it'll keep kids interested for very long.