Posted on
May 4th, 2020
by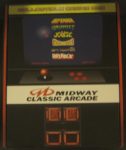 While not quite as popular as they used to be, Loot Boxes are a recent craze as of late.  They're boxes full of themed items that you either order through the mail, or get in a store.  Most of the time you don't know what you're getting, but sometimes you do.  The themes in these boxes range anywhere from video games, movies, or just dog toys and treats.  I've been tempted to get loot boxes from time to time, but I usually don't because I like to know what I'm paying for, and many are just too expensive.  That loot box at PAX South that had Mega Man on the sides was mighty tempting, but not at 50 bucks!  However, there have been a few times in the past year or so where I bought a loot box sold in the games section at Wal-Mart or Target when they were on sale.  Why did it take me so long to write about them?  Well I thought I'd save them for a rainy day, and now seems about as rainy as ever.  So it's Loot Box Week here at GamerDad, and the first one we're going to look at is a Midway Classic Arcade Loot Box!
I think I saw this one about a year ago on sale after Christmas for about 10 or 15 bucks.  Since it was so long ago I doubt you can still find it.  Anyway, I love classic arcade games so it seemed like a good deal.  Here is a picture of the front of the box.  They made it to (sort of) look like a classic arcade cabinet.
And here are (almost) all the things you get in the box.  There's a Paperboy magnet, bumper stickers made to look like classic arcade marquees for Gauntlet and Joust (Joust one not shown, as it was on the back of the Gauntlet one), and a mini Defender tin.  There's also a Joust bobblehead figure and a Rampage journal.  Of all the things they could've made out of Rampage, they chose a journal?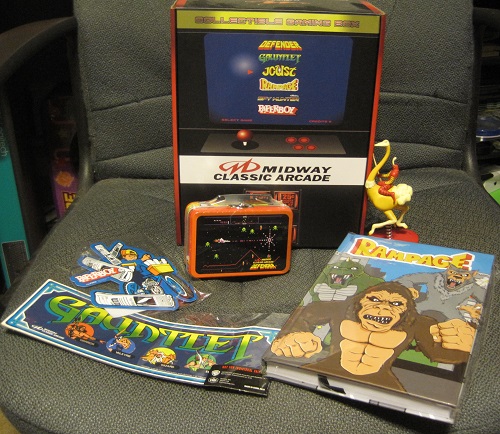 I wanted to draw special attention to the Joust mini bobblehead figure.  Joust was always one of my favorite two player arcade games, and I had the home version on my Atari 5200.  I like this item because you just don't SEE Joust merchandise at all!
So there was one thing in the box that is not in the picture, and that was a Spy Hunter lapel pin.  But I already gave it to my brother Jeff before I took these pictures, because when he was little he LOVED to play Spy Hunter on one of my classic arcade collection discs.  Seriously, he'd sit there and play it for hours, which is not something a five year old usually does.  He also liked the 3-D remakes that came out a while later.  But you're not missing much by not seeing it.  The pin itself just looks like a generic sports car, and you probably wouldn't even know it was from Spy Hunter unless you saw the paper backing behind it in the packaging.  Anyway, so that's the first loot box.  What will it be next time?  Well just like loot boxes, you'll just have to wait to find out!  –Cary